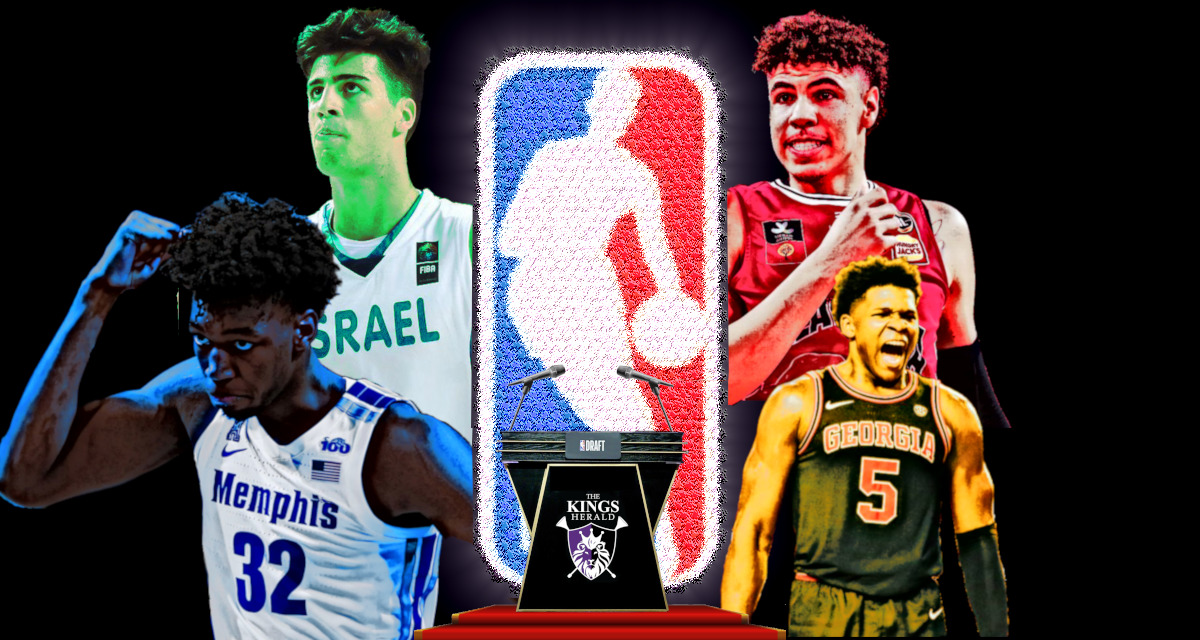 The 2020 NBA Draft is finally here! The longest draft process in NBA history has ended, and it instead of just 5 months longer it feels like 5 years. Monte McNair and his front office get their first shot at reshaping the Kings roster, and as we've discussed ad nauseum in recent months, this draft will give us a chance to see how McNair wants to build this team; does he go for the homerun swings? Safe and steady players? Best player available, regardless of fit with De'Aaron Fox? Even if the players in this draft have been discussed and analyzed in excess, McNair's first chess moves will be fascinating for Kings fans to watch.
Below are my updated rankings, set with two numbers. The first is my KingsCentric rankings, which are nearly identical with my overall rankings with the single caveat of €œit would be nice if this dude could play with De'Aaron Fox.€ The second score in parenthesis is a player's KANGZ score, which indicates my opinion of a player's volatility if they were to be drafted into basketball hell. Can a player reach anywhere close to the median outcome he'd have achieved if he'd been drafted by the Miami Heat or San Antonio Spurs? If so, that player gets a high number. This ranking isn't indicative of a player's talent; Saddiq Bey gets a 9 as a low-variance player, while LaMelo Ball gets a 4 as a dude who could be an All Star but needs a stable, capable squad to help guide him there. While we're all varying degrees of optimistic that the Kangzy conditions of the past 15 years will lessen under McNair, it's up to the Kings to prove it.
If you're curious about my full rankings, I've uploaded my entire top 60 Big Board - both my KingsCentric rankings and my overall team independent rankings€¦ which are nearly identical, aside from players where I worry about the fit with Fox.
If you missed SPTSJUNKIE's Draft Model and Guide and are hungry for statistical deep dives, I greatly encourage you to check it out!
Anthony Edwards, Guard, Georgia (6)
Still the highest ceiling player in the draft class for me; he proved he could hit absurdly difficult three-level shots against double and triple teams while also flashing passing skills. Here's hoping that whichever of the top three teams selects him builds the system to set him up for success on both ends, as the league will be better off with his stardom (if he goes to Golden State, watch out).
Isaac Okoro, Wing, Auburn (8)
If Monte McNair wants a real swing-for-the-fences move, here's hoping he considers trading up to snag the most complete player in the lottery. Okoro's very clear weakness (terrible shooting numbers in college) has somewhat hidden the fact that he's got above-average skills across the rest of the court. With his defensive versatility and intensity - not to mention his dynamic strength and explosiveness - he'd be a real difference maker for a Kings team that hasn't had a true defensive star since Doug Christie.
Onyeka Okongwu, Center, USC (7)
A new-age big with great touch around the basket, potential as a faceup scorer, and an extremely high ceiling defensively. He's a defensive anchor in waiting, thanks to both his rim protection skills and his ability to switch and handle speedier players in space. He needs to become a capable shooter (no guarantee on that) to be worth a selection this high.
Killian Hayes, Guard, Ratiopharm Ulm (7)
Another excellent target for McNair if he wants to trade up and secure some of the draft's top-end talent (draft insiders seem to expect that Hayes could last till the Kings pick, but I'll believe that when I see it). While not an explosive athlete, Killian Hayes is a 19-year-old near-genius with the basketball, and has great passing, craftiness, and off-the-dribble shooting ability. A transition to playing with another initiator won't be an immediate success, (he was the primary initiator for Ulm last season), but it'll be the best thing for his long-term career.
Devin Vassell, Wing, Florida State (9)
This draft's ultimate combination of shooting and defensive upside. Vassell proved himself as a top-tier shooter off the catch and very solid off the bounce, while also being a massive disruptive defender. Needs to bulk up to become a high-level on-ball defender, but he's one of the better team defenders in the class (something the Kings really need).
LaMelo Ball, Guard, Illawarra Hawks of the NBL (4)
Ball's passing is probably the best individual skill in this class; a true maestro with the basketball. He has no fear of the big passes or the big shots, and it's better to have those onions and need to learn hesitation than the inverse. LaMelo is 2nd on my overall ranking, but I despise the fit with Fox - I struggle to expect the Kings situation/coaching staff could truly get him to buy in.
Tyrese Haliburton, Guard, Iowa State (8)
Has the potential to be a true role-playing star, a glue piece that makes the rest of a good team click. While he played point for Iowa State, Haliburton will be best at the NBA level as a secondary initiator. His strong (if funky) catch-and-shoot ability combined with preternatural passing instincts make him an excellent fix next to Fox, as long as the Kings get a damn defensive wing. As long as he's not expected to create his own shot, any team would be lucky to have him.
James Wiseman, Center, Memphis (6)
A titanic combo of size, length, and explosiveness; has the potential to be a dynamic rim-runner/pick-and-roll big. Tough rebounder and promising rim protector, as long as his defensive instincts catch up with his physical dominance. Based on his three game collegiate career, I'm not as high on him as some; that said, it's hard for armchair scouts to estimate just how dynamic his growth could be given that he hasn't played a televised game in over a year.
Deni Avdija, Forward, Maccabi Tel Aviv (5)
Versatile combo forward who offers real secondary initiator upside thanks to his excellent passing and vision. Good instincts on both ends, and a motor that doesn't stop. His potential as a shooter is a real question mark; with his instincts and motor, I don't think Avdija is truly bustable, but he needs his shot to translate more than the other questionable shooters in the lottery do.
Patrick Williams, Forward/Big, Florida State (7) (Full breakdown here)
Instinctual, beastly defender, but needs to unlock flexibility in his hips and legs to reach his top-end defensive ceiling. He's also a capable shooter, both off the catch and the dribble, while also flashing the passing and dribbling skills for something more than just a role playing 4. Also the youngest American player in the draft and plays a role/position the Kings haven't prioritized in a decade. That said, he is a project player who is unlikely to provide more than a high-motor defender and alright shooter in his first year or so.
11. Tyrese Maxey, Guard, Kentucky (8) (Full breakdown here)
Bulldog point-of-attack defender whose intensity and motor could be a culture-maker. While his shooting numbers aren't great, he has sneaky offensive upside if his catch-and-shoot ability spikes. Already has a relationship with Fox, and the two of them could combine for one of the more successful high-speed tandems in the league (but only if their shots improve). At 6'3, he has to become outlier tough and strong to become the elite defender he wants to be.
Kira Lewis, Guard, Alabama (7)
An absolute speed-demon with a near Fox-level warp drive and the ability to use it on both ends. Kira has spent the last two years thriving in Alabama's fast-paced system, both as a three-level scorer and as a facilitator. He's also spent time off the ball, to the point where he developed a dangerous catch-and-shoot ability (88th percentile per Synergy). The combination of Kira and Fox would be absolutely electric on offense, although the pair might lack the size or strength to become a capable defensive combination.
Aleksej Pokusevski, Basketball Player, Olympiacos (5)
A 7'1 dude who plays like a top-flight combo guard. Defies all positional logic with his mind-bending combination of passing, handling, driving, and shooting. All those skills won't mean much if he doesn't end up in the right situation that can help him transition physically (200 lbs) and mentally to the speed and power of the NBA game. Check out the Kings Pulse pod with draft guru PD Web for a ton of Poku insights and optimism.
Obi Toppin, Big, Dayton (7)
Best offensive big in the class while also being the worst defensive big in the first round. Above-average shooter, dunker, and scorer in the paint, while also possessing alright passing and decision making instincts. High floor player on the offensive end, and one who wouldn't need to crowd the paint to provide value.
Jalen Smith, Center, Maryland (7)
A 6'10 big man with the hybrid combo of skills that every team dreams of in his position; promising deep shot and rim protection. How dynamic those two skills will be at the next level is up for debate, but he's got the defensive instincts and drive to be a strong two-way player. He'll need some real physical development help to unlock the flexibility needed to not be a liability in space.
Aaron Nesmith, Wing, Vanderbilt (6) (Full breakdown here)
A damn promising deep shooter with insane movement shooting abilities. Clearly a determined player who has excellent size (6'6, 6'10 wingspan) for his role, albeit with less-than-NBA-level explosiveness. The rest of his game (defense, driving ability, playmaking ability) raises question marks, and an injury-shortened sophomore season has hidden just how elite his shooting really is.
Cole Anthony, Guard, North Carolina (5)
Hyper confident scorer whose best traits were completely lost on an absolutely dreadful UNC squad. Great shooter, crafty dribbler, and can finish at the rim with a dozen excellent moves. Makes up for less than idea size by actually giving a crud defensively. For all his craft as a scorer, his playmaking and passing instincts are a step behind other €œtrue€ initiators in the class.
Josh Green, Wing, Arizona (8) (Full breakdown here)
Extremely high-motor player with the athletic tools needed to be an excellent NBA defender and at least the basics of a shot to hint at 3-and-D potential. Needs to become much more confident with the ball in his hands, as he was gunshy to shoot open threes and was dreadfully bad at the rim in the halfcourt. While there's almost no chance he becomes a star, he's very likely a high level role player, and one who plays with defensive awareness that few 20 year olds can match.
Saddiq Bey, Forward, Villanova (9) (Full breakdown here)
Great shooter, capable playmaker, and all-around high-feel player who excelled at Villanova as a rangy defender. While his defensive instincts are sharp, he will get hunted down in switches due to his below-average athleticism, and he could be a liability in space at the NBA level. While a capable catch-and-shoot player, he lacks any upside as an individual creator. I think his ceiling is a solid 5th starter/strong bench forward.
Precious Achiuwa, Big, Memphis (6)
Promising defensive big man with the potential range to protect the rim and guard on the perimeter. While he's a high-motor player, he lacks offensive versatility beyond success in transition and on the pick-and-dive. I'm not overly confident in any future shooting ability, given that he showcased bad efficiency both on floaters and around the rim this season. Not a lottery selection in my book, but rim-divers who fight for rebounds and can handle switches will always find NBA minutes.
R.J. Hampton, Guard, New Zealand Breakers (5)
Electric athlete with the length, size, and the basics of off- and on-ball skills to be a versatile NBA guard if he adds strength. Played in the NBL with the New Zealand Breakers, and did not get the same €œit's your team€ treatment as LaMelo. While his shooting efficiencies were bad, he spent the offseason working with Mike Miller, and if his new form clicks in real games, he can become a good three-level scorer. But selecting him in the lottery means betting on a big jump across the board - shooting ability, defensive instincts, decision making, and physicality. He's much more of a project player than I think many expect.
Tyrelle Terry, Guard, Stanford (5)
An unstoppable shooter off the catch (99th percentile on catch-and-shoot shots). Flies around the court with and without the ball, looking for just a bit of daylight to launch a deep shot - sank 40.8% of 152 attempts on the season. Willing and capable passer despite less than ideal numbers (3.9 assists per 40) for his position, but he was really a secondary playmaker. Undersized (6'1), but spent the offseason bulking up and reportedly gained 15 pounds. He'll be best on a team with a bigger initiator, and at worst he'll be a microwave off the bench.
Desmond Bane, Wing, TCU (9)
The real best shooter in the draft. Give him any space, and he'll knock down shots from way beyond NBA range. More than just a shooter - capable ball mover, alright finisher at the rim, and strong, dedicated defender. An strong instinct player on both ends who is almost certain to be a very solid rotation guy, but a lack of NBA-level tools and a negative wingspan means he has a big uphill battle to be more than that.
Isaiah Joe, Wing, Arkansas (7)
Sweet shooting off-ball guard who can hit off movement and off the dribble. Very capable passer and smart offensive player, aside from a tendency to take bad shots. The anti Aaron Nesmith - a guy whose deep shot success this year (34%) hides how damn good a shooter he really is. As long as he adapts to a role playing position in the NBA, there's no reason he can't be a high-impact shooter and a try-hard (albeit super skinny) defender. For his size, one of the more fun, energetic defenders in the class. My answer to €œif you don't take Aaron Nesmith at 12, who can offer shooting help at pick 35?€ Had knee surgery in February.
Xavier Tillman, Big, Michigan St. (9)
For his size (6'8), the best defensive big man in the class thanks to insane strength and excellent instincts. Strong rebounder who will be undersized but not outfought at the next level. Legitimately played as a secondary initiator next to MSU's Cassius Winston. Aside from post-ups and assists, unclear how he'll impact an offense at the next level, but he's not the type of player you bet against. If I was a team in the teens who was trying to win now and needed a glue big man, he'd be higher than this.
Malachi Flynn, Guard, San Diego St. (8)
The backup point guard the Kings have been looking for; a tough, high-instinct player on both ends who can shoot, pass with gusto, and dominate in the pick-and-roll. Extremely competitive player who won MWC Defensive Player of the Year. His 6'1 size will limit him defensively, although I expect he'll gain the weight necessary to not be pushed around. While comparing every undersized point guard to Fred Van Vleet is reductive and silly€¦ at his ceiling, Flynn could end up staring with a similar role.
Killian Tillie, Big, Gonzaga (9)
Would have been a 1st round pick in any of the last three drafts if it wasn't for an insanely unfortunate injury history. A top-tier big shooter who hit 44% from deep in his four years at Gonzaga while also consistently showing some of the best offensive awareness you could ask from a collegiate big. Also a high-IQ defender, although he needs to get much stronger to handle NBA bigs. My favorite pick for any of the Kings 2nd round picks, but if Harry Giles warranted a 1st round selection, so does Tillie.
Theo Maledon, Guard, ASVEL (5)
Promising initiator with combo-guard size and length. Not the fastest or more explosive player, but plays with excellent control and change of pace, and flashes some real craftiness around the rim. Crazy body control, but might rely on it too much. Has the skills to navigate through EuroLeague defenses, which both indicates his skill level and my main concern at the next level; if his shot doesn't massively spike, is he a big threat on offense?
Jaden McDaniels, Forward, Washington (5) (Full breakdown here)
The basics of McDaniels are alluring - a 6'10 wing who can shoot off the bounce and handle in space will always get attention in the NBA. He's also a surprisingly stout help-side rim protector, and he plays with solid toughness given his skinny frame. That said, he's not the shooter his draft stock might indicate, his love of driving led him to be predictable on offense (very poor finishing success at the rim), and he took way too many bad shots at Washington. He's very much a project player - here's hoping he goes to a well-coached, patient organization.
Robert Woodard, Forward, Mississippi St.
Toolset and basic skill package that every team wants - a 6'7 forward with highlight hops and a defensive motor to boot. He's not a real instinct driven player, and he lacks the handle and decision making to be more than a role player offensively, but he made big strides as a shooter (30/70 3P, 42%, and 69th percentile C&S) this season; if the shot is real, he's a lock for an NBA role
Favorite 2nd Round Targets: Trae Jones (Guard, Duke) Leandro Bolmaro (Wing, FC Barcelona Lassa, stashable), Isaiah Stewart (Center, Washington), Nate Hinton (Wing, Houston), Paul Reed (Big, DePaul)