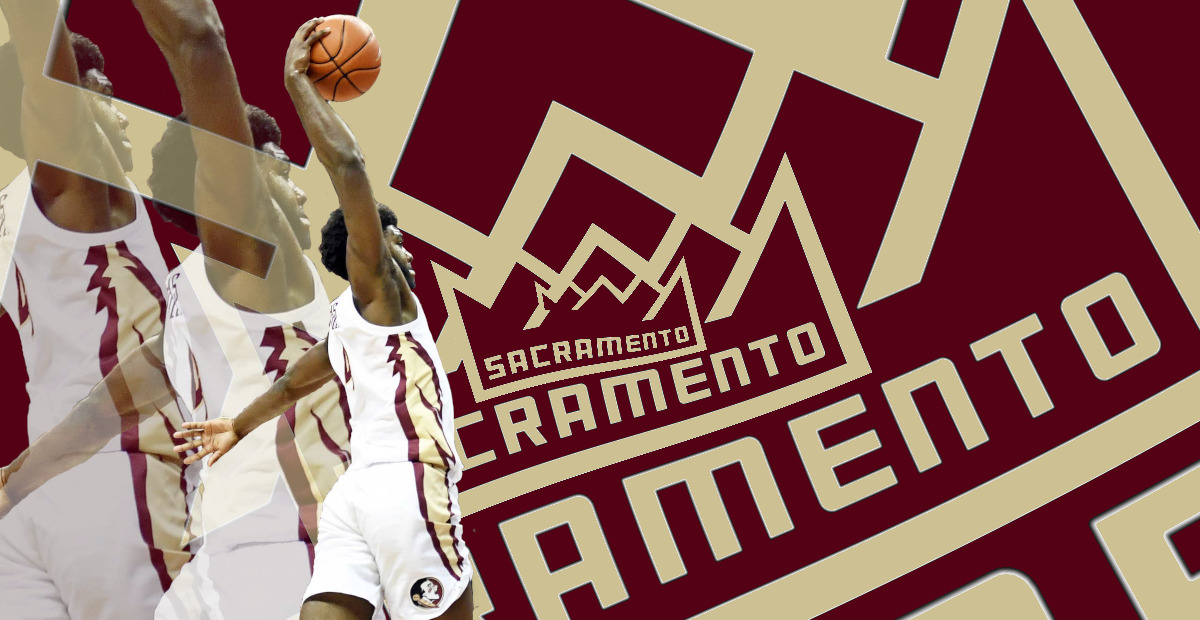 NBA Position: PF/Possible SF
General Info: 19-year-old Freshman, played for Florida State. Hometown of Charlotte, North Carolina.
Measurables: 6'8", 225 lbs, 6'11€ wingspan.
2019-20 Season Statistics: 9.2 PPG, 4.0 RPG, 1.0 APG, 1.0 SPG, 1.0 BPG, 1.7 TOPG (29 games played, 30.9 minutes a contest) €" 45.9% FG, 83.8% FT, 32% 3P
Optimism can be a fickle thing. When the 2020 NBA Draft process started in the far distant past of 2019, it made some sense for Sacramento Kings fans to focus on the safest prospects. How else could a player survive the Kangzy culture and the trip to basketball hell? Saddiq Bey and Aaron Nesmith are local favorites for a reason - because their value on the court is clear. But Patrick Williams? A so-called project player, ain't nobody in Sac got time for that. Vlade Divac and company were full speed ahead for the playoffs, and as Luke Walton's use of Justin James and pre-bubble DaQuan Jeffries showed, there isn't playing time for a developing youngster when it's postseason or bust.
Enter Monte McNair, whose job doesn't hinge on success in 2021. How will the new Kings General Manager handle the 2020 Draft? It's still a big question mark, and words are cheap when actions mean everything, but€¦
Talent and upside?

Patrick Williams it is. https://t.co/U0mRzGX56S

— SactownBabyGiraffe (@TimMaxwell22) September 24, 2020
Williams can be considered a project player - he needs some real help from smart physical and skill development personnel to bring out his wide array of abilities. But the secret of Patrick Williams is that he's much more NBA ready than some expect, and will be able to contribute fairly early by providing clear value on both ends of the court.
That said, are we optimistic enough on the Kings future to trust their development staff again? Rico Hines is well respected across the league, but Luke Walton still calls the shots, for now. Does McNair's ascension clear enough of the Kangz pessimism? For me, the answer is yes - Patrick Williams sits 10th on my Big Board, and is one of my favorite prospects for the Kings.
As the youngest American player in the draft, there's no denying that it will take a team time to unlock the full breadth of Williams' skills to NBA levels. That said, his €˜raw' status has become overstated. His 22.5 minutes per game at Florida State this season seems limiting on the surface, but team context matters. Coach Leonard Hamilton famously believes in a deep bench, as 10 players averaged 10 or more minutes per game this season. Florida State was clearly a smart developmental choice for Williams, as this squad provided the spacing, full-team playmaking, and fellow members of the give-a-shit-on-defense club to get Williams used to a versatile role€¦ but he'd have gotten way more playing time in other programs.
In addition, being labeled a project does not mean that Williams won't be able to contribute from the tip off of his rookie season; he has swing skills (passing, ball handling, and flexibility improvements) that need work, but the skillset he has now will earn him a strong spot in any rotation. I expect that with his defensive instincts and quietly underrated shooting ability, he can be an impact reserve from tip off.
Williams' biggest upside comes as a defensive wrecking ball. Much like his teammate Devin Vassell (and most NBA-level prospects who come out of Florida State), Williams is an excellent team defender, ready to leap over and disrupt when there's a breakdown in defensive coverages. While he's not the tallest (6'8) or longest (6'11 wingspan) prospect out there, his intersection of strength, high-point explosiveness, and quick instincts made him a surprise grim reaper for a ton of plays this season.
Williams is generally disruptive, quick to stunt and dig handlers for any sign of dribbling weakness and apt to play the passing lanes (to hilarious results - he knew this pass was coming before the passer did, so it ends up under his arm!). He gambles for steals, bites on shot fakes, and overextends himself defensive - none of which are really negatives, because (1) teams should draft the overconfident and teach them restraint, and (2) Williams' defensive awareness is damn sharp for a 19 year old. Check out this play (which stems from Devin Vassell, of all people, losing his man):
His instincts and Coach Hamilton's willingness to green light Team Chaos shows up in the stats; Williams averaged 1.8 blocks and 1.8 steals per 40 minutes, with a 5.6% block rate and a 2.5% steal rate. Only four freshman with at least 650 minutes played in a Power Conference have hit those rates in the past 12 years; Anthony Davis, Nerlens Noel, Zion Williamson, and Williams. Patrick has real upside as a rim protector, and given his strength at his age, he leaves little doubt that he'll fill out enough to handle the post at the NBA level.
But Williams has a clear weakness that keeps him from being a top-tier defensive prospect - the youngster needs some real help unlocking flexibility and agility if he's ever going to be able to become a switchable defender. He's clearly outlier strong and explosive, but to the point where his own bulk might be slowing him down too much - his damn quads seem as big as his head! He can clear big spaces with pace, but the tight confines of a one-on-one with a guard leave him plodding, and he's not shifty or flexible enough to dance with savvy ball handlers. Look at this switch in a contest against North Carolina - one hesitation move from Cole Anthony makes Williams take like four steps in order to flip his hips, get up, and contest the shot.
Williams' feet can't keep up with his eyes - an issue that sprung up constantly when Florida State switched, which is all the time. When a guard gets level with him on a drive, it's mostly over. And while this will only become a bigger issue at the NBA, this sort of instinct positive/physically negative weakness seems the exact gamble a smart NBA team would make. I won't claim to be a trained kinesiologist, but as long as his future team is confident in their strength and conditioning coaches, I'd hope this issue could get mitigated somewhat with proper weight training. It's a gamble, but it's a gamble backed up by existing player instincts. It's not relying on a player becoming what he's not - it's helping a player unlock what he already could be.
Villanova's Saddiq Bey, another primary 4/hopeful 3, shares the same clear weakness - ok open-court quickness for a bigger forward, but limited flexibility and non-elite wingspan will tempt guards to hunt for him. Just like with Williams, I'd hope some flexibility training can help Bey's feet catch up with his head. But Williams gets a massive boost over Bey defensively for a clear reason; Williams' explosiveness gives him a much better chance to recover (and, well, a higher defensive ceiling overall). They are not comparable athletes.
On the offensive end of the court, Williams has some clear roles. His strength and motor should make him a capable pick-and-roll player, and if his handling and passing continue to develop, he could even run some PNR actions himself. Given his motor and attitude, he could earn minutes just by constantly going for the offensive rebounds and cutting off the ball. He has some face-up promise, although not without some major grimaces. But the real offensive role for Williams is as a catch-and-shoot player, and with some actual off-the-dribble equity to boot. This isn't a move you'll find from either Bey or Aaron Nesmith, the lauded shooting forwards of this draft class.
Williams doesn't have a speedy release and showcases knock knees when he jumps (the quads of the Gods limiting him again!), but he shows fairly consistent upper body mechanics and has a high release point (with an even higher arc on the shot). Overall, he's a solid shooting prospect whose value on offense gets hidden by middling attempt numbers. He shot 83.8% from the line (4.5 attempts per 40), and according to Synergy, he was 39.3% on all jumpshots in the halfcourt, and 41.9% on pull-ups.
His 32% clip from deep looks mediocre until you realize that it was just on 50 attempts, a volume that skews that percentage all to hell; two more makes and he'd be at 36% (and this wouldn't be considered an issue), while with two fewer makes he'd be at 28% (and he'd be pretty much undraftable). But while the volume is low, it should be noted that nearly 25% of his total shot attempts were threes. Most importantly, Coach Hamilton played him as a shooter - Williams spent a ton of time on offense spacing the floor, roaming around the three point line, and moving to find openings. That's not to say that his creative endeavors off the bounce aren't without their warts€¦ but don't tell Williams he can't shoot.
While it's very fair to worry about Williams' low attempt numbers, looking beyond his collegiate numbers points to real upside. As draft maestro PD Web pointed out in a Williams breakdown on The Strickland - €œTaking Pat's high school and EYBL (Nike Elite Youth Basketball League) numbers and adding in the college numbers gives us: 75% on 367 free throw attempts, and 42% (!) on 236 3-point attempts.€
A swing skill for Williams is his passing ability; he finished with just 29 assists on the year (1.8 per 40 minutes), but flashed plenty on hockey assists and was as trusted as any of the Florida State forwards to bring the ball up if he got the defensive rebound. Check out Spencer Pearlman of the Stepien, who put together a great showcase of Williams' passing skills.
Patrick Williams is often lauded for his DEF (excellent team defender/rim protector for a 4), but his passing also gets overlooked in the same breath.

Between C&S 3, ability to pull up off the bounce off a PnR or closeout, and passing chops, Pat Williams is a skilled modern 4. pic.twitter.com/6qyI0lCs16

— Spencer (@SKPearlman) September 18, 2020
On paper, Williams' total rebounding numbers (4.0 per game, 7.1 per 40) aren't overly impressive for his future position, but again, team context matters. Florida State is an all-out rebounding team, with no one averaging more than Vassell's 5.1 per contest. Expect that in the NBA, when he's not playing next to multiple other bigs in a giant lineup, Williams will showcase his tenacity for the rebounds.
https://streamable.com/4ybm0y
Fit wise, Williams' defensive instincts and role as a power wing offer the Kings something they haven't had from a young guy since€¦ Gerald Wallace? Williams' hops and shooting upside make him a clear fit with De'Aaron Fox, even if his quickness needs to get pulled from those oversized quads in order to run at Fox's warp speed.
But it's also key to note that Williams could be a really, really good fit with Marvin Bagley. I've long argued that Bagley would be best used primarily at the 5, and Williams' intersection of skills makes him an excellent 4 next to Bagley. Sure, neither are the best perimeter defenders (for different reasons - Williams for quickness, Bagley for instincts), but Williams provides the defensive upside you need next to Bagley. Williams could also fit as a strong rim protector, a more physical rebounder, and floor spacer who won't overly crowd the post. True, the pairing may not have the optimal sheer height and strength combination, but in my book they have very compatible skillsets. If the Kings snag Williams in November, ignore the easy, lukewarm takes of €œwell, I guess McNair is replacing Bagley€ - this could be a really fun and efficient big man pairing in a year or two. But even if you have no faith in Bagley whatsoever and think he shouldn't exist in a fit conversation€¦ sure! Strong, defensive minded 4s who can shoot fit with pretty much any center, yeah?
Forget the project player label - that to me, hides what Williams actually is. He won't come in and immediately be a statsheet monster, but I expect he'll earn minutes quickly with his defensive awareness and under-heralded shooting abilities. These are the type of €˜raw' players a smart team buys into - the ones with obvious feel for the game and clear, hopefully fixable (again, I ain't no physical trainer!) limitations. Indeed, Williams seems such a great fit for the modern NBA, one wonders if NBA teams haven't had him in their top 10 for a long time€¦ and if there's really any chance he lasts to Sacramento at all.