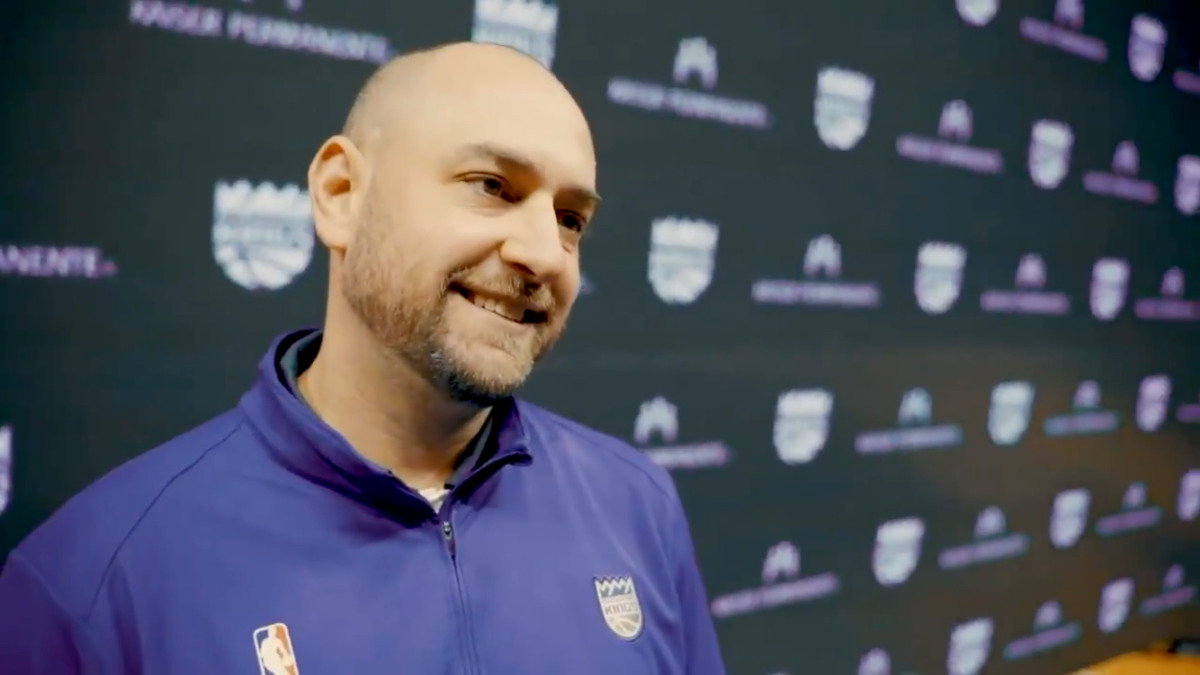 Sacramento Kings GM Monte McNair has hired three new people to his front office, according to ESPN's Adrian Wojnarowski. Woj reports that Wes Wilcox will be Assistant GM, Phil Jabour will be VP of Player Personnel, and Paul Johnson will be Director of Basketball Operations.
New Kings GM Monte McNair is reshaping his front office, hiring former Hawks GM Wes Wilcox as assistant GM, Philadelphia's Phil Jabour as VP of Player Personnel and OKC's Paul Johnson as Director of Basketball Operations, sources tell ESPN.

— Adrian Wojnarowski (@wojespn) October 14, 2020
Titles are different across teams, but the key here is that Wilcox will be McNair's lead assistant, with the other two handling various responsibilities in the front office. The three new additions join Ken Catanella who stayed and joined McNair's staff as a holdover from the previous regime.
Wes Wilcox was a finalist for the GM job that McNair ultimately won. Wilcox has extensive front office experience, and you can read our full profile of him here.
Phil Jabour joins the Kings from the Philadelphia 76ers. Jabour was promoted from a scouting role to Director of Scouting 2019. From the 76ers press release announcing Jabour's promotion to Director of Scouting:
Jabour joined the 76ers organization in 2014, after serving as a Scout for the Orlando Magic the previous two seasons. He's scouted at the collegiate, professional and international levels. Prior to joining the Magic, Jabour worked in several different roles for the Houston Rockets from 2006-11, after serving as a support staff member with USA Basketball during the summer of 2006.
Definitely noteworthy that McNair has experience working with Jabour from his time with the Rockets.
Paul Johnson comes from the Oklahoma City Thunder where he served as pro evaluation coordinator. He was recently promoted by the Thunder and was going to serve as Assistant GM for the Thunder's G League team. It wouldn't be surprising if he was going to oversee the Stockton Kings.
We were already familiar with Wilcox, and we'll surely learn more about Jabour and Johnson in the coming days, but it's clear that the Kings just added a supporting staff with the level of experience Kings fans should hope for. We were hoping the Kings would add another experienced front office member, and the Kings just added three.
Update:
The Kings have officially announced these additions via press release.
€œI am excited to have Wes, Phil and Paul join the front office,€ said McNair. €œWes' background as an executive in the league combined with Phil's veteran leadership through the scouting ranks and Paul's proven experience in evaluating talent will be strong additions to the basketball operations group. Their diverse skill sets and unique perspectives will add valuable knowledge and innovative thinking as we focus on executing our vision of building a winning culture in Sacramento.€
The release also confirmed our speculation that Paul Johnson will oversee the Stockton Kings, along with clarifying additional roles and responsibilities.
Wilcox will support General Manager Monte McNair in all facets of front office operations including roster construction, strategy and player evaluation. Jabour will be primarily responsible for overseeing the structure and processes of the scouting department. Johnson will lead Stockton's front office and have a hand in multiple aspects of Kings basketball operations. These three executives join Chief Strategy Officer Joe Dumars, Assistant General Manager Ken Catanella, Vice President of Athlete Health and Performance Teena Murray and Vice President of Kings Academy and Professional Development Galen Duncan in rounding out McNair's management team.