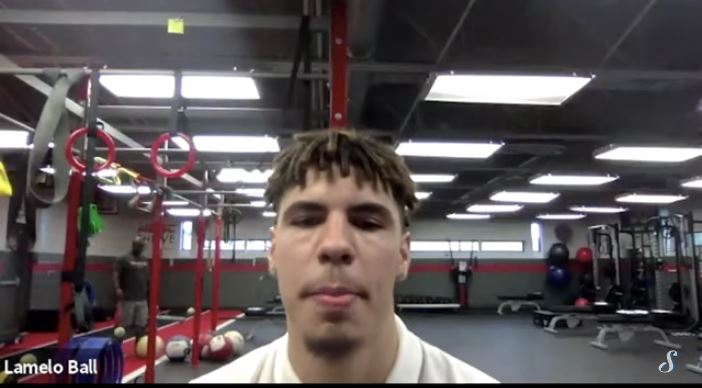 Draft Day is here and with it a wave of rumored activity! Who will the Kings taken with their three draft picks? Will we see the return of Mr. Cash Considerations himself? Is Monte McNair wheeling and dealing tonight?
I can't answer any of those.
What I can answer, is which of these guys jumped on a Zoom call with the Kings!
Monday, Nov. 16
Isaiah Stewart (Washington)
As far as I was able to tell, Stewart was one of those guys that didn't get an interview or a work out with the Kings. The big man from Washington is mocked between 18-28 in most drafts and would be a decent option for a big center if the Kings were looking to fill the holes left in the wake of an Alex Len or Harry Giles leaving the team. The guy is built like a tank, is fairly mobile for his size and spoke a good deal about being excited to show his range in the NBA.
Zeke Nnaji (Arizona)
Zeke was another guy who has had contact with the Kings, but again, no workout. Nnaji says he's put on 20 lbs of muscle during the pandemic while maintaining 6% of body fat and credited going vegan as something that really helped in that process. If he finds himself available at #35, I think the Kings could really benefit from having a stretchy big like him.
Nico Mannion (Arizona)
Nico has not had contact with the Kings. In a follow up question, he said he felt he could play with another point guard in a two lead guard lineup and mentioned that he moves well off the ball and with his BBIQ and ability to stretch the floor he felt he could easily slot into the two position.
Vernon Carey Jr. (Duke)
Has not had contact with the Kings. The big man from Duke recently lost 30 pounds saying, "these past months, it's definitely helped my athleticism and I've gotten more mobile. I move much better. It was an eye-opener for me after the season and made me realize what I had to do at the next level." Vernon is slotted to go somewhere in the mid-second round.
Josh Green (Arizona)
Hey hey! So now, Josh Green has had contact with the Kings. Again, no work out. Green is one of the best defenders in the class and a very high IQ player as well, who could slide right in with the Kings as a classic 3-and-D forward. Green, an Aussie native who moved to the US at 14, credits his friendship with Ben Simmons as one of the reasons for his recent success "(Ben) being able to reach out to me first meant a lot to me personally and it's awesome being able to reach out to him€¦ just being able to talk to him and him giving me advice has been awesome. He's a great kid. A great guy and I appreciate our relationship.€
Jaden McDaniels (Washington)
Not had contact with the Kings and when I ask how he might have see himself fitting into to a young team like the Kings he replied, "no, I have not been in contact with them." So suffice to say that the kid ain't coming! On what he brings to an NBA team right away, McDaniels said ,"versatility, being able to play multiple positions and defensively move my feet and guard 1-4... On offense be able to knock down good shots, create for others when I have opportunities and be a competitor and going out and play hard."
Tuesday, Nov. 17
Alekej Pokusevski (Olympiakos/Greece)
There I was, 9 am. Fresh cup of coffee, freshly shaved and wearing a tuxedo I had custom made with his jerseys lining the inside and my fresh Poku tattoo on my forehead... and the man went and cancelled his interview. No idea why. Maybe he didn't get my letters telling him how excited I was. I sent forty of them, but, who knows how the mail system is right now across the pond.
Tyrell Terry (Stanford)
While there wasn't a chance for anyone to ask if he'd had any contact with the Kings, I can say for certain that he didn't work out for the Kings. The mini Trae Young from Stanford did offer up what he felt he can bring immediately to his team: "High level of unselfishness, whether I'm coming off the bench or not. Also a level of work ethic - first in the gym and last out to gain the respect of the roster"
On what NBA players he modeled after: "Steve Nash was who I looked up to. Kobe Bryant and his passion for the game. There's not one player I would compare myself after (today), but I try to take pieces of a lot of other players' game." I would be thrilled to have a guard like Terry as a back-up to De'Aaron Fox next season, but the Kings would probably have to trade down to justify the selection.
Jahmi'us Ramsey (Texas Tech)
Was yet another young man who had an interview, but no workout for the Kings. He did, however, mention that he did a Zoom workout for 22 teams, though he couldn't recall which teams were involved and which weren't. So, progress?
LaMelo Ball (Illawara)
AHAHAHAHAHAHAHAHAHAHAHAHA.
[Editor's note: LaMelo Ball might be the worst interview in NBA history. Nothing meaningful was said in the entirety of his time speaking with assembled media.]
***
Overall, I don't think anyone in the world outside of people cashing checks to be a part of the Kings front office know what will happen tonight. From a myriad of various interviews to an entire lack of workouts, the Kings are a riddle wrapped in a mystery inside an enigma with a decade and a half of mostly crap covering the top of it. For once there's a myriad of prospects I'd be happy the Kings took and a million different moves that could really signal where this franchise is headed. One thing I do know? I'm ready for the latest phase of this damn team to finally start.
Good luck tonight, Kings fans!