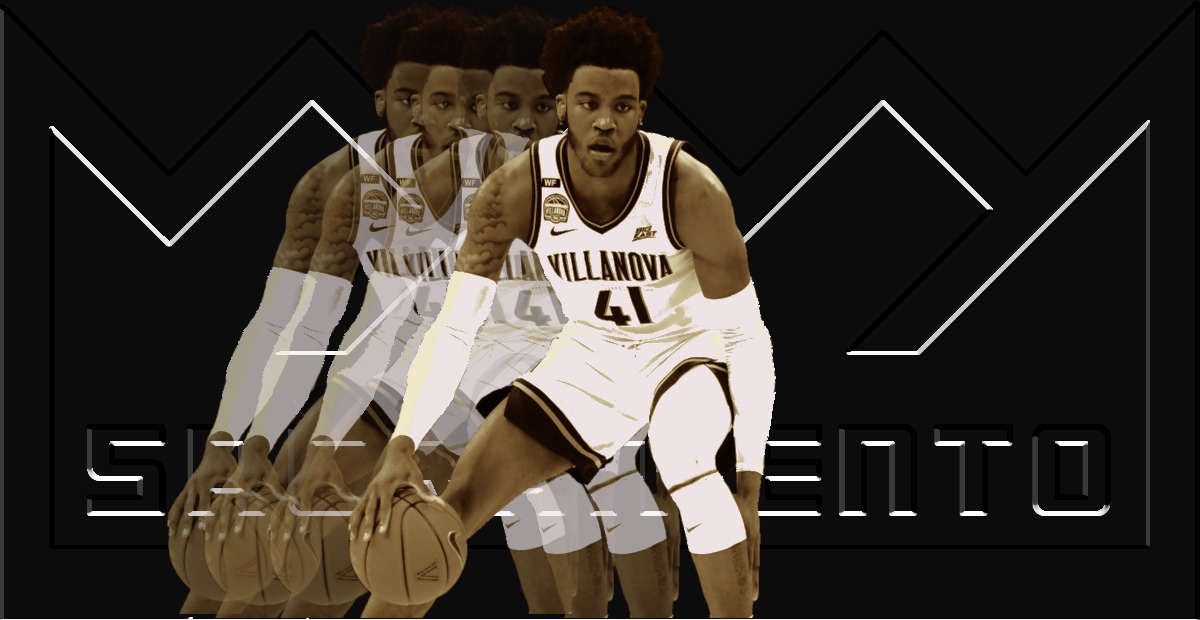 General Info: 21-year-old Sophomore, played for Villanova University. From Charlotte, NC.

Measurables: 6'8", 215 lbs, 6'10€ wingspan.
2019-20 Season Statistics: 16.1 PPG, 4.7 RPG, 2.4 APG, 0.8 SPG, 0.4 BPG, 1.5 TOPG (31 games played, 33.9 minutes a contest) €" 47.7% FG, 76.9% FT, 45.1% 3P
Given the Sacramento Kings' lack of player development success over the past decade, it's easy to understand why Saddiq Bey is such a popular draft crush for Kings fans. Coming from Villanova, one of the most successful developmental colleges of the past decade, Bey is a well-rounded, high IQ player who can do a lot on the court and does it without ego. He's such a multi-talented, high-floor player that I doubt even the Kangz could mess up - there's no chance in my mind that Saddiq Bey doesn't become a solid rotation-level player in the NBA, regardless of where he ends up. And in a messy draft (and cheering for a messy NBA team), that's clearly a major plus.
Saddiq was the quintessential Villanova Wildcat - the culmination of everything that Coach Jay Wright looks for in a player. He's an excellent shooter, finishing with insane efficiency on both his deep shot (45.1% on 175 attempts) and from the court overall 60.8% true shooting). He served as a jumbo-initiator for Nova, handling the ball and showcasing good awareness of the offense and a keen-eye for quick passes. And in the Wildcat's switchable defense, he'd often start guarding the opponents' best scorer regardless of position, with assignments including Devon Dotson of Kansas, Baylor's Jared Butler, and Myles Powell of Seton Hall.
Villanova has been successful at producing NBA ready prospects because of this jack-of-all-trades approach - Mikal Bridges, Josh Hart, Eric Paschall, Donte DiVincenzo, Jalen Brunson, and Ryan Arcidiacono have all played real versatile roles in the NBA this season. In an excellent interview on Sam Vecenie's Game Theory podcast, Bey talked about why Villanova players have been having near-immediate impacts in the NBA.
€œJust being ready to adapt for any situation€¦I think the coaching staff really stresses player development, and trying to be the best complete player you can be, and not be typecast or saying that this is all you can do. And being ready for every role€¦. going to Nova, each year, your role can change, so I think that coming into the NBA, it's whatever that team needs, and that you trust that you've had enough amount of work in college to adapt to any of those roles. I think that really helps.€
This €œwhatever the team needs€ line is one that every prospect will say in interviews, but with Bey, I believe him. There's no ego to his game. In Villanova's biggest win of the season - a 56-55 grind against top-ranked Kansas - Bey had just 7 points on 8 shots, his second lowest shot total of the season. But he finished with 5 assists, 7 rebounds, and some key defense against Dotson. Bey is a prospect who shines on the intangibles.
That said, I believe the idea of Saddiq Bey has somewhat exceeded who Saddiq Bey actually is, on both ends of the court. His floor as a prospect is very high, but I also doubt that he'll vastly improve the ceiling of a rebuilding team. In this draft, that could certainly be enough - but in my opinion, fans need to consider Bey more a fringe-starter/excellent bench forward, rather than as a top-end starting prospect. He has clear limitations on both ends of the court that are getting buried in the allure of drafting a 3-and-D forward from the premiere 3-and-D collegiate program.
Bey's most immediate NBA skill on offense is clearly his deep shot; he's got both the volume (6.7 3PA per 40, nearly half his shot attempts) and success (45.1%) to back it up. According to Synergy Sports, he was in the damn 98th percentile for catch-and-shoot success this season; he shot a whopping 48.8% on all C&S attempts, but also shot 46.3% on guarded C&S shots, which is good for 96th percentile. His mechanics are clean (albeit with some fade and lean), his 6'10 wingspan keeps the ball away from defenders, and his shot is damn quick. And most importantly for a top-flight C&S player, he keeps himself moving, makes defenders stay with him, and is always ready for the pass. He can hit shots off the catch or off a quick hop.
Bey's role also included an extensive amount of extra-large initiator work, and he finished with 2.8 assists per 40, a 1.5/1 assist-to-turnover ratio, and a 14.9% assist rate. His passing instincts and willingness to sling the ball to the more-open teammate are apparent in every Nova game. He almost always makes the right pass, and every once in a while he throws one with flourish. Forwards with his intersection of dribble/pass skills are clearly valuable at the NBA level, especially on a team like Sacramento that lacks redundancy in those skills.
(Side note: look at this full-court pass from Bey, which leads to buzzer-beating three. How many teams across both college and the pros would have just wasted the play giving their best shooter a half-court heave? I would sell a kidney to get Jay Wright to come coach my favorite NBA team.)
While Bey's large offensive skillset gives him tremendous promise as a seamless role player, it's unlikely that he can ever be depended on to create his own shot. Given his catch and shoot ability, the logical go-to would be developing a shot off the dribble; it was a swing skill for Mikal Bridges (he's gotten better at it since Nova), and it could be for Bey. But according to Synergy, Bey hit only 29.6% of his shots off the dribble. And if there is one part of Bey's game that has been overrated, it's his athleticism and physical tools; he's a solidly quick end-to-end player, but he doesn't have above-average explosiveness or burst.
Check out this play against Mississippi State, which rosters two 2020-draft-worthy players in Reggie Perry (#1) and Robert Woodard (#12).
The highlights of this play are obvious - Bey's dribble is solid, he makes the pass when he needs to, and once Woodard bites on Jeremiah Robinson-Earl's fake and Perry jumps to stop the drive, Bey immediately runs to the rim and is rewarded with a dunk. But the downsides are also obvious - Bey isn't a player who will be able to beat NBA players on the drive. He lacks a quick first step, craftiness, or burst to be a big threat on defensive overplays. And while his cut to the hoop got him a dunk, he's not an explosive or seamless leaper - he needs to load off both feet to get up, which lets the explosive Woodard get back into the picture and almost block the shot.
Bey aced most of his collegiate defensive assignments by being as smart or smarter than his cover; he keeps his feet moving, takes great angles, plays physical, and disrupts opponents with his length. He's also a capable and willing help defender, an absolute necessity if you're going to get minutes on Villanova. He didn't get a ton of blocks or steals - just 0.9 steals and 0.5 blocks per 40, both absurdly low for a player with his defensive motor - but he's a heady defender who handled a wide-array of opponents with his awareness and quick feet.
https://streamable.com/1m8vwi
Check out this play against Baylor - his assignment is Bears' star guard Jared Butler, who inbounds the ball and curls around a mess of bodies to the top of the arc. Bey reads the play excellently, manages to run through two screens to get into the passing lane, and cuts off what should have been a pass for an open Butler three.
https://streamable.com/7uubcn
That said, Saddiq's athletic limitations do show up against quicker guards, who can blast by him and offer no chance to recover. While he handled a wide range of covers at Nova, his defensive window will certainly shrink in the NBA. I trust that a player with Saddiq's awareness and defensive motor will watch plenty of film and find ways to improve his range, but early in his career he should stick to guarding forwards, and those with extreme burst and explosiveness may still leave him in the dust. He is unlikely to be a long-term answer for top-tier scoring threats.
In the NBA draft, it's very easy to fall into the trap of overrating athletic impact and underrating skill impact. Kings fans know this more than most. Bey is clearly a better basketball player than a lot of competitors in his draft range, including some who I will rank over him in my next Big Board update. But unless the Kings staff works some physical developmental magic, Bey will have average NBA tools, and will always need to rely on his basketball instincts, as excellent as they may be.
This draft isn't enormously talented, but it strangely offers the Kings a range of talent and upside combinations that the next GM will have to seriously debate when they decide how best to reset Sacramento's rebuild. Do you take Saddiq Bey, a high-floor, wide-skill-set, high-IQ player who will contribute no matter what? Do you take Patrick Williams, a higher-ceiling project player (albeit one whose floor I think detractors are underestimating) and go all-in on a heavier rebuild? Do you take Aaron Nesmith, a player who has mastered one role? The variance in the Kings range is incredible, even for a late-lottery pick, and whoever the next GM selects could say a lot about their approach to this rebuild. If the Kings were on the fringe of real playoff contention, Bey would be so far and away my draft preference that I'd have already bought a Saddiq #41 jersey in Kings black just to will his selection into existence. But as I expect a harsher rebuild is necessary to elevate the Kings to the postseason, I'm finding I prefer other, higher ceiling players like Williams, Tyrese Maxey, or Kira Lewis.
Saddiq Bey would be a fan favorite in Sacramento from day 1, and offers a wide skill set and a very high floor. That certainly could be enough to justify selecting him at pick No. 12. But if the next Kings General Manager opts for a stronger reset of this roster, don't be surprised if Sacramento selects someone else.