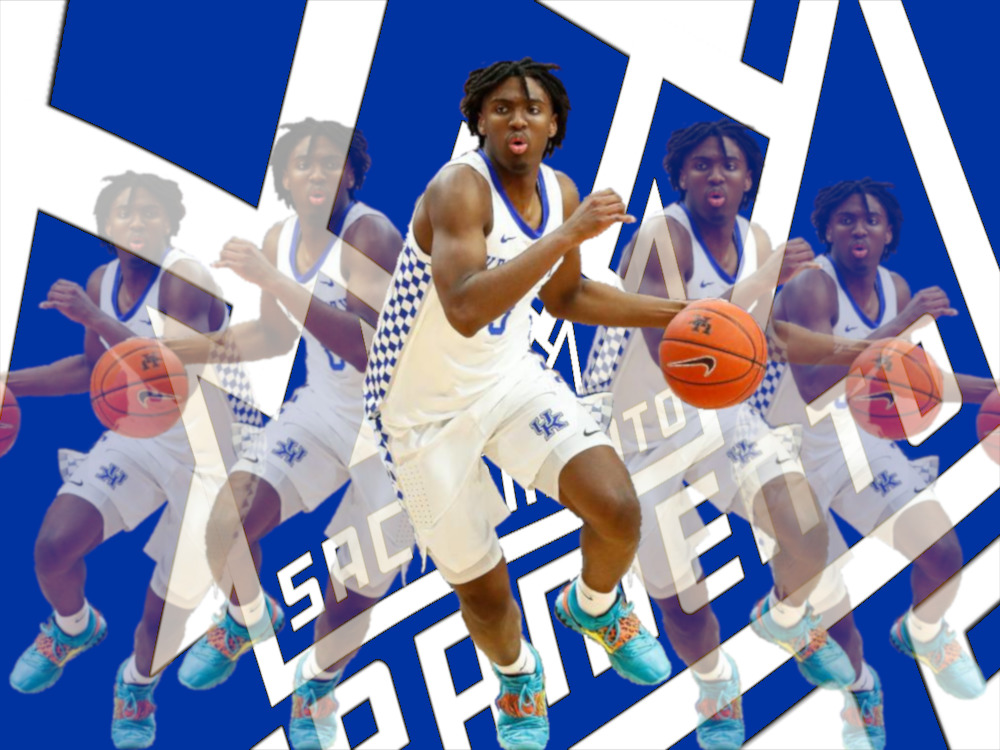 Tyrese Maxey
General Info: 19-year-old Freshman, played for the Kentucky Wildcats. From Garland, Texas.
Measurables: 6'3", 200 lbs, 6'6€ wingspan.
2019-20 Season Statistics: 14.0 PPG, 4.3 RPG, 2.3 APG, 0.9 SPG, 0.4 BPG, 2.2 TOPG (31 games played, 34.5 minutes a contest) €" 42.7.2% FG, 83.3% FT, 29.2% 3P
Pound for pound, Tyrese Maxey is one of the tougher players in the 2020 NBA Draft. Maxey's physicality made so many things work for the Kentucky Wildcats this season; he attacked in transition relentlessly, took on much taller defensive assignments, and dove to the rim and through SEC Conference big men with abandon. The combo guard was part of Kentucky's latest on-court experiment - when three of your best four players are 6'3, can you play them together and still win? - and thanks in large part to his versatility and toughness on both ends, the answer was yes. It wasn't a clean, seamless fit for anyone; initiator roles fluctuated, the spacing collapsed (Immanuel Quickley was the only real shooter and the squad was near the bottom of college basketball in deep shots), and we'll never know how far this team would have gone in March. But Tyrese Maxey makes a great case as this year's underrated prospect, both as the fearless attacker and does-all-the-little-things leader he showed himself to be this season... and as this year's likely version of the Kentucky player who always seems to showcase skills that went underutilized in their time in Lexington.
Let's check all the boxes here on these two plays; Maxey flashes over as a help defender to disrupt Isaac Okoro's drive, gets the rebound, doesn't force the drive against a set defense, and gets rewarded with a clearer lane when his man gets spun around. Next, he gets switched onto Okoro but gives up no space or opportunity for Auburn to get Isaac the ball - and in transition, shows off incredible speed, touch, and awareness of how to beat the defender. I'm guilty of being over optimistic about the drive and motor of many collegiate players, but with Maxey, it's no hyperbole to say the youngster gives his all every moment he's on the court.
Let's get the big question mark out there first; Maxey's shooting numbers are concerning, as 29.2% from deep on only 3.6 attempts per game isn't pretty. He doesn't have the most orthodox shot profile, as he bring the ball low to his body on the gather. He also had a middling release point in college, which makes his release more blockable, and his odd shooting mechanics leave him throwing up Jordan feet when he takes a shot. At yet€¦ if there's anything in his game I'm confident in improving, it's his shot (and I'm not alone in this take). Maxey is one of the better shooters to ever average 29.2% from deep, and he's got the onions for the big shots.
Maxey hit some ridiculous shots this season - he almost seemed to be most effective on threes solidly past even the NBA 3 point line, while also flashing on long two-point jumpers. Tyrese Maxey is a shooter, and he needs to do it more - while he's currently most efficient as a driver, his quickness and fluidity on offense demands to be unlocked by an improved shooting touch. Even with his dip-needy handicap, Maxey gets this ball from a behind-the-back crossover into a shot pretty dang quickly.
Now all of these highlights are off-the-dribble pull-ups, which are indeed Maxey's most efficient shot (36.7%, 53rd percentile per Synergy Sports). Aside from promising free throw numbers of 83.3% (3.9 per game) and solid success on long twos (35.7%, 50th percentile per Synergy Sports) - both of which can indicate long-term shooting potential - Maxey's shooting numbers range from worrying to damn ugly. He shot a terrifying 25%(!) on catch-and-shoot shots, a skill he desperately needs if he's going to become the versatile combo guard he should be. That rate cannot all be blamed on Kentucky's terrible spacing, and it's the swing skill that will determine if Maxey is a strong bench spark plug or a starting-level difference maker. But you don't get more proof that a guard is willing to play off the ball than Maxey playing with two other point guards. He has admitted in interviews that he struggled off the catch because he was previously so used to being the primary handler and shooting off the dribble.
To his credit, his catch-and-shoot ability is clearly a shot he's been working on in the long break since March; while Klutch Sports' televised Pro Day in late October should be taken with an asteroid-sized grain of salt, Maxey did use the event to show he's raised the release point on his jumper.
The unquestioned efficiency in Maxey's game is his success at attacking the basket - per Hoop Math, Maxey scored on 65.1% of his attempts at the rim, and only 16.9% of those makes were assisted, emphasizing his ability to beat opponents on his own. He isn't the most explosive dude, but his timing and general rhythm at the basket made him a huge threat in college, and he will continue to be so in the NBA given game time to adjust to NBA speed and rim protectors. He's got an excellent change of pace game, always seemingly going full throttle but suddenly throwing on the nitro. He shows a great understanding of how to keep the ball away from potential shot blockers, but also showed he's willing (and able!) to simply plow through rim protectors if he needs to. When Kentucky needed buckets late in the game, they'd often just try and clear out as best they could and let Maxey go to work - and despite their terrible spacing, it often worked.
Maxey's floater game is also insane. His craftiness once he gets anywhere close to the paint can be bananas. He over relies on it, and it cost him success in the pick-and-roll because he can become so predictable. But he's no Justin Jackson - his floater is not his only avenue to offensive success, but rather an ancillary skill (one necessary for a 6'3 guard without insane bounce) that shows off his crazy touch and gives real reason to be optimistic about his long-term ability to become an actual shotmaker.
And if the combination of attack mentality, driving ability, top-end speed, and €œhe started for Kentucky€ didn't make it obvious, Maxey is a dangerous transition scorer - he shot 58.5% in transition, 85th percentile per Synergy Sports, with just a 8.1% turnover rate.
To be the combo guard his game begs him to be, another swing skill in my opinion is Maxey's passing abilities. He is by no means a selfish player, and playing with two other heavy initiators likely hid some of his playmaking chops, but he does not look like a player who will be able to be a primary ballhandler at the next level. He flashes vision and offensive awareness, and can chuck passes with speed and flare - but when attacking the basket, he often got tunnel vision (especially early in the season). He needs to work on seeing the reads as they open up and limit tough, unnecessary shots. But check out this play against Georgia; he misses a floater, keeps the ball alive for a rebound, resets, and gets a nice drive - only to miss or ignore an open Immanuel Quickley in the corner. But after his poor decision gets him blocked, he saves the ball and earns another possession. Even when Maxey misses the right play or makes an error, he fights to make up for it.
Maxey's pro-day included a clip from John Calipari where Coach managed to say that €œOur kids here are not pigeonholed into one position€ with a straight face. Position wise he may be correct, but Cal has such a strong, proven history of pigeonholing his players into roles. Bam Adebayo was a low-post bruiser who never got any initiation duties at Kentucky - now he's one of the best passing bigs in the league and can switch onto nearly anyone. Tyler Herro averaged 10 shots a game in college, and was primarily used as a spacer€¦ then dropped a bajillion points in his first run at the NBA Playoffs while showcasing excellent playmaking skills. Hell, Devin Booker got 50 total dribble jumpers in college, and now he's the self-creation King. It's obviously usual for great NBA players to add to their skill sets once they hit the pros, but Kentucky's record is clear - bet on Wildcats (the ones who care about basketball, anyways) to be more than they can show us in college. Maxey got boxed into a role as the play finisher who could make a lineup with two other averaged-size guards work; imagine what he'll do with spacing, athletic bigs, and spacing.
Man, I just made an excellent case for Tyrese Maxey, didn't I? https://t.co/vxwZzlSQDq

— Bryant West (@BSWest5) September 3, 2020
Maxey's defensive abilities are his other big selling point, as he is on every second he's on the court. Maxey rides the lightning on defense - seriously, how does a human being stop that quickly on a backpedal?! His 6'3 size won't make him an intimidating defender at the NBA level, but he has a 6'6 wingspan and a strong frame that promises he won't be outmuscled. Add in his great change of direction ability and his quick instincts, and he's got the makings of a versatile and promising point of attack defender.
Because Kentucky played so small, he'd often be the dude that would guard the opposing SF, but he covered everyone from Kira Lewis to Anthony Edwards to Isaac Okoro. He was the loudest Wildcat on defense, called out assignments and changes, and showed excellent effort as a help defender with a ton of digs and disruptions.
While Maxey's steal rate (1.5%) isn't great for a guard, he's got active hands, quick feet, and is aggressive with his assignment. His pickpocketing opportunities will likely increase when he's not guarding small forwards in a three guard lineup. He also jumps in the paint as if he isn't a 6'3 guard - and his verticality, unexpected physicality, and 6'6 wingspan help a lot as a surprise rim protector. Of course, that aggression can lead to bad fouls, bad gambles, and overplays - ones that veteran NBA guards will make him pay for. The learning curve for every rookie guard is steep, but with his strength, quickness, and wiring, Maxey looks the part of a high-level defender who will take on whatever guard challenge a team needs.
Finally, it would not surprise me to see Maxey become one of the better guard rebounders on a strong team; 5.0 rebounds per 40 minutes, even as the default small forward in a lot of situations, is impressive for his size. He boxes out above his position, and he's a player who clearly has the physicality to play at the next level.
Maxey is the gym rat of all gym rats - he's taking the Jimmy Butler / Patrick Beverley approach to the game with early, early morning workouts (honestly, the only thing that the Klutch Sports workout stressed harder than Maxey's improved jumper was his 4:30 a.m. workouts). But with a Kings roster that has, to put it kindly, struggled to show omnipresent effort for 48 minutes, Tyrese Maxey's top tier motor and approach to the game would be a welcome addition to a team that could certainly use a promising point of attack defender.
The offensive fit in Sacramento isn't seamless, especially when Maxey's greatest statistical weakness last season was his shot off the catch. The Kings cannot afford any more non-shooters on this roster. The willingness to draft Maxey likely hinges directly on ones confidence in his shot - a bet I'm willing to make, given Maxey's free throw success, ability off the bounce, and his clear willingness to put in the work needed to adjust to his team's needs.
Aside from the shot concerns, Tyrese Maxey would be a damn FUN fit next to De'Aaron Fox, and the potential of the pair should their shots take off is through the roof. While Maxey does not have Fox's top tier of explosiveness or speed, he won't be left behind and the combination should be one of the more fearsome guard combos in any sort of transition or open court opportunity. And on defense, despite being undersized for a 2 guard, Maxey might be able to take the point of attack defensive assignments that Fox has struggled with. Plus, the pair already have a connection; Maxey noted that when he was 13, he went to watch Fox play at an AAU event, and when Fox chose Kentucky he thought he could see himself following in Fox's footsteps.
When the Kings pick comes up at No. 12, Tyrese Maxey won't likely be the most promising scorer (that will probably be Cole Anthony). He won't be the most promising shooter (Aaron Nesmith's singular specialty!), the best defender (Josh Green), or the best playmaker. But in this armchair scout's humble opinion, unless someone comes tumbling down amid this crazy NBA draft, Maxey is likely to be the best player available at 12 - a combo guard who can attack the basket, defend with awareness and fervor, and - very likely - shoot the ball at a reasonable clip. The Kings need physical, skilled attackers like Tyrese Maxey if they're ever going to break the cycle of self destructing every season.