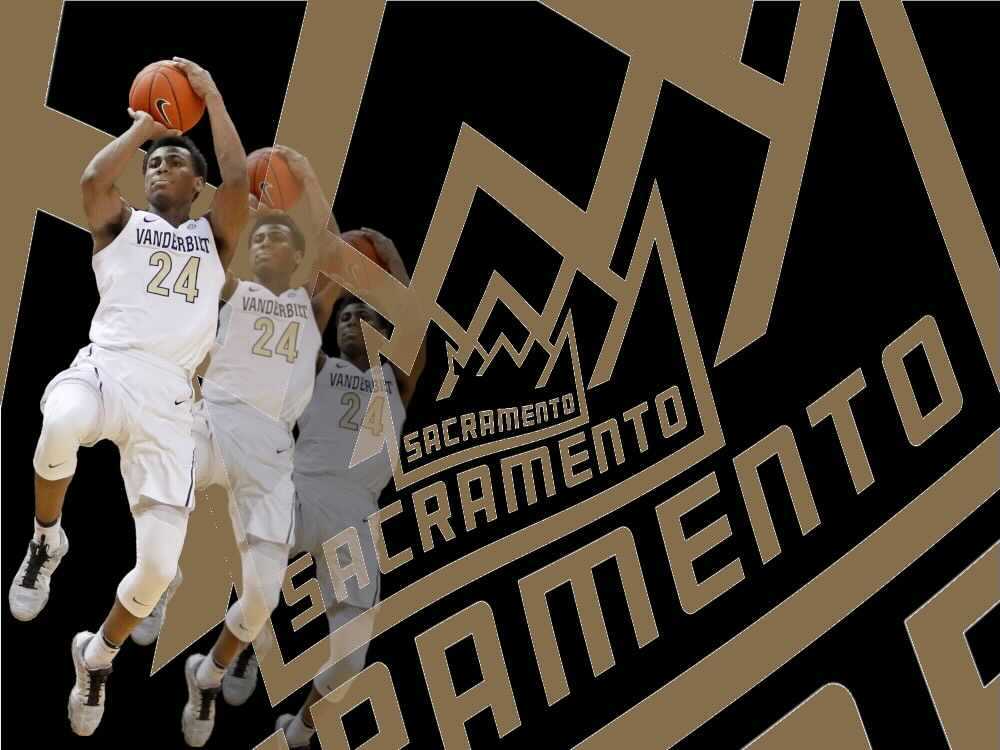 General Info: 21-year-old Sophomore, played for Vanderbilt University. From Charleston, South Carolina.

Measurables: 6'6", 215 lbs, 6'10€ wingspan.
2019-20 Season Statistics: 23.0 PPG, 4.9 RPG, 0.9 APG, 1.4 SPG, 0.9 BPG, 1.7 TOPG (14 games played, 35.7 minutes a contest) €" 51.2% FG, 82.5% FT, 52.2% 3P
Compared to a lot of the players discussed in the Sacramento Kings range of the 2020 NBA Draft, Vanderbilt forward Aaron Nesmith is exceptionally easy to understand on the basketball court; he's a shooter, and a damn promising one at that. Under first year head coach Jerry Stackhouse, Vanderbilt made it a priority to spring Nesmith for shots, and he had an incredible hot streak to begin his sophomore season. Nesmith torched through the team's non-conference schedule, with insane efficiency off-the-catch, off-of-screens, and off movement - if he got the shot off, he buried it most of the time. In Vanderbilt's first SEC Conference contest against Auburn, while being guarded by fellow 2020 draftee/defensive titan Isaac Okoro, Nesmith finished with 18 points, sank 4 threes, and nearly brought the Commodores back from a big deficit.
Unfortunately, Nesmith's season ended with that bang - he'd suffered a stress fracture in his right foot during the Auburn contest, and would miss the rest of the season. His incredible mark of 60 made threes on 52.2% deep shooting would stand unchallenged by the SEC Conference schedule, and the Commodores would go just 3-15 without him in the lineup. Nesmith's sharpshooting value may be obvious, but as draft season approaches, his shortened season and lack of multiple battles against Conference competition leaves a ton of questions unanswered for armchair scouts and NBA teams.
Nesmith is a damn excellent shooting prospect, and his ability off the catch and off of slight movement (including one or two dribbles) will give him undeniable gravity at the next level. He flies around the court, reads what his defender is giving him, takes advantage, and gets shots. Upside beyond his shooting is a question mark, but the value in his shot is clear, as long as his future team is ready to run the actions needed to help carve him space. Whatever else, he will demand respect from defenses through his ceaseless movement, sheer confidence, and toughness (look at him trucking a dude on his way to a three).
The question of just how good a shooting prospect Nesmith is is very much up in the air. His sophomore season clip of 52.2% from deep is an absolutely unsustainable mark, especially since Nesmith only played one SEC game before his injury. Compare Nesmith's shooting stats between his two seasons.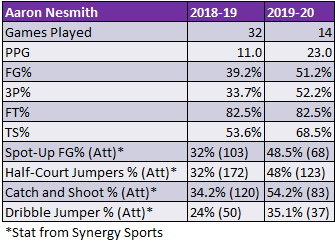 If Nesmith had finished his sophomore campaign, a regression to some sort of mean would have occurred. There is no doubt that his insane half-season at Vanderbilt this year has clouded his actual shooting ceiling, to the point where it may get him overdrafted and overly raise expectations. His shooting ability is a Schrödinger's cat - unknowingly insane or slightly-above-average - and prognosticators are left to estimate how elite this maybe-elite shooter really is. Honestly, it's unfair to Nesmith that he caught the eye of a fanbase that rosters Buddy Hield (and seems in great favor of sending him on his merry way, as if a top 3 shooter in the NBA is easy to replace), because Aaron Nesmith is almost certainly NOT Buddy Hield 2.0. Banking on a player reaching his top-end outcome is a good way to be disappointed. (...what? Ignore the man behind the curtain who whispers that Isaac Okoro is the second coming of Andre Iguodala - there's no hypocrisy to see here!)
It's key that Nesmith's future team properly utilizes him at the next level. Take the Duncan Robinson route - instruct motion, use screens and pindowns to death, limit his dribbling, and give him quick outlets if the shot isn't there. Jerry Stackhouse made a real commitment to getting Nesmith the sets he needed to get open shots, and it worked excellently - but will his future team be as dedicated? If the Kings select Nesmith, fans should pray that Walton doesn't rehash his approach for Hield and ask Nesmith to handle the ball and serve in a secondary playmaker role. His first, second, and third function on offense should be just like this.
If there's a shot in his arsenal I worry about, it's his shooting off the bounce - he's not so quick or crafty that I think he'll have a guaranteed go-to shot with the ball in his hands without some cleared space. He flashed some solid shooting off of one or two quick dribbles this year, so perhaps this improvement would have been proven with a longer season... but this is certainly a swing skill for Nesmith if he wants to offer any self creation ability.
While he's not afraid of contact when he drives into the paint, Nesmith has major issues when he does get to the basket; he shot just 55.8% at the rim, per Hoop-Math.com, emphasizing his lack of touch, explosiveness, and quick first step. For comparison, Saddiq Bey shot 62.9% at the basket, Isaac Okoro shot 67.8%, and Devin Vassell shot 69.4%. Nesmith has a nice Eurostep that he busts out every now and again, but he is not a guy who can power through the lane with force and explosiveness, even when it's a relatively clean lane. He just doesn't have the pop, and unless his touch jumps and finishing skill improves, he won't be a big threat on overplays. Check out the clip below from the Auburn contest - it's fair to wonder how much his newly injured foot hampers him here, but watch where he launches (off his non-injured left foot) and how high he gets.
Nesmith's assist numbers were very poor this season considering his usage rate, with just 13 assists in his 14 game season. He clearly needs to improve that mark if he wants to earn real minutes at the next level, especially if he gets drafted to a team that, cough, already has enough players without real passing instincts. But to give Nesmith credit, this seems an issue he's aware of; in an excellent interview with ESPN's Mike Schmitz, Nesmith was quick to point out reads he missed across multiple plays. While I don't agree with all of Schmitz' takes on Nesmith's skills, I highly recommend this interview; Nesmith comes off as a very aware player who eagerly watches film, both to improve his game and see how elite shooters improve and function. There's certainly hope that that dedication will lead to him seeing more open reads.
On the defensive end, Nesmith is very much a mixed bag. To his credit, he clearly bought into what Jerry Stackhouse was preaching, and went at his assignments with gusto on most occasions. His Go Go Gadget arms mean everything to his defensive upside, because although he's willing to muscle up to his assignments, he doesn't yet have the immediate defensive instincts of some of the other forwards in the class, like Isaac Okoro, Patrick Williams, Saddiq Bey, or Josh Green. He's often caught flat footed or too close to his assignment, and because he lacks the ability to quickly flip his hips or shuffle his feet, he can quickly find himself in his opponent's dust.
Instincts can improve, and as his interview with Schmitz showed, he's clearly willing to put in the film study needed to improve on the defensive end - but instincts are not his biggest issue. While solidly quick on the college floor, Nesmith will be at an athletic disadvantage against a decent chunk of NBA players, unless he's coming in as a super sixth man. He does not have the explosiveness, either vertically or on the ground, to project as a real difference maker on defense. He and the rest of the Vanderbilt roster clearly struggled to adjust to and implement Jerry Stackhouse's defensive gameplan, and through many of Nesmith's contests there was a clear lack of communication. This has to change at the next level, because if he loses his man, he won't have a great chance of recovery. But to give him credit€¦ whatever Nesmith becomes defensively at the next level, it won't be from lack of effort.
Nesmith has been hailed as a 3-and-D prospect by both professional and armchair scouts, a label I do not agree with. Certainly the 3 part of his game exists, but expecting above-average two-way ability is overhyping Nesmith's defensive upside. Given time, experience, and a coach who makes him communicate on defense, he could certainly become a neutral NBA defender. But that isn't the outcome most expect when they hear 3-and-D, a label that we all (myself included) apply to way too many prospects. If a team feels comfortable with his value as a shooter and is fine with an strong-effort, acceptable defender, then his selection in the teens is understandable; but Nesmith does not have the physical tools to become a Klay Thompson or Mikal Bridges level defensive player, and expecting as much will likely lead to disappointment at his draft slot.
Much like with Saddiq Bey, I believe the idea of who Aaron Nesmith is on the basketball court has exceeded who Aaron Nesmith actually is. There's no doubt that Nesmith will shoot the ball at the next level and provide strong gravity, but his 14 game nuclear stretch has undeniably tainted expectations. The rest of his game stands up with a genuinely large number of swing skills - passing instincts, touch at the rim, and defensive awareness. In the right situation, under a coach who is on board with taking the patient approach, Nesmith seems a smart guy to bet on. He appears to be a dedicated player aware of the practice and film time needed to improve his all-around game. But that all-around ceiling is lower than many of the players discussed in the Kings draft range, and if fans expect him to replace either of the Kings deadeye shooters, it will be some time before we know if he can live up to those expectations.
Will Aaron Nesmith be the most talented player available when the Kings draft? In my opinion, no. Even if the Kings do move on from one of Buddy Hield or Bogdan Bogdanovic this season, I think this team requires a harder long-term reset, and I'm not so sold on his shooting skill as a gamebreaking talent needed to select him at No. 12. But if Monte McNair disagrees and feels that Aaron Nesmith is the right choice for Sacramento, it will not be hard for most Kings fans to sell themselves on his upside.