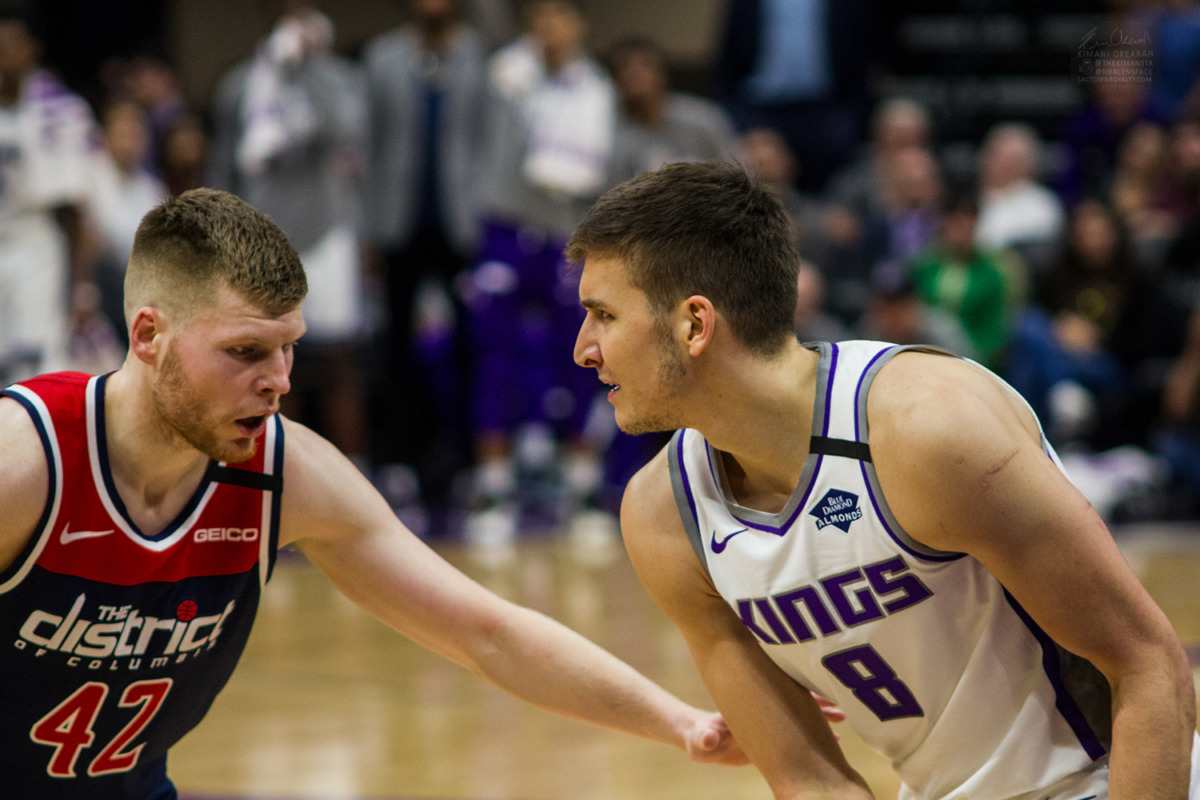 Note: This was originally published on November 15th. This list has been updated to reflect players who had options declined, players who were waived, or players who did not receive a qualifying offer.
Strap in your seat belts, folks. It wasn't long ago basketball concluded in Orlando, but now we're headed to the start of next season in full force. The 2020 NBA free agency period is set to commence on Nov. 20 at 3 p.m. PST. Players can put pen to paper on Nov. 22 at 9:01 p.m. PST.
Sources: NBA free agency will start on Nov. 20 at 6 p.m. ET, signings start on Nov. 22 at 12:01 p.m. ET.

For the 2020-21 season, the NBA's salary cap will be $109.140 million and the tax level will be $132.627 million.

— Shams Charania (@ShamsCharania) November 10, 2020
You might recall the multiple free agent profiles I wrote earlier this offseason, but this article will encapsulate the options for Sacramento in three tiers: Worthy, Settle, Budget. Players in the worthy tier are players (you guessed it) worthy of the money they're getting. Players in the settle tier are those that shouldn't be priorities, but fine backup options to pursue. Budget players will be serviceable but limited and therefore, cheap. The analysis will follow with a rating if the Kings sign that specific player in the context of the tier they're in; it's not based on that player's talent.
Note: This board is not exhaustive.
Point Guard
The Kings don't have a pressing need to sign a point guard this year. Though Yogi Ferrell is entering the market, Sacramento could opt to replace him through the draft (which is my preferred route). But there are some names here that are intriguing in various ways.
Update: The Kings selected Jahmi'us Ramsey in the draft, though it's unclear where his role will be.
Worthy:
De'Anthony Melton, RFA: At just 22 years old, Melton should be in for a good payday as one of the better options in his position. Melton is still a developing prospect offensively, but don't let the basic numbers fool you. While Melton's 3P% was 28.6 this season, he shot 41% on corner threes, placing in the 55th percentile, according to Cleaning the Glass. That's a jump from the 40th percentile as a rookie. He also finished 60% of his shots at the rim, a five percentage point increase as a rookie. But where Melton's strengths shine the most is on defense. He's incredibly sharp and if you make a mistake near him, he'll make you pay for it. Melton has placed in the 97th percentile or above in steals in his first two seasons, per CTG. That's elite, and he's yet to reach his full potential. The Kings need to get younger, and they'd hit two birds with one stone with Melton's defensive potential. Rating: 10/10
D.J. Augustin, UFA: Augustin has been sneakily good with Orlando over the past three seasons. He's still crafty with the ball and an underrated sniper from deep. If the Kings pursue Augustin, it'd be because of his offensive abilities, something the Kings perilously lacked behind De'Aaron Fox last season. Augustin has posted double-digit scoring numbers the last three years with eye-catching shooting numbers, though he underperformed in that regard last season. In contrast to Melton, Augustin won't provide a stable defensive presence, but that wouldn't be why you sign him. The issue? He's now 33 years old and wouldn't be a part of this organization's long-term future. Augustin is worthy of a good contract (likely his last, too), but we've seen what happens when Sacramento inks aging veterans to money-heavy deals. Rating: 5/10
Kris Dunn, UFA: I profiled the 26-year-old guard here, so I'll keep this analysis short. Dunn is an elite defender and can guard multiple positions; I have no arguments against that. However, he hasn't improved his long ball since entering the league, and that concerns me. The Kings already have a backup guard that isn't a reliable threat, and Fox regressed significantly from deep, too. Dunn would be nothing short of a solid signing, but Sacramento would have to move on from Cory Joseph to make it make sense. Rating: 7/10 (8 if CoJo is gone)
Shabazz Napier, UFA: I profiled the 29-year-old veteran here, and he's in the same boat as Augustin skillswise. They'll provide offensive sparks, especially when Fox needs a breather. Both would also make for better pairings with Buddy Hield and Bogdan Bogdanovic, assuming both remain in Sacramento. I'd prefer Napier over Augustin because he's younger and he'd cost less; he'd be worthy of the contract he receives. Napier hovers around the border of worthy and settle because ideally, you'd want Sacramento to ink one of Melton or Dunn instead of Napier. Nonetheless, he'd be a solid signing if the Kings hope to boost offensive productivity off the bench. Rating: 6/10
Settle:
Trey Burke, UFA: Burke is another player I profiled here, and he'd be an interesting signing. He posted solid numbers with the Dallas Mavericks, but it's unclear exactly how much playing alongside Luka Doncic affected that. If the Kings are looking for an offensive spark, Napier and Augustin provide for craftier alternatives, which is why Burke drops to this category. Not to forget though, Burke should be cheaper than those two. Rating: 6/10
Michael Carter-Williams, UFA: The former 11th overall pick had a little resurgence last year in Orlando. He won't make significant strides to his offensive game this late in his career, barring a surprise, but you'd settle for his ability to impact the game defensively. If the Kings hope to sign a defensive game-changer, Dunn should be the priority. Carter-Williams would cost less, but again, he's a settler pick for a reason. Rating: 4/10
Reggie Jackson, UFA: Jackson is a serviceable guard when he's not asked to carry the load; otherwise, he tends to make poor decisions and isn't an effective rim-scorer. Coupled with the fact that he's turning 31 soon would turn most away, especially considering how he turns off defensively. If you're signing Jackson, ideally you're playing him in a limited capacity where you allow him to shine from mid-range and beyond and most importantly, don't let him take too long with the ball. If you attempt to sign someone else but fail, you could do worse than Jackson. Rating: 3/10
Budget:
Emmanuel Mudiay, UFA: The former 7th overall pick in 2015 has fallen off a cliff, and it's unlikely he ever makes it back up. I can't point to any strengths off the top of my head besides his increasing comfortability with mid-range jumpers. Mudiay shot 48% on mid-range jumpers this season, good for the 88th percentile, per CTG. In Mudiay's first four seasons, Mudiay's highest percentile was 23 (third year); his lowest was the first percentile (sophomore season). Will Mudiay ever be good in this league? That's the question most people seem to know the answer to, but I'm not sure I write off the soon-to-be-25-year-old guard just yet. A one-year flier could be a bargain. Rating: 5/10
Jevon Carter, RFA: The guard for the Phoenix Suns is a sleeper candidate at this position. In limited minutes, Carter made notable contributions on both ends. He shot 45% from three, good for the 94th percentile, per CTG. He was also in the 88th percentile for steals. Can he replicate similar success in a bigger role elsewhere? For a 25-year-old with small sample sizes, I'm not sure many teams would want to find out. But he could be a cheap third-string guard that makes a Richaun Holmes-esque leap at best. Rating: 5/10
Update: Players with options/waived: Elfrid Payton, turning 27: If the Kings seek additional offensive creativity and rebounding, Payton's one to consider after the New York Knicks waived him. However, Payton is far from a reliable shooter at all levels, which is a major knock. Rating: 4/10
Quinn Cook, UFA: The Lakers waived Cook Thursday, and if the Kings are seeking an end-of-the-bench sharpshooter to handle limited ball-handling duties, Cook would be a solid get for cheap. Though, there are plenty of better options available who can provide more than a catch-and-shoot presence. Rating: 3/10
Shooting Guards
This is a position that looks set on paper, but that could change any minute. Buddy Hield could be traded and Bogdan Bogdanovic is also entering the market as a restricted free agent. It's unlikely that Monte McNair lets Bogi walk, but let's see who is out there.
Update: The reported deal between the Kings and Bucks seems to be off after Ersan Ilyasova was waived. Tyrese Haliburton will be coming in, but there's still lingering questions about how this position plays out come opening night.
Worthy:
Bogdan Bogdanovic, RFA: McNair needs to address Bogdanovic's situation more than anything. Bogi brings a level of playmaking and shooting that the Kings don't have; that alone makes him worthy. I expect Bogi to stay, but let's wait until it's official. Rating: 10/10 (it's an easy move.)
Joe Harris, UFA: As one of the best shooters in the league, Harris is a prime big-money target. Do the Kings splash cash on him with Hield still on the roster? Highly unlikely. If Hield is traded, that could open up the books for Vivek Ranadive assuming they don't take back a filler contract. He's one of the best options in this position this offseason, but I don't see the Kings in the race for him. Rating: 8/10
Bryn Forbes, UFA: Another sharpshooter in Forbes is entering the market. Forbes drastically improved his long ball since his rookie season and at age 27, could be in for a sizable payday. Last season, Forbes placed in the 95th percentile for 3P% (43.3) but that dropped to the 72nd percentile this season (38.7%), per Cleaning the Glass. The Spurs were loaded with guards and Forbes suffered as a result. If you move on from Hield, Forbes would be a solid get and would cost less than Harris. The downside? He's extremely limited defensively. Rating: 6/10
Kent Bazemore, UFA: The veteran proved his worth last season as a Sacramento King. There are two questions here: Do you bring him back? How much are you willing to spend? Bazemore shouldn't make more annually than his previous contract ($17.5 mil) because that would be absurd. The Kings might be better off giving his minutes to DaQuan Jeffries or a drafted wing, but he'd still be a solid re-signing. Rating: 7/10
Settle:
Furkan Korkmaz, UFA: Korkmaz is only 23 and at 6'7€, he brings an intriguing long ball to the court. This past season, Korkmaz shot 41% from three, good for the 82nd percentile, per CTG. He attempted 4.9 a game, making all these numbers career-highs. He still lacks on the defensive end, but he's only 23 so there could be something here for Sacramento. Rating: 7/10
Langston Galloway, UFA: The former King has looked good on the box scores for Detroit. This season, Galloway hit 40% from deep on five attempts a game (a career high). On corner threes, Galloway shot 53%, good for the 96th percentile, per CTG. Galloway can play off the ball, too, making him more versatile compared to the other options here. He'll be 29 years old soon, but the positional versatility is intriguing. Rating: 6/10
Pat Connaughton, UFA: Connaughton is an old-school defensive workhorse who relies on dunks and general shots around the rim for the bulk of his 5.4 points a game. He never developed into a reliable shooter (33%, 2.5 3PA), but he could play a specific defensive role for a team desperate for better individual defenders. He could be a decent option to settle for, though seeing what you have in DQJ is likely a better route. Rating: 4/10
Budget:
Andre Roberson, UFA: Roberson battled the odds to return to the court this season, but his value is at an all-time low. He only played eight total games this season, so it's imprudent to draw conclusions from that. However, when Roberson is healthy, he's a tremendous defender, barring the airballs from the free-throw line and from deep. How much would a one-year flier cost? Rating: 3/10
Tyler Johnson, UFA: Johnson's story is as wild as they come, but in eight games with Brooklyn this season, Johnson posted 12.0 PTS, 3.0 REBS, 3.0 ASTS, 38.9 3P% (4.5 3PA). It would be a crazy comeback story, but for a combo guard, he could be very cheap. But there's better options available Rating: 3/10
Small Forwards
Sacramento has some openings they could fill here. It's a possibility that a wing is drafted in the first round, but beyond Barnes and the likely return of DQJ, there are a few names that would be good signings if a wing is not drafted.
Update: Sacramento drafted Robert Woodard II in the second round, but there's still room to sign another wing. DaQuan Jeffries also received his qualifying offer Thursday.
Worthy:
Davis Bertans, UFA: For the Kings, signing Bertans is like a possible move for Joe Harris: It's a stretch. It's difficult to imagine Bertans landing in Sacramento, but it would be enormous if he did. Bertans is an absolute laser from deep, shooting 42.4% on 8.7 attempts a game. That level of an off-ball threat would be perfect alongside Fox, but again, it's highly unlikely unless something magical occurs. If (this is a big if) he does sign, that's a 10/10 rating.
Derrick Jones Jr., UFA: Our own Tony Xypteras profiled Jones here, and he's one of the better options available. At 23 years old and unrestricted, Jones would be worthy of a deal - just thinking about him running in transition with Fox is a sight to behold. Jones still needs to prove he can be consistent from deep, but that's not a factor that prevents you from looking elsewhere. Jones should be one of the top guys Sacramento looks at. Rating: 8/10
Jae Crowder, UFA: He's nicknamed €œThe Beast€ on Basketball Reference for a reason. He plays like a tank on both ends of the floor and would bring a tough veteran presence to the team. Crowder can guard multiple positions and spread the floor, though his long ball has fluctuated throughout his career. However, I think he'll demand a decent chunk of money, and at his age, it would be better to invest elsewhere despite him being worthy of that potential contract. Rating: 6/10
Settle:
Maurice Harkless, UFA: I see Harkless as a backup option if Crowder is the type of player you're pursuing first. Harkless is more limited than Crowder on offense; Harkless *needs* to play with other creators, otherwise, he won't make an impact. A comparison that comes to mind is Trevor Ariza. If the Kings pursue Harkless, it's essentially an Ariza 2.0 move: limited offensively, best utilized on defense alongside other competent defenders. Frankly, the Kings don't need Harkless. Rating: 3/10
Torrey Craig, RFA: Craig would be rated higher if he wasn't already almost 30 years old. He's a versatile defender and solid interior scorer, but he isn't reliable from deep (32% through three seasons). Craig should make more than the $2 million he just earned, but the Kings shouldn't pursue him hard, especially since he's restricted. Rating: 4/10
Budget:
Ryan Broekhoff, UFA: The now 30-year-old 6'7€ forward was extremely efficient in his first season with Dallas, with a points per shot attempt rating of 129.3, good for the 97th percentile, per CTG. Though he hasn't played significant minutes and is coming off an injury that took him out of Dallas' rotation, a cheap one year deal to be an end-of-the-bench-sharpshooter is something to look at. And if the Kings decide to save money and flip Nemanja Bjelica, Broekhoff could chip into those minutes. Rating: 4/10
Josh Jackson, UFA: Jackson represents another very young prospect that has found himself on the court again following a string of off-court issues. Jones Jr. is still the 23-year-old UFA the Kings should focus on at this position, but Jackson's talent is interesting. Rating: 5/10
Update: Players with options/waived: Jerami Grant, turning 27, UFA: Grant turned down his $9.3 million option to become unrestricted in hopes for more money, which is likely. If the Kings want to add another combo forward that can stretch the floor and defend the 3 and 4 slots, Grant makes a ton of sense despite a lack of rebounding. The question is: Does Grant seek more money from a competitive team than a rebuilding one? Rating: 9/10
Power Forwards
The Marvin Bagley waters remain murky, Bjelica *could* be moved, and Harry Giles is entering the market. Jabari Parker is also on the roster. There are a couple of power forwards available that I really like, though it may be tough to acquire their signature.
Worthy:
Christian Wood, UFA: Wood would be an incredible signing. All he needed was a 10-day contract with New Orleans to put his name on the map. Wood wound up with the Detroit Pistons and provided a lone bright spot for that squad. At 25, he'd be a perfect fit for the direction the Kings need to go. Wood is still far from a finished product in terms of rebounding and rim protection, but his scoring and floor spacing (38.6%, 2.3 attempts) is salivating. Wood is one of the hotter names this year and rightfully so. Rating: 10/10
Juan Hernangomez, UFA: Hernangomez, also 25, is more of a true stretch four than Wood but both are quality. Hernangomez never picked up steam in Denver but took advantage of big minutes in Minnesota. In 14 games there, Hernangomez averaged 12.9 points, 7.3 rebounds, 1.3 assists, 1.0 steals, 45.3 FG% (9.8 attempts) and 42 3P% (4.9 attempts). Those 14 games alone set Hernangomez up for a bigger payday and the Kings would be smart to inquire as a younger replacement to Bjelica. Rating: 8/10
Dario Saric, RFA: Super Dario was nothing short of super in the Orlando bubble. The Phoenix Suns were fantastic in the bubble, and Dario played a significant role in that. He's restricted, so the Kings would have to put in an offer that would turn the Suns away. At 26, Saric is another younger alternative to Bjelica as a stretch-four big (35.7 3P%, 3.6 attempts) and more proven than Hernangomez, but the restricted tag might be tough to pry open. Rating: 8/10
Settle:
Montrezl Harrell, UFA: Harrell splashed on the box score during the regular season to earn the Sixth Man of the Year award, but a playoff team was waiting to pounce on his defensive atrocities, exploiting his merit. The Kings don't need more non-existent defenders, even though Harrell's relentless motor has killed the Kings on countless occasions. Still, not who the Kings need. Rating: 3/10
Patrick Patterson, UFA: Following a discouraging year in Oklahoma City, Patterson revitalized his career as a low-usage stretch-four for the Clippers. He's turning 32 this season, so he wouldn't be a long-term solution for Bjelica's role, but if the Kings are looking to save money, Patterson would be that guy. If you can't land Hernangomez or Saric, I don't completely hate bringing Patterson back. Rating: 4/10
Budget:
Harry Giles, UFA: (lol that I'm writing this) We know what Giles is at this stage of his career: an exquisite passer and adept playmaker from the high post. He's also an awful defender struggling with foul issues. But he's still 22 and if the Kings don't re-sign him, it shouldn't affect them significantly unless he becomes a solid rotational player. Rebuilding teams attempting to collect young, cheap talent will be pursuing Giles (I'm looking at you Charlotte and Detroit), but that still includes the Kings. He's far from a finished product and shouldn't be expensive. Rating: 7/10 (you don't *need* Giles back)
Noah Vonleh, UFA: After a career year in New York (8.4 points, 7.8 rebounds), Vonleh's stock dramatically dropped because of a smaller role with new teams. If Sacramento wants a traditional end-of-the-bench big to rebound and use his big body against opposing big men, Vonleh could be a decent pickup for cheap. Rating: 3/10
Update: Players with options/waived: JaMychal Green, UFA: Green provides some similar abilities to Patterson as mentioned above, but at a higher level on both ends of the floor. Green declined his $5 million option; he's likely seeking more and he deserves every penny. The downside? He's 30, and the Kings shouldn't commit a chunk of money to an aging stretch big that would compete for starting minutes. If Sacramento commits money at this position, go younger. Rating: 7/10
Bobby Portis, UFA: The 25-year-old big had his option declined by the Knicks, so if the Kings want a 35.8% three-point shooter (2.8 attempts) to stretch the floor, Portis is an option. However, he's in the 35th percentile for defensive rebound percentage, 18th percentile for eFG%, 8th percentile in BLK% and more. He won't impact the game in various areas (stats via CTG). Rating: 4/10
Frank Kaminsky, UFA: Phoenix declined the 7'0€ bigs' option, so the former 9th overall pick in 2015 is now unrestricted. Kaminsky's 3P% dropped to 33 this season, but he increased his DREB% to 17.6%, ranking in the 50th percentile, per CTG. He likely won't cost much, but there are better options still. Rating: 4/10
Centers
Is Bagley a center? Will Alex Len return? Will Richaun Holmes be a long-term King? Sacramento has these questions to ponder, so let's see who's up for grabs at the five.
Worthy:
Aron Baynes, UFA: Baynes is the prime definition of a late-bloomer. He turned himself into a stretch-five (35.1 3P%, 4.0 attempts) who is also a physical, in-your-face defender. If he wasn't turning 34, he'd be securing a big bag. Baynes would be an optimal fit alongside Bagley but not for the long-run. Would Baynes turn into a Dedmon-esque signing? I don't know. Dedmon's descent perplexes me to this day. But we saw what happened the last time Sacramento signed a former Phoenix center. Rating: 8/10
Meyers Leonard, UFA: Leonard is another center who transformed into a shooter (41.4 3P%, 2.5 attempts). Leonard is efficient with his attempts regardless if it's from deep and that's something to consider alongside Bagley. He'll turn 29 in February, so he's a younger alternative to Baynes without the level of defensive expertise. I don't expect him to make the $10 million he did last time, but a two-year contract could be worth exploring. Rating: 7/10
Nerlens Noel, UFA: If the Kings don't re-sign Len for the role Len played, I hope Noel is why. Noel was wildly efficient from the field last season in OKC (68.5 eFG% per CTG, 95th percentile; 84% at the rim, 99th percentile). Not only would be a solid rim runner, he can also protect the rim, averaging 1.5 blocks a game with a BLK% of 4.1, good for 94th percentile, per CTG. Some extra numbers: +3.4 defensive plus/minus, 98th percentile in steals. Noel won't space the floor but for his role, that's acceptable. Noel should come at good value, too. Rating: 8/10
Settle:
Alex Len, UFA: Len is the definition of a solid center, at least from what we witnessed in Sacramento. He didn't make mistakes, he stuck to his role and excelled, which is why he stood out. I'm not opposed to bringing back Len because he'd fare better against other bigger centers and he spreads the floor *a little* better than Noel, but I think Noel adds more versatility. Rating: 6/10
Thon Maker, RFA: It's crazy that Maker has four years of experience under his belt, but he's yet to see success. Sacramento is not a destination to flip your bad luck, but Maker makes an interesting case. He's turning 24 this season, and I think there's something to pull from his three point game. The seven-footer doesn't take many, but it's there. CTG has him at 35% (20/57) and in the 54th percentile, a steady improvement from his rookie year. On non-corner threes this season, Maker shot 37% (11/30). He's also in the 80th percentile for blocks, per CTG. He could be a decent big to settle for and see if he can develop further. Rating: 5/10
Chris Boucher, RFA: I've seen Boucher classified as a four and five, but I'll slot him here. He's turning 28 soon and with limited NBA minutes in two seasons, I don't know how invested Sacramento should be. But if they were, they'd be signing a projected-elite rim protector. He averaged one block in 13.2 minutes a game with a BLK% of 3.8, good for the 92nd percentile, per CTG. Besides that, Boucher doesn't do much more for a team. If they want a low-usage rim protector, he'd be decent to settle for. Rating: 4/10
Budget:
Willy Hernangomez, UFA: The older brother of Juancho, who we listed above, could be a cheap option for a rebounding center. Hernangomez feeds off the creation of others and isn't likely to get buckets on his own. He'd likely be a situational center for Sacramento. Rating: 3/10
Jahlil Okafor, UFA: The former 3rd overall pick has experienced quite the career. He certainly has the numbers for a team to be intrigued, but he's in the same boat as Harrell for me. Okafor shouldn't cost much, but he's not necessary. Rating: 2/10
Ante Zizic, UFA: Zizic is turning 24, but he couldn't capitalize after a promising sophomore campaign. He's essentially a poor man's Len, so the Kings shouldn't be pursuing Zizic. If they are, it's because they're aiming to save money. At this point, the Kings would be better signing Hernangomez, who I listed above. Rating: 2/10
***
There's a good chance you read this and wonder why I didn't include a specific player, like a player with a pending option, so if you'd like my thoughts on one, let me know in the comments! This. Will. Be. Wild.