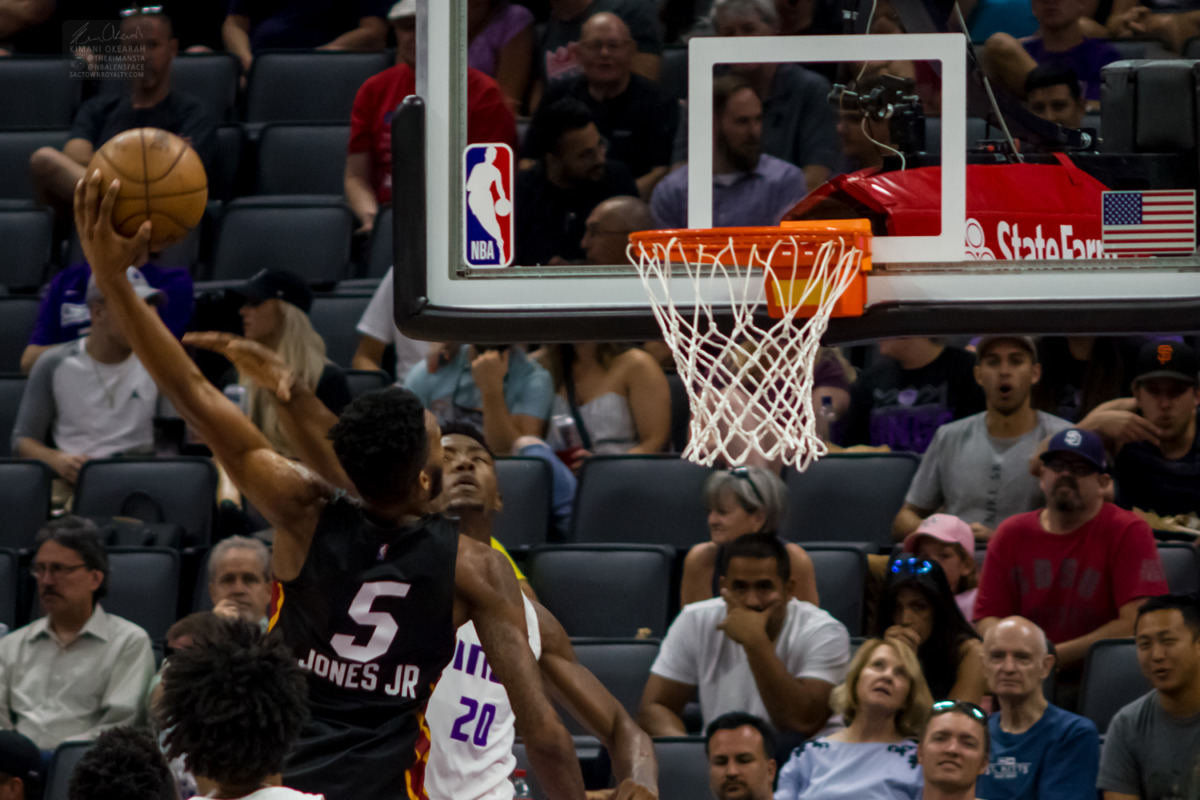 There has been plenty of dialogue around these parts about what Monte McNair's offseason strategy should be for Vlade Divac's old roster.
Is Divac's aging core salvageable? Should McNair try to fix some of the more obvious problems, and push for the playoffs in 2021? Should he trade Buddy Hield and some of the other veterans for younger pieces, and quickly rebuild with youth around De'Aaron Fox and Marvin Bagley?
I'm sure we'll find out what McNair's intentions are during his introductory press conference Wednesday, but I am heavily in favor of tearing Divac's roster down to some degree, preparing for a rough year in 2021 while securing top draft position, and retooling with a younger roster around Fox and Bagley, if the latter proves himself worthy of that distinction next season.This big picture context is important if you're going to argue that Derrick Jones Jr. should be a priority free agent target this summer.
I don't think the Kings should be looking to add any long-term veterans. They need to get younger players with potential that line up with De'Aaron Fox's prime years. No more multi-year contracts to the Dewayne Dedmon's, Cory Joseph's, Nemanja Bjelica's, or Kent Bazemore's of the world. Vlade Divac's recent strategy of handing out long-term contracts to aging veterans has resulted in the worst possible NBA roster type: old, expensive, and bad. It's a problem Monte McNair has been tasked to fix.
Derrick Jones Jr. represents a unique opportunity for the Kings in free agency. It's very rare to find a 23 year old unrestricted free agent with elite athleticism that gave his Eastern Conference Finals team a productive 23 minutes per game. Jones Jr. was a key fixture off the bench for the Heat, averaging 8.5 points, 3.9 rebounds, 1.1 assists, 1.0 steals, and 0.6 blocks on .527 shooting from the field, but most importantly, again, he's a 23 year old unrestricted free agent. He fits the timeline. He's a worthy investment for a rebuilding team.
The big knock on Jones Jr. is legitimate and glaring. He's not a 3-point threat at this stage of his career, but he's not a non-shooter, either, if that's any consolation. DJJ averaged a career-high 2.2 3PA in 2019-20, hitting at an uninspiring .280 clip, but there is a lot to like if you can get past the idea of a wing that won't space the floor without some serious shot development.
Despite his poor 3-point shooting, Jones is a highly efficient offensive player. According to Cleaning The Glass, Jones scores 126.9 points per 100 shot attempts, good for 93rd percentile among NBA wings. His 59.5 eFG% is 91st percentile among NBA wings, and if you're looking for a hint of optimism on his outside shooting, he actually shot 39% on non-corner 3s last season. There is some hope.
But you aren't really signing Jones Jr. for his scoring. That's a bonus at this stage of his career. Jones has two far more developed skills. First and foremost, he is an elite athlete, and I mean actually elite. The list of NBA players that can jump with Jones Jr. is incredibly small, if it exists at all. Pairing that kind of vertical athleticism with Fox's speed is exciting for obvious reasons.
Even more important than Jones' elite athleticism is his developing defensive versatility. DJJ has always charted well in basic defensive metrics. His block percentage has been elite among NBA wings since he entered the league in 2016. Over the last two seasons, he's bumped his steal percentage up to elite levels, too, but numbers only tell you part of the story.
The Miami Herald's Anthony Chiang wrote about DJJ's developing defense back in December, and it's all very promising stuff
€œHe has the physical gifts,€ Heat coach Erik Spoelstra said of Jones. €œHe moves extremely well. He's stronger than he looks. He really has put a lot of time in the weight room, as well, to transform his body. And he has been in our system now for two years. It has taken him some time to really get comfortable. Two offseasons of a lot of work. He has gained a lot of confidence defensively. And we've seen it now for a period of time that I trust him defensively.€
I especially appreciated Jones' own mindset on his defensive contributions. He seems to understand that in order for a younger player to earn NBA minutes, and this is even more important on a playoff team like the Heat, he has to defend at a high level or he won't be on the court. We have certainly seen some young players prioritize offense over defense in Sacramento over the years, and it hasn't worked out well for the organization, or the player.
I want every challenge that I can get. That's how you grow as a basketball player. If I want to be a Defensive Player of the Year one day, I got to take the challenge. Why not take it now when I'm 22 years old before I even get close to reaching my prime? Why not take the challenge now?€

€œAs long as I'm locking down people on defense, it's going to be pretty hard to take me off the floor,€ Jones said.
He earned big minutes on an Eastern Conference contender with his defense. That's a huge feather in Derrick Jones Jr.'s NBA cap.
The next question is, of course, can the Kings afford him? The short answer is probably. Barring unexpected changes, the Kings won't have traditional cap space this summer, but they will have access to the full mid-level exception that was projected to land around $9.76 million per year, pre-pandemic. I would expect the average annual value of Jones' next contract to come in below $9.76 million.
I like Derrick Jones Jr. quite a bit, and the unique nature of finding a player this young with his skills and raw athleticism in unrestricted free agency is something I'd love to see the Kings take advantage of. These opportunities don't present themselves too often.