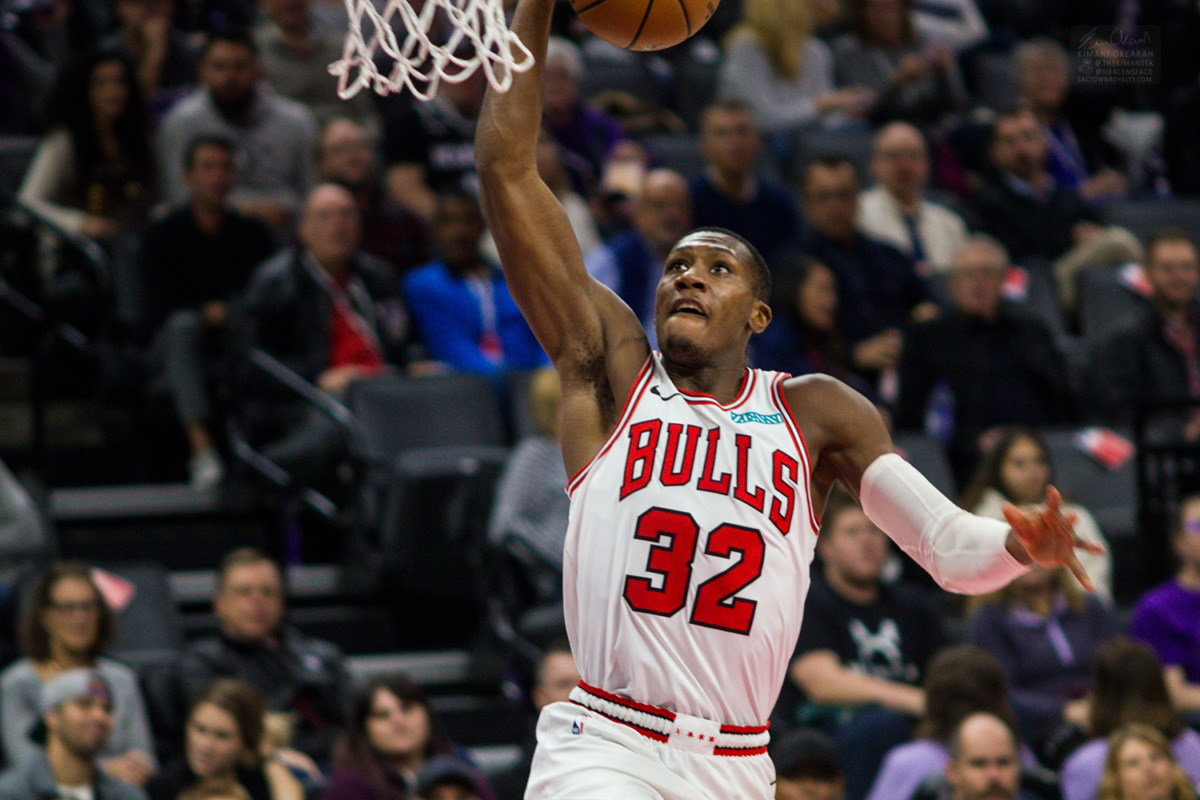 Sacramento is entering a new era of Kings basketball following the hire of Monte McNair as general manager. With free agency coming soon, I'll be profiling potential targets with film breakdowns. This piece focuses on point guard Kris Dunn.
Player info: Kris Dunn, 26, PG, 6'3", four-year veteran, former Chicago Bulls player, RFA
2019-20 stats: 51 games, 24.9 minutes, 7.3 points, 3.6 rebounds, 3.4 assists, 2.0 steals (second in the league), 44 FG%, 26 3P%
Fit in Sacramento: At 26, Dunn is an intriguing prospect because of his age and status as the 5th overall pick in the 2016 draft. After a season that saw Dunn play fewer minutes because of Tomas Satoransky and Coby White coming in, Dunn's value has likely dipped. To what extent? I don't know. If Sacramento signs Dunn with Cory Joseph still on the team, Dunn's skill set becomes redundant. Dunn hasn't developed his offensive game beyond scoring at the rim, but he's a menacing defender that could make it a worthwhile gamble. Let's dive into the film:
Finishing at the rim
Dunn's best offensive asset, at least in this season, was finishing at the basket. Factoring his inability to shoot efficiently from anywhere else on the court, it's a plus that he's effective in at least one area; however, that can make him easy to defend.
Nonetheless, Dunn's ability to attack the paint has much to do with his 6'9" wingspan aiding his 6'3" frame. He can penetrate with ease, it's just a matter of making the right decision when the opportunity arrives; Dunn has improved that this season.
Within four feet of the basket, Dunn has finished on 65% of his attempts, placing him in the 84th percentile, per Cleaning the Glass. His highest percentile prior to this season was just 32.
Let's look at the clip: Terrence Ross backs off of Dunn upon the catch, but invites the screen which frees up a path for Dunn. If Ross backs into the screen, he forces Dunn to drive left. Instead, Dunn drives on Nikola Vucevic and attempts his favorite layup: the scoop.
Here's another play from the same game: Dunn's screen forces the switch, leading to a defensive miscommunication for Orlando. Dunn is one-on-one against Vucevic and attempts another scooped layup.
The dribble hand-off allows Dunn to reset his positioning, but Duncan Robinson recovers nicely. Dunn shields his way to another scooped layup, but it rolls off the rim.
Steals:
Dunn ranks second in the league in steals per game with 2.0, just behind Ben Simmons, who averages 2.1 steal per game. Dunn possesses two key traits that are a deadly combination: active hands with an anticipating mind. He's always one step ahead of the play, so if you're dribbling or passing around him, be vigilant.
Lonzo Ball beats Satoransky with ease, but doesn't have the intent of shooting. He spots a potential kick-out to Brandon Ingram, so he throws the wraparound pass. However, Dunn also noticed Ingram leaking into the corner and jumped the pass. That's next-level IQ play.
Dunn's steal percentage of 3.4 this season is a career high; that's good enough for the 98th percentile, per Cleaning the Glass. Throughout his career, Dunn has never placed below the 92nd percentile. He's efficient and effective on that end.
Chicago was also in the 92nd percentile in points allowed per possession with Dunn on the floor, enjoying a -6.8 mark.
Assists:
Dunn's assist numbers are down across the board from assists per game to assist percentages. The amount of ball-handling guards in Chicago certainly factors into Dunn's decline in production in that regard. The last two seasons saw Dunn average 6.0 APG, but that figure dipped to 3.4 in about five fewer minutes a game.
This play features a simple pick-and-roll that New Orleans defends awfully.
Dunn's assist percentage of 29 last year placed him in the 89th percentile. This season, that percentage fell to 20.1%, sorting him in the 12th percentile (both stats per Cleaning the Glass). Here's the interesting part: his assist-to-usage ratio this season, 1.22, is actually the same number he recorded last year. The difference is that he's sharing the ball more with others, but he still involved his teammates while touching the ball less.
This play breaks down, but Zach LaVine cuts backdoor for a huge slam. Dunn's patience to pick out a pass rather than attempt a tough fadeaway late in the shot clock is key.
Assisting wasn't an enormous strength for him, but Dunn's drive-and-kick factor could help the Kings.
Three-point shooting:
One thing's for sure: you can absolutely live with Dunn shooting from deep. Dunn's never boasted a high-volume shot from three, but in a league where shooting is as imperative as ever, Dunn doesn't have it. And since Dunn is a point guard, that adds more salt to the wound.
Last season, Dunn hit on 35.4% of his triples on 2.1 attempts. On 2.2 attempts this season, that number tumbled to 25.9. His catch-and-shoot percentage, 26.3, which makes up 1.9 of those attempts, isn't adequate either.
When Dunn catches the ball, there's no effort from Charlotte to close out. If they close out, Dunn can attack the paint and that's what you don't want. It's like when you're playing basketball at the rec and someone yells, "Let him shoot!" That's how teams treat Dunn.
Here's another important note: Dunn doesn't have one hot spot from deep. He's dreadful from anywhere beyond the arc. Dunn's 3P% on all threes ranks him in the 9th percentile, according to Cleaning the Glass. Just last season, he sat in the 54th percentile on all threes.
Here's Bruce Brown Jr. giving Dunn a soft close out. Brown first backs towards the rim but closes out when Dunn actually shoots. That's how defenses need to approach him; you should contest, but you don't need to be aggressive.
When Dunn plants himself after the catch, he needs to spot-up and shoot that. Draymond Green leaves him plenty of room. But because Dunn can't shoot, he decides to attack Draymond at the rim - not a good idea.
Fouls:
Dunn also fouls too frequently for a backup role. His 3.1 fouls a game would be second-most on the Kings (min. 20 games played). Per 36 minutes, that amounts to 4.5 fouls a game. That steep of a number can mess up a team's rotation and game plan, among other things.
But because of his over-aggressive nature on defense, the constant fouling comes with the package. If he's not as aggressive sometimes, the fouls stay down. If he controls his aggressiveness, he'll experience major improvements.
Final Verdict:
If Cory Joseph isn't a King, then Dunn makes sense. As an RFA, he may come with a higher price tag (or use the MLE) unless the Bulls decide to move on and let White play more minutes. Billy Donovan's roster plan will probably factor into Dunn returning to Chicago as well.
Dunn's age is a better fit for the timeline, he can run and become arguably the best defender on the team. However, his inability to space the floor could become an issue, unless Monte McNair decides that's a risk worth gambling for. But again, it depends on Joseph's status; by adding Dunn alongside Fox and Joseph, you have three point guards who can't shoot (Fox's regression is something to watch). Eventually, the lack of shooters and playmaking from the backups could come back and bite Sacramento.