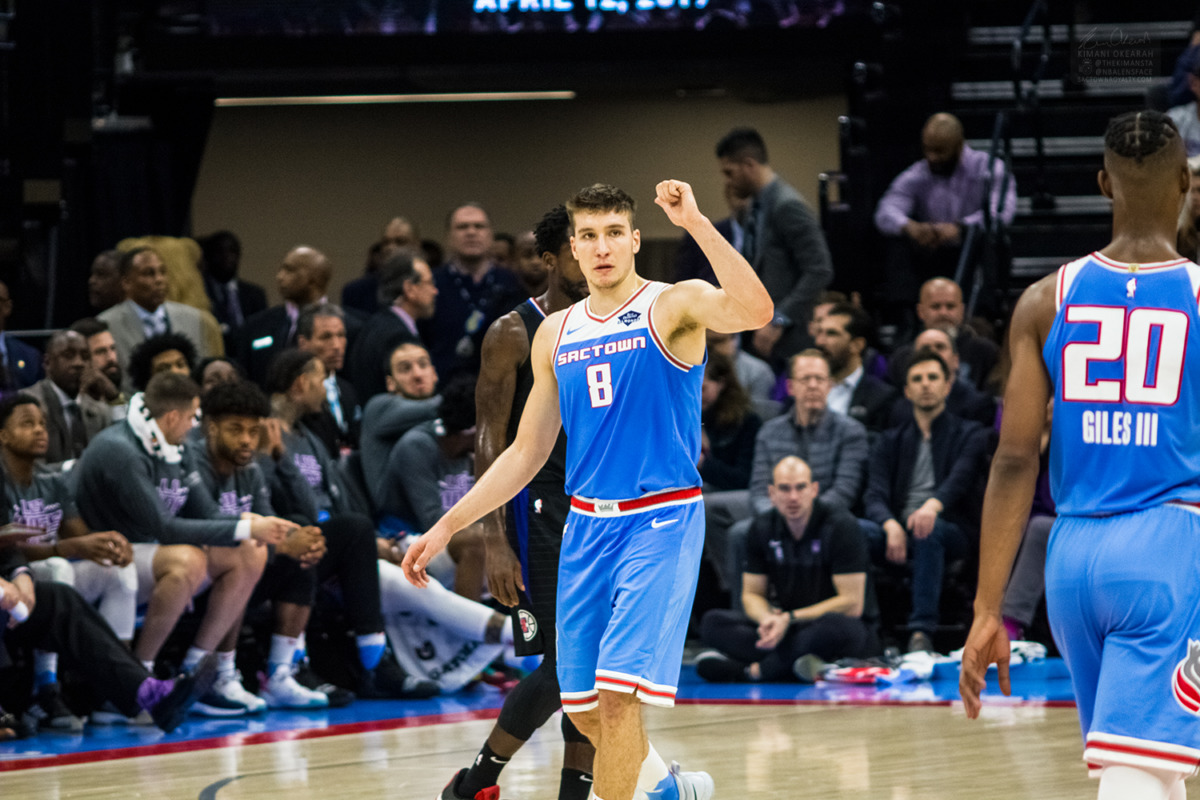 We've been waiting for a detailed report on exactly what happened between the Milwaukee Bucks, Sacramento Kings, and Bogdan Bogdanovic over the last several days after a prematurely reported trade fell apart, and while we still have questions, Sam Amick and Eric Nehm of The Athletic provided several details in a column Friday afternoon.
It appears as though a miscommunication on several levels caused the Kings trade with the Milwaukee Bucks to go south, and behind-the-scenes you've got all parties blaming each other with a league investigation in full swing. According to Amick and Nehm, though, sources close to Bogdanovic say he never agreed to the trade as reported.
Sources close to Bogdanovic have insisted all along that there was never an agreement on Bogdanovic's part, but there was clearly a communication breakdown somewhere. Bogdanovic, who has been in his native Serbia while all of this NBA drama surrounding him unfolded stateside, was caught off-guard by the news when it broke at 7:08 a.m. Serbian time (1:08 a.m. Eastern). Now, with the Kings having given him a qualifying offer on Wednesday which means they can match any deal that comes his way, he has clearly decided to look elsewhere.
While we wait for the league investigation to conclude and more details to emerge, Monte McNair, the Kings, and Bogdan Bogdanovic must move forward immediately. Free agency opens Friday evening at 6pm ET.
The good news for the Kings is that the uncertainty and discomfort surrounding how the Bucks trade fell apart has seemingly created new leverage for McNair in a potential Bogdanovic sign and trade. As Amick and Nehm noted, Giannis Antetokounmpo wanted to play with Bogdanovic, and the Bucks desperately needed to improve their roster in an effort to convince Giannis to re-sign in Milwaukee long-term.
The Buck are worse without Bogdanovic, and Giannis is down a player he wanted to play with. Amick and Nehm insist that both points will be a factor when Bogdanovic officially hits free agency this evening.
From there, don't be surprised if Bogdanovic draws interest from many of the same teams who would love nothing more than for all of this chaos to convince two-time MVP Giannis Antetokounmpo to eventually head their way (Miami, Dallas, the Clippers, the Knicks). Why? Because it's widely known that Antetokounmpo €" who will be offered a supermax extension by the Bucks on Friday and has until Dec. 21 to sign it €" has been recruiting Bogdanovic to come to Milwaukee. That reality, of course, means he has an added bit of value beyond his basketball talents.
In addition to those teams that believe they have a shot at Antetokounmpo in free agency, Amick and Nehm also reported that both the Atlanta Hawks and Los Angeles Lakers are among the suitors that will talk to Bogdanovic when legally allowed. The Hawks have the necessary cap space to sign Bogdanovic to an offer sheet that would put McNair and the Kings in the uncomfortable position of matching the contract, or letting Bogi leave for nothing in return. The Lakers, on the other hand, would need to negotiate a sign and trade like the Bucks have been trying to do for the last several weeks.
It was starting to appear like the Kings lost all their leverage in the Bogdanovic saga after the Bucks trade died. Everyone found out that the Kings weren't necessarily interested in paying Bogi long-term, but this new Giannis wrinkle, along with competing teams trying to sabotage the Bucks' ability to put the necessary talent around Antetokounmpo that will convince him to stay, creates new leverage for Monte McNair in any potential Bogdanovic transactions.
I would imagine the next few days are going to be real interesting in Sacramento.