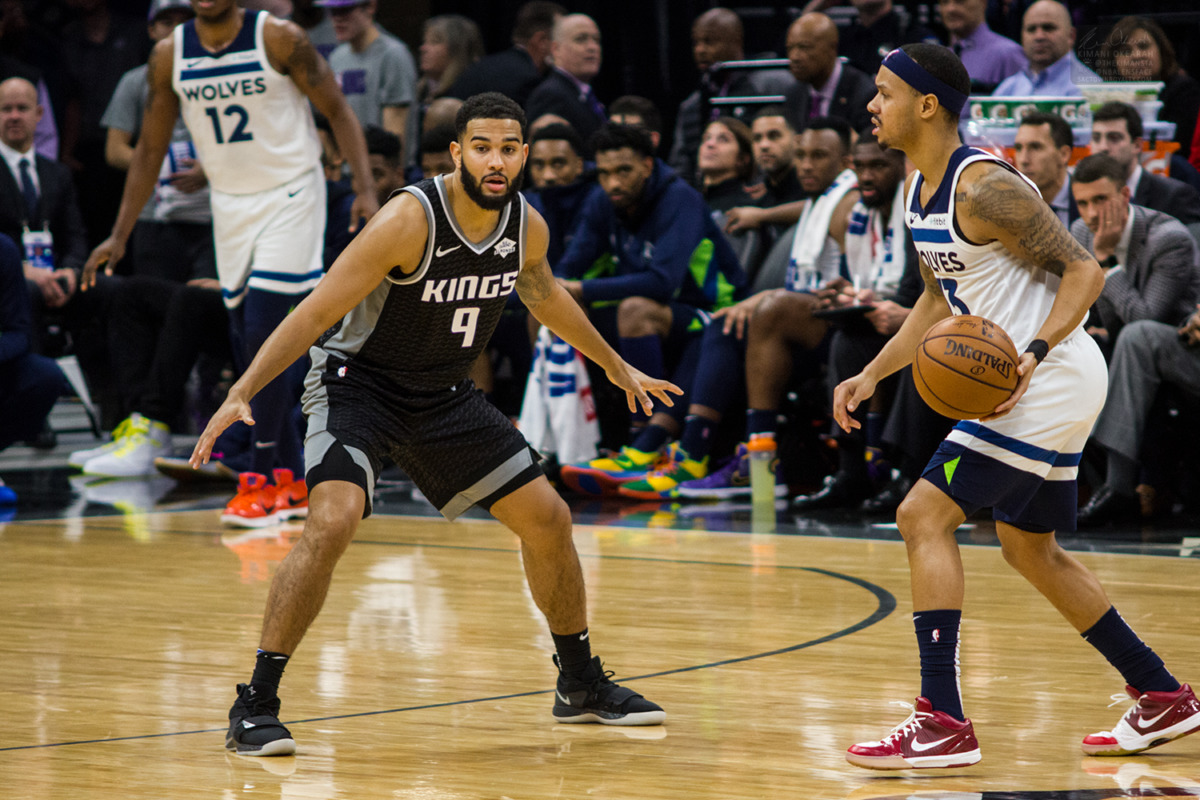 Sacramento is entering a new era of Kings basketball following the hire of Monte McNair as general manager. With free agency coming soon, we'll be profiling potential targets with film breakdowns. This piece focuses on point guard Shabazz Napier.
Player info: Shabazz Napier, 29, PG, six-year veteran, former Washington Wizards player, UFA
2019-20 stats: Napier played for Minnesota and Washington this year, so I'll include per-game stats from both teams because of sufficient sample sizes.
With Minnesota: 36 games, 23.8 mins, 9.6 points, 3.1 rebs, 5.2 assists, 1.1 steals, 40.3 FG%, 29.6 3P%
With Washington: 20 games, 24.4 mins, 11.6 points, 2.4 rebs, 3.8 assists, 1.5 steals, 42.8 FG%, 35.8 3P%
Fit in Sacramento: Napier is one of the better point guard options in this relatively deficient class. Earlier this offseason, I wrote about why the Kings need a new backup behind De'Aaron Fox. Napier and Cory Joseph both logged 24.4 minutes per game with their teams this season, so if you're signing Napier, he'll compete for the primary backup spot. Napier can initiate an offense, and he can move efficiently off the ball for spot-up looks. On defense, he's not better than Joseph, but he's capable of holding his own. Let's dive into the film:
The bulk of Napier's shot attempts either come from beyond the arc or near the rim, with the occasional mid-range pull-up jumper or floater. But the key for opposing defenses? Don't let Napier attack the basket. He's struggled at the rim for five of his six professional years, but this aspect of the game clicked for him in Minnesota and in Washington.
Napier converted on 65% of his attempts on shots less than four feet from the rim, placing him in the 82nd percentile of point guards. In Washington, he upped his percentage to 70, jumping into the 90th percentile (both numbers come from Cleaning the Glass). For a guard that's listed at 6'1€, that's an impressive ability to have in your arsenal.
Let's look at it in use here. The Chicago Bulls loved to blitz opposing ball-handlers. They do that on this pick-and-roll, with Thomas Bryant slipping in between the defenders (the best way to beat it). Napier stays one step ahead of the defense and also splits the defenders, leaving Shaquille Harrison in an isolated position. Napier's footwork gives him the reverse finish.
As clean as that play is, it's also the Bulls. Let's see what Napier does against much better defenders in Mike Conley and Rudy Gobert.
The screen from Bryant was coming, but Napier cuts back inside. Gobert doesn't fully commit to protecting the driving lane because of a potential kick-out pass to Bryant (who shot 40% from three this season), so it's Napier's strength versus Conley's.
Napier somehow extends his arms above Conley and drops it in.
The last aspect of Napier's layup game I want to point out is that he wants to get downhill. If a defense didn't get set quick enough, Napier would find a hole and attack it. That hole isn't as obvious in this play. Napier creates that hole by showing Alex Caruso he's going left, but quickly cutting back inside to catch Caruso off balance. Anthony Davis isn't directly in front of Napier either, so Napier wiggles his way into a tough reverse finish over Davis.
Here's another example: Napier shows Eric Bledsoe he's going right, but slices back to his left, causing Giannis Antetokounmpo to slide in. Giannis is in a better position to disrupt the shot than Davis, but Napier still creates enough room for an open look. He just rushed it and missed it badly.
Most of Napier's shot attempts this season came from deep, but his poor shooting in Minnesota anchored down his total numbers on the year. I mentioned his 3P% for each team earlier, but Napier really improved on non-corner threes when he arrived in Washington.
In Minnesota, Napier shot 31% on non-corner threes, slotting him into the 24th percentile. With the Wizards, that number increased to 40%, good for the 89th percentile (both stats from Cleaning the Glass).
This play sees Napier taking advantage of Buddy Hield going under the screen. Bryant isn't positioning himself to pop after a screen; he's coming inside the arc too much. Plus, Alex Len has him covered by dropping. Napier receives enough room to take the shot and drills it.
Bradley Beal penetrates after the screen, CJ McCollum over helps for a split second, and Beal spins around to find a trailing Napier who drills the shot with momentum.
Now onto turnovers: Napier gives the ball away a little more than you'd like. He's been great at keeping turnovers low for much of his career, but this season is an outlier. He turned it over more than twice a game with Minnesota and Washington this season. In Washington, he turned it over 2.6 times a game. His career high before that was 1.6 a game, which came during his rookie year in Miami.
Watching most of his errors in Washington, they primarily involved poor ball placement. Occasionally there were poor decisions, but every player possesses that fault to some extent.
In this play, he tries to slice the ball to Moe Wagner, but doesn't put enough bounce into it. The ball rolls below Wagner's knee and Wagner ends up falling.
In this play, Napier tries to lead Bryant on a roll to the rim, but passes it a second too early. The placement is fine, but the timing needs to be accurate in order for the placement to matter.
Napier actually put up a career-high in steals (1.5 per game) with Washington. Prior to that, his averages hovered around one a game.
In this play, Kendrick Nunn gets the step towards the basket, but good anticipation from Napier sees him intercepting the pass for a steal. Napier also posted a steal percentage of 2.5 while in Washington, good for the 90th percentile, according to Cleaning the Glass.
In this one, Napier sticks in front of Joseph, who can't get past him. Hield is coming for a dribble hand-off, but Napier picks Joseph's pocket before the DHO can materialize.
Here's the key aspect to Napier's defense: teams can pick on his size for mismatches on PnR's, DHO's, etc., but ultimately, Napier won't cost you games on the defensive end. He's not elite, but you also don't need to hide him when he's on the court.
Final Verdict:
Napier is coming off a contract where he made $1.9 million this past season. Though the pandemic will surely alter the value of players, Napier could be a solid veteran signing for this team. Yogi Ferrell is a free agent, so Napier can take his spot on the roster (if Joseph is still on the team because Napier probably doesn't want to be a third-stringer). But if there's a chance to sign Napier for a good price while drafting a PG in the second round for a two-way spot, the Kings get another playmaker and ball-handler to put next to Fox.
Napier doesn't always require the ball and can be a threat off the ball alongside Fox or Bogi. Napier is one name to consider in this PG class.