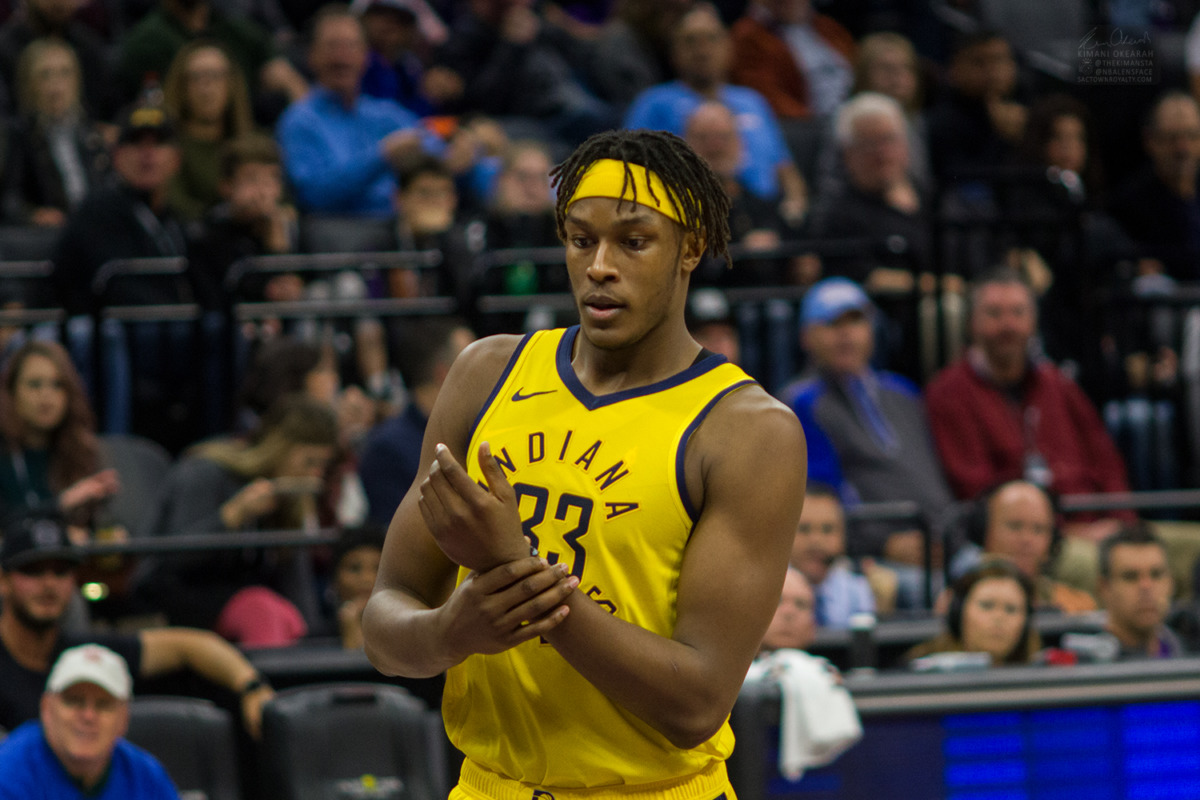 In a postmortem of the Boston Celtics season on Sunday afternoon, Jared Weiss of The Athletic dropped a bit of a bombshell regarding two of the Indiana Pacers core players.
"Indiana is still home for the Haywards, and with Victor Oladipo looking to move on this offseason, according to sources, and Myles Turner possibly in the same boat, there could be an opportunity for Ainge to move Hayward and the abundance of draft picks in his war chest in a mutually agreeable way."
That information was framed in the context of a possible Celtics trade, but the news of both Oladipo and Turner possibly wanting out of Indiana echoed throughout the league, and the Kings should certainly be one of the teams calling the Pacers about the veracity of that report.
While Victor Oladipo is the much better and more exciting player between the two contributors, he would also represent a poor investment for a team in Sacramento's position. With only one year remaining on his deal, Oladipo would be able to walk away into unrestricted free agency after the 2020-2021 campaign, and with the significant assets that would likely be required to obtain his services, a one-year rental wouldn't be of any help to the Kings long-term roster building. However, a much more realistic option was thrown alongside Oladipo's bigger name: Myles Turner. If the Pacers big man also wants out of Indiana, his skill set, age, and two-way impact would pair perfectly with Sacramento's needs and timeline.
Despite being just 24 years of age, Turner has been in the league for a half-decade, and he's been productive in every one of those seasons. This past year, he averaged 12.1 points, 6.6 rebounds, and 2.1 rejections per game, but those low, raw rebounding numbers aren't necessarily indicative of Tuner's abilities, as he has been constantly paired with fellow center Domantas Sabonis in Indiana. When the two shared the court this season, Turner averaged just 7.2 rebounds per 36 minutes; however, those numbers jumped to 9.7 per-36 when he was the lone center on the hardwood. He may not be the second-coming of Wilt Chamberlain, but Turner can hold his own on the defensive glass. Rebounding also isn't the aspect of Turner's game that makes him such an incredibly attractive target for Sacramento; it's his ability to supplement and shield two of Marvin Bagley's major on-court weaknesses.
Even though he showed some signs of life as a weakside shot-blocker in his rookie year, Marvin Bagley has yet to show the instincts or the desire to anchor the paint for the Kings, and that's okay. His bread and butter trend more towards rebounding and isolation scoring. Myles Turner, on the other hand, seems to take great pride in that sort of a role for his team. Over the last four years, he's placed in the top-5 in rejections, including leading the NBA during the 2018-2019 campaign with an average of 2.7 blocks per game. Those aren't empty numbers indicative of a selfish, stat-chasing center either. Turner placed in the 90th percentile among centers when defending shots within six feet of the rim this year, reducing his opponents' average field goal percentage from 62% to 51.1%, a 10.9% decrease. For comparison's sake, Richaun Holmes sat at -5.5% this year, while Marvin Bagley posted a defensive field goal percentage differential of -2.9% as a rookie. Turner would likely be the most effective starting caliber rim protector that the Kings have seen since the playoff drought began, and with Monte McNair wanting to establish a tougher, more defensive-minded culture in Sacramento, the acquisition of a true paint patroller could go a long way toward making that happen.
Unlike many of his fellow prolific shot-blockers, Turner also isn't limited to only making an impact on the defensive end of the floor. Over the last three seasons, he's nailed 36.2% of his 602 three point attempts. That kind of floor spacing is exactly what the Kings sought to acquire with their signing of Dewayne Dedmon last summer; however, both Turner and his three-point shooter are far more proven than a player of Dedmon's caliber. Assuming that Luke Walton is able to develop a game plan that best highlights Turner's strengths, he shouldn't have any issue stretching the defense, allowing De'Aaron Fox and Marvin Bagley to get to work inside the paint.
Outside of his rim protection and floor spacing, Turner's age and contract status should also attract Monte McNair's interest. He's locked up at an even $18 million per year over the next three years, with his contract running through the 2022-2023 season. Putting that in another context, at the end of this deal in 2023, Turner will still be younger than Buddy Hield, Bogdan Bogdanovic, and Harrison Barnes are right now. Picking up a starting caliber player whose career arc is much closer to that of De'Aaron Fox, Marvin Bagley, and the upcoming 12th pick in the draft would be a huge win for the Kings, especially if they are able to shed an older veteran with a large, long-term deal in the process.
If the Pacers are looking to move on from Myles Turner, or if Myles Turner is looking to move on from the Pacers, finding a deal between the two organizations should be simple, at least when it comes to salary matching. In the case that Indiana wants to find an off-guard, win-now replacement for Victor Oladipo, Buddy Hield or a signed-and-traded Bogdan Bogdanovic could headline the deal, while the Kings could also change things up and offer expiring the expiring contracts of Cory Joseph and Jabari Parker or Nemanja Bjelica, along with draft capital, such as the 12th overall pick, to satisfy the Pacers. Of course, it's entirely possible that other teams offer more attractive packages than Sacramento, or that Indiana simply isn't interested in what Monte McNair has to offer, but if both teams are looking to make something happen, suffice it to say that the salaries won't be particularly difficult to match.
In Monte McNair's introductory press conference, he highlighted the need for the Kings to stay flexible and patient in order to be ready to pounce when the right opportunity came along, and Myles Turner is an example of a right opportunity. While he may not ever develop into the second star that the Sacramento Kings so desperately need, he does represent an intelligent, forward-thinking acquisition for a team bereft of effective young players. Swapping out an older, highly-paid veteran for Turner would help reset the roster around De'Aaron Fox, while his skill set would complement and support Marvin Bagley's growth, the player who has the best chance at becoming Sacramento's sidekick extraordinaire for Fox. If Turner truly wants out of Indiana, the Kings should be at the front of the line to inquire about his services.