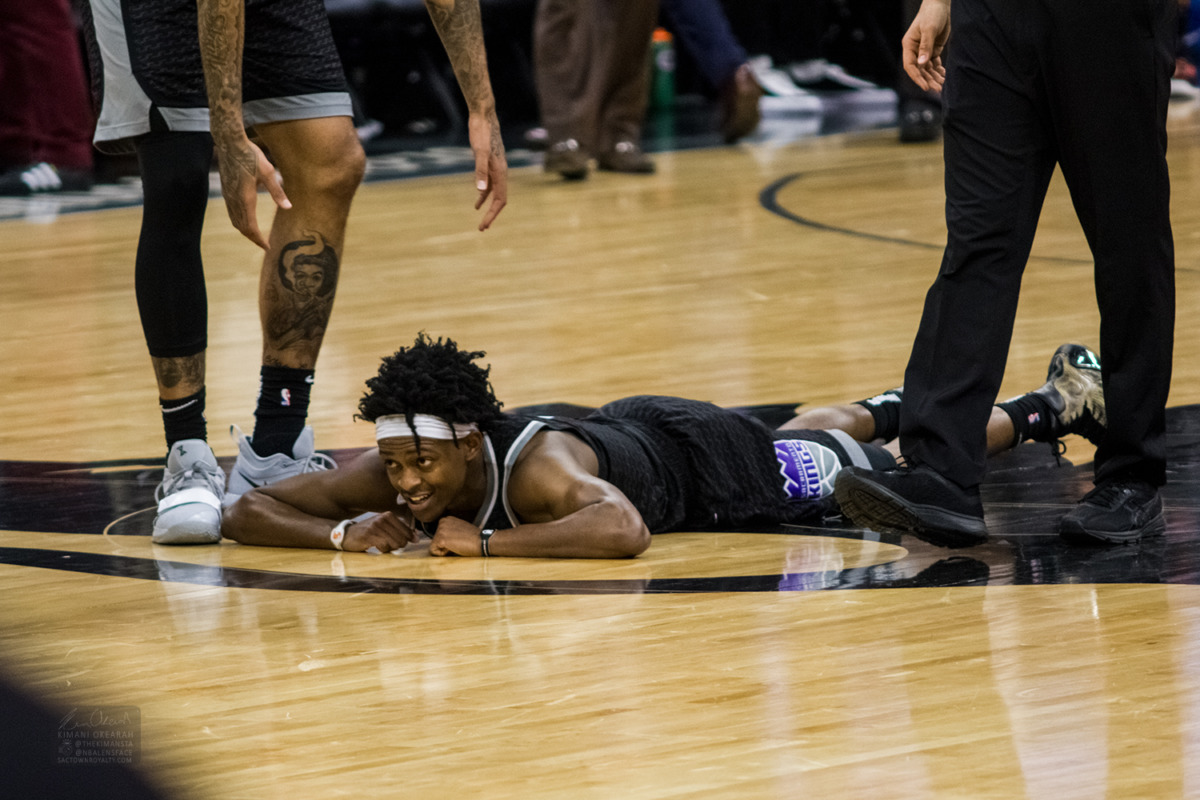 De'Aaron Fox injured his left ankle during practice Wednesday. The ankle sprain will have him sidelined at least 7-10 days, after which the Kings say he will be re-evaluated.
Now that we got that out of the way, there was a sliver of positive news that came from head coach Luke Walton's media session Thursday.
"We're kind of waiting to see how it would feel. It's mild-to-moderate is where the training staff is listing it as. We're hopeful that he'll be able to re-join us, but we'll re-evaluate 7-10 days and see where we are at," Walton said.
Given that Fox missed 17 games earlier this season due to a sprain in that same left ankle, Walton was asked what the level of concern is that this could be problematic.
"I wouldn't say there is a level of concern at all,€ he said. €œAnkle sprains are a big part of the game of basketball. It's something that when you start spraining your ankles, you've got to pay that much more attention, dedicate that much more time in the weight room to strengthen everything around the ligaments and do everything you can to not continue to have ankle problems, but it's something that most every NBA player goes through at some point in their career."
His previous ankle sprain was confirmed on Nov. 11, 2019, and he returned to action on Dec. 17.
"He's young, he takes care of himself, he's proven to be a fast healer,€ Walton said. €œNow, that doesn't mean we're going to count on that happening again. We're, obviously, going to be cautious with him. We know how important he is to our organization and to the success of our team. So, we're hopeful that because he's healed fast in the past he'll do it again, but it's something we're definitely going that we're definitely not going to rush him back to the court."
Depending on how the severity of this sprain compares to the one earlier in the season, Fox being gone over a month certainly is not a good thing considering the season is slated to resume July 30, and the team has eight games to try to get the eighth seed. Not to mention Buddy Hield and Jabari Parker are trying to get back in game shape after they returned to the team following positive COVID-19 tests; Harrison Barnes is still in Sacramento going through NBA protocols after he tested positive for COVID-19; Richaun Holmes is in quarantine after crossing the NBA's Disney Campus line for the bubble to pick up some takeout food and Alex Len has tested positive for COVID-19.
A bit a positive news on Len, however, is that Walton confirmed Thursday that the big man will be traveling to Orlando tonight. After he arrives, he will go through NBA protocols for entering the bubble and joining the team.
Cory Joseph led the first group in practice Thursday.