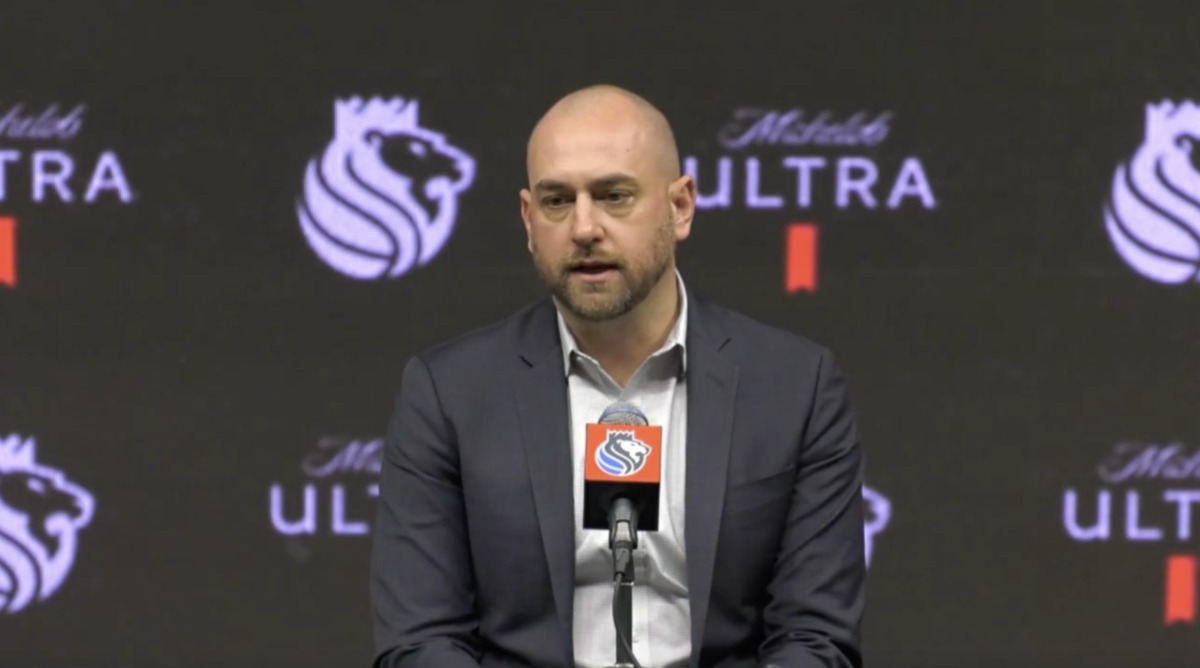 Monte McNair's first big test as the new general manager of the Sacramento Kings began this week as the NBA trade moratorium was lifted on Monday and the NBA Draft occurred just a few days later. As the draft approached Wednesday evening news broke that the deal between the Kings and Milwaukee Bucks that would have sent Bogdan Bogdanovic away for Donte DiVincenzo fell apart – not exactly comforting as your team is about to be on the clock for the No. 12 pick.
McNair had the comfort of preparation on his side though as he said his team had triple the amount of intel reports and double the amount of video reports as usual. His team also interviewed more than 90 players. They were prepared for every scenario because, as he said, this year's draft was hard to predict. He thought if they had a chance to get Tyrese Haliburton, the talented passing guard out of Iowa State, it "would be fantastic."
That soon became a reality as the San Antonio Spurs selected Devin Vassell right before them, leaving Haliburton to the Kings at 12.
McNair said the No. 1 priority in the draft was just to try to add talent, and made it a point several times on his media Zoom call Wednesday night that he was focused on best player available. The skillsets and criteria he looks for in a player are competitiveness, versatility, shooting and speed.
"Tyrese Haliburton, just an incredible talent," McNair said. "A very good passer, a good shooter, he can finish, offensive rebounds, he's really got a versatile skillset on that end. And then defensively, I think he can guard multiple positions. The way the league is going with switching, he can do that as well and play both guard spots."
With the 43rd pick in the second round, McNair took Jahmi'us Ramsey out of Texas Tech.
"Jahmi'us Ramsey, knock-down shooter, and he's got great strength, athleticism, can defend, tough-nosed defense, very competitive, led his team scoring as a freshman, we're really excited to add him as well," McNair said.
The new Kings general manager says he's trying to build a smart, competitive team on both ends of the floor. Given the franchise is currently in the hands of point guard De'Aaron Fox, the natural question is how the selection of Haliburton, another guard, fits with him. McNair took the question as an opportunity to confirm he wants the Kings to play with pace and again mentioned he is focused on best player available when drafting.
"We're happy that he [Haliburton] fits the style of play we want, but first and foremost, he was the best talent available to us and we don't pass up talent. I think he'll be a great complement to De'Aaron, I think they're going to be a great tandem on both ends. But yeah, we're really excited to add him. First and foremost for his talent, but certainly for the style of play that we want to do as well," he said. "The league is going to multiple ball handlers. I think a lot of the great teams these days it's not just one guy out there, you need multiple guys that can push the pace, that can handle on offense, create for others and themselves, and I think Tyrese can obviously play with or without De'Aaron or anybody else on our roster. So, really excited to see how he fits in."
In Haliburton's post-draft media session, he said he thinks he is a great fit with Fox and that they both want to play fast and push the tempo.
When asked about the Bogdanovic deal falling through with the Bucks and Bogi reportedly choosing to enter restricted free agency on Friday, McNair simply praised him and brought it back to the draft and reaffirmed his point of taking best player available.
"Bogdan is a great player, great shooter, great playmaker, you know, obviously a great talent, but yeah tonight in the draft it was just about best player available like it always will be and we were really excited like I said, when Tyrese was there as well as Jahmi'us in the second round. We're always looking for talent and we'll add that whenever we can," he said.
You have to hand it to McNair for being able to stay on message. He is very stoic and straightforward, which made his deadpan joke about head coach Luke Walton pretty entertaining. He was asked about what he looks for in second-round picks. With a straight face he said he was just talking to Walton about this.
"Our goal is to get a better player than Luke," he said, cracking a smile. Walton was the 32nd pick in the 2003 NBA Draft. He followed that up with: "No, in the second round you can really find talented players and it's an opportunity to find some guys who maybe have flown below the radar and a talent like Jahmi'us in the second round is really exciting to add to our team. Sorry coach Walton, I think he will be better."
Overall, outside of the praise for his picks, McNair did a few things in this media session: he made it a point to tell everyone he will always take best player available in the draft, he reaffirmed that he wants the team to play with pace, and he prioritizes competitiveness, versatility, shooting and speed.
Much more is likely to happen between now and opening day next month, but certainly landing Haliburton appears to be a good start for the new Kings general manager.