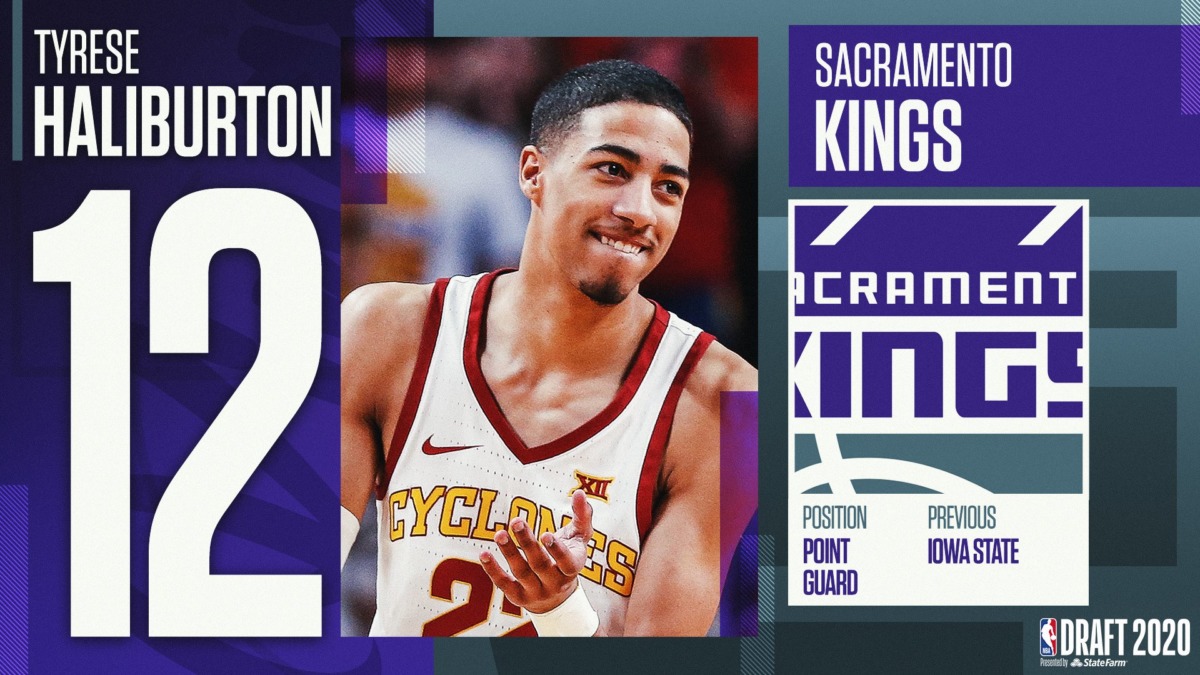 Tyrese Haliburton doesn't know much about Sacramento. Being from Wisconsin he hasn't been able to spend much time in California, but he does consider himself a historian of the game of the basketball. Because of that, even though he is just 20 years old, he is well aware of the Sacramento Kings of the early 2000s. On his media Zoom call following being drafted by the Kings with the 12th overall selection in the 2020 NBA Draft, he rattled off the starting five of the 2002 Kings squad that took the Los Angeles Lakers to the brink of the Western Conference Finals - he was two years old then.
The 6'5'', 175-pound guard out of Iowa State takes basketball seriously, and when asked about how most across the league praise his "feel for the game," he said he considers himself a student of the sport.
"I spend a lot of time watching film. Doing the little things that some people might not want to take the time to do. I love the game of basketball and I'm invested in it with my whole heart," he said. "Now that I'm in the NBA, some people think it's the time to be satisfied, but nah I'm ready to get to work. I want to compete, I want to win games. So I'm ready to get after it."
His court vision, passing abilities, ability to play off the ball and defend seems to back this up. Haliburton averaged 15.2 points, 6.5 assists, 5.9 rebounds, 2.5 steals and shot 50 percent from the floor, 41 percent from three and 82 percent from the free throw line last season for Iowa. When the season concluded, those stats were good for sixth in the Big 12 in scoring per game, second in FG percentage, first in assists, first in steals, and third in three-point field goal percentage. He was named All-Big 12 Second Team honors,  NABC All-District 8 Second Team and earned Big 12 Player of the Week honors in 2019 and 2020.
Given this across-the-board production, it was a little surprising to see him fall in the draft Wednesday night. Most mock drafts had him slated to go in the 6-10 range, but the Kings snatched him up at 12. Haliburton was asked about falling in the draft and he said he wasn't surprised because he kind of knew what was going to happen. He followed that up by saying he isn't concerned about it and is just glad to be part of the Kings organization.
"We were just waiting to see who wanted my services, who felt like I was the perfect fit for their organization and for a while Sacramento has said that they thought I was a perfect fit, that they felt like I'm one of the best players in the draft so you just want to go somewhere where you're wanted," he said. "Obviously, coach [Luke] Walton and the rest of Sacramento's organization, they feel like I am a great fit here and I feel the same as well so I think it's the perfect fit."
About that fit, Haliburton likes the idea of sharing the backcourt with De'Aaron Fox.
"If anybody really knows me as a basketball player they know I work best with another great guard alongside of me and obviously, De'Aaron is one of the great young guards in the NBA today. I think we're the perfect fit for each other," he said. "I think we both just want to play fast, get up and down and really push the tempo. You hear teams talk about wanting to push the tempo, but we're two guys that will push the tempo. So I think us two together are the perfect fit. I think we're both guys who are going to compete hard defensively and score the ball offensively so I think we're going to work perfect together."
The same goes for Buddy Hield.
"I think in Sacramento, we do have a great young core. Obviously in the backcourt, with us three I think is great. It's the perfect set up for me. I really am great around shooters, obviously, Buddy is knock down and then being with someone like De'Aaron who wants to compete, wants to push the tempo is showing up every game," he said.
The new King is excited to start his journey in California and is looking forward to learning more about the city of Sacramento and "calling that place home for the rest of my career, hopefully."