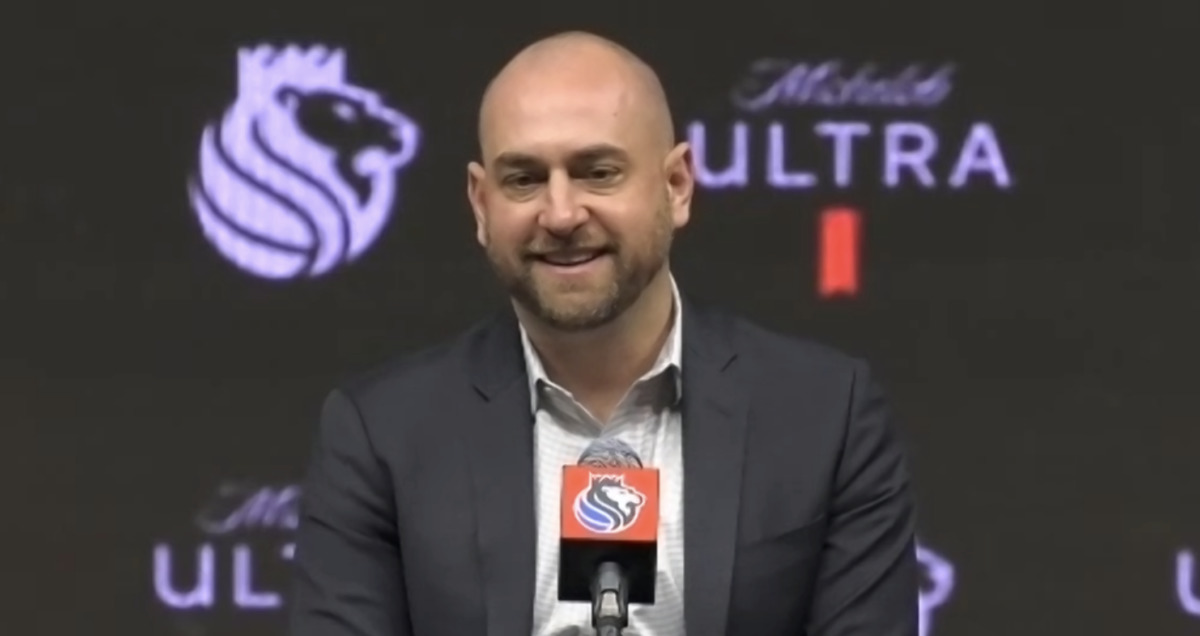 The 2020 NBA Draft has finally come and gone with a result in Sacramento that nobody saw coming: Tyrese Haliburton is a King. Haliburton had been projected as a rock solid top-10 (and in some places, top-5) pick for several months, but an unpredictable draft day slide saw Tyrese sitting there, available, when the Kings made their selection at 12. For Monte McNair, it was a no-brainer, and if NBA Draft analysts are correct, a big win for the Kings.
After several miniature 2nd round trades, Sacramento also walked away from the draft with Mississippi State star Robert Woodard at #40, and promising Texas Tech guard Jahmi'us Ramsey at #43.
Admittedly, draft day grades are pretty silly. How do you properly grade a pick before the player has ever set foot on an NBA court? The answer is you can't, but people do it anyway, and I read them every year, so let's just agree that the exercise is dumb and get right to it. Here's what NBA draft analysts had to say about the Kings' haul on draft night.
Kevin Pelton - ESPN
Grade: A
Analysis:
"I liked the way the Kings let the draft come to them under new GM Monte McNair, something Sacramento hasn't often done in the past. The Kings were there to stop Tyrese Haliburton's unexpected slide at No. 12 and landed a pair of second-rounders below where they were projected in our mock draft: 3-and-D wing Robert Woodard II with the 40th pick (after trading down from No. 35) and high-scoring Texas Tech guard Jahmi'us Ramsey at No. 43."
Read more from ESPN on the NBA Draft here
Grade: Winner
Analysis:
"Nobody would've batted an eye if Haliburton went in the top six; instead, the Kings, for once, reap the benefits of other teams potentially overthinking their lottery selections. (Landing Robert Woodard II and Jah'mius Ramsey, a pair of potential two-way contributors, with mid-second-round picks is a nice haul, too.) If that's not worth a respectful, muted, masked, and socially distanced celebration, then I don't know what is..."
Read more from Dan Devine on the Sacramento Kings pick here
Grade: A
Analysis:
"Haliburton makes a lot of sense for a new front office led by GM Monte McNair, who came over from Daryl Morey's front office in Houston. He's the perfect analytical selection€"an uber-efficient scorer who never takes bad shots or turns the ball over, and who also racks up defensive stats. He doesn't need to take a lot of shots to impact the game, which should make him a great fit next to De'Aaron Fox and Buddy Hield. Haliburton will need to continue putting weight on his frame, but he should still be able to immediately improve the Kings. He once played AAU ball in Wisconsin with Tyler Herro, and could end up as a similar steal in the late lottery."
Read Jonathan Tjarks' full draft grades on The Ringer here
Colin-Ward Henninger and Kyle Boone - CBS Sports
Grade: A
Analysis:
"Monte McNair's first draft with the Kings was a rousing success, and it started by snatching up a falling Haliburton, who was ranked sixth in the CBS Sports Prospect Rankings. Sacramento followed that up with Woodard, a tremendous defensive wing prospect, and Ramsey, a straight bucket-getter and knock-down 3-point shooter. This was a great start for the new regime in Sacramento."
You can read full draft day grades on CBS Sports here
Grade: No grade given.
Analysis:
"Not even the Kangz could Kangz this one. Haliburton was far and away the most talented player left on the board, and I really don't understand how he fell this far. A good shooter and passer, he can play backup point guard behind DeAaron Fox and then move to shooting guard when Fox is in the game."
You can read more draft day analysis from John Hollinger and Sam Vecenie at The Athletic here
Across the board, national analysts were uncharacteristically high on what the Sacramento Kings were able to do in the 2020 NBA Draft, but in reality, we won't find out if they're right for a couple of years. What say you? How would you grade Monte McNair's first performance in the NBA draft for the Kings?