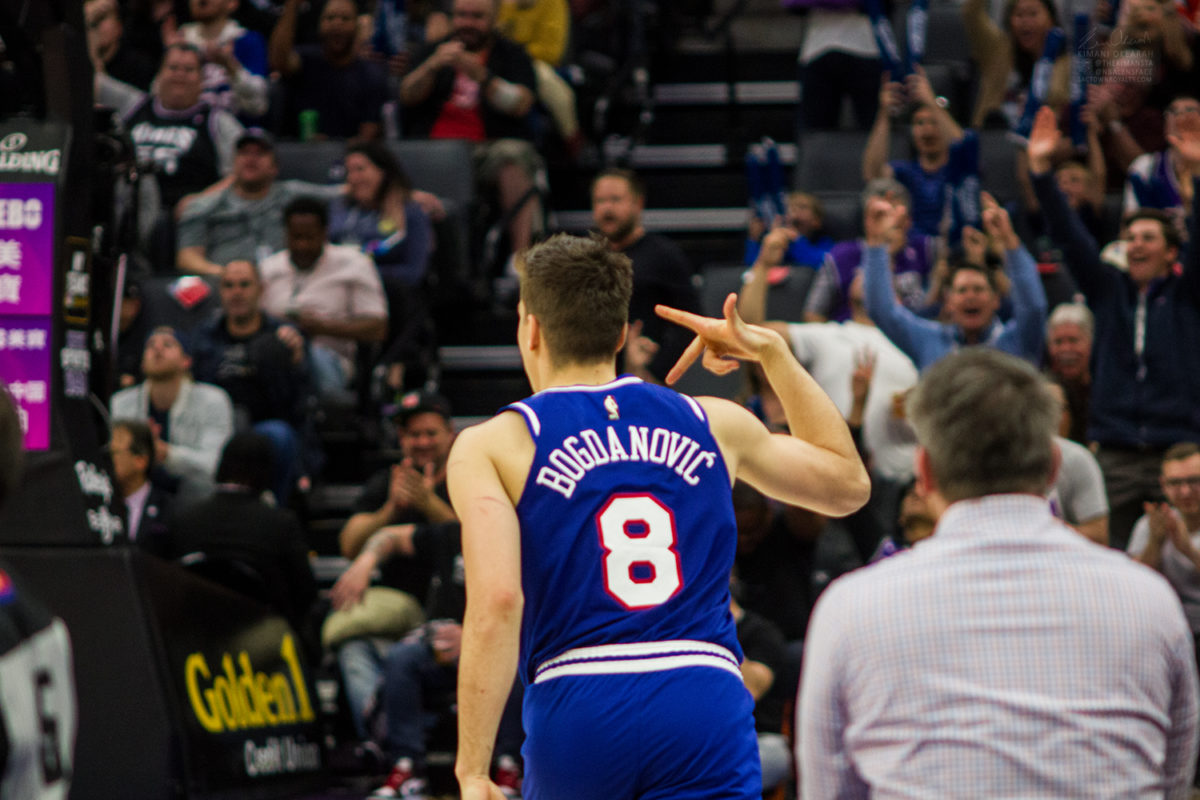 Two days ago we learned that Bogdan Bogdanovic would be signed-and-traded to the Milwaukee Bucks for a package included Donte DiVincenzo. Now, that deal appears to be dead.
According to Adrian Wojnarowksi, the deal was not agreed to by Bogdan Bogdanovic.
The Kings and Milwaukee Bucks had hoped to bring Bogdanovic the framework of a sign-and-trade to negotiate a Bodanovic contract with Milwaukee on Friday, but he will move into the marketplace to find an offer sheet or seek out other sign-and-trade scenarios, sources said. https://t.co/KDlBiLcaBs

— Adrian Wojnarowski (@wojespn) November 19, 2020
Sam Amick was the first to report that the deal could be in jeopardy, and confirmed that as of now the deal appears to be off.
As it stands, source says the Bogdan-to-Milwaukee scenario is off the table from his vantage point. The Bucks have been hopeful that it could be saved, but all signs point to him heading elsewhere ultimately. https://t.co/HrFzxKuywW

— Sam Amick (@sam_amick) November 19, 2020
Already a new candidate has emerged, with the Atlanta Hawks being a possible destination.
The scuttlebutt among some NBA officials is Bogdan Bogdanovic won't be coming to the Bucks and that the Kings may now trade him to another team, possibly to Atlanta. Stay tuned.

— Gery Woelfel (@GeryWoelfel) November 19, 2020
Atlanta has the cap space to sign Bogi to an offer sheet outright, and could structure the deal to try to force the Kings not to match. The Hawks could also make other moves with their cap space, and then use a sign and trade to bring Bogi in as well.
It's unclear if the deal fell apart because of a misstep by the Kings or by the Bucks.
Worth noting, when this deal was first announced, the Bee's Jason Anderson reported that a source said there was no deal in place.
Have not been able to confirm this yet. One source insists "there is no deal," but the reported agreement would send Bogdanovic and Justin James to the Bucks in a sign-and-trade for Donte DiVincenzo, Ersan Ilyasova and DJ Wilson. https://t.co/vGxC5VVXMJ

— Jason Anderson (@JandersonSacBee) November 17, 2020
We will continue to watch Bogdan's free agency. I hope you didn't order your DiVincenzo jerseys already.