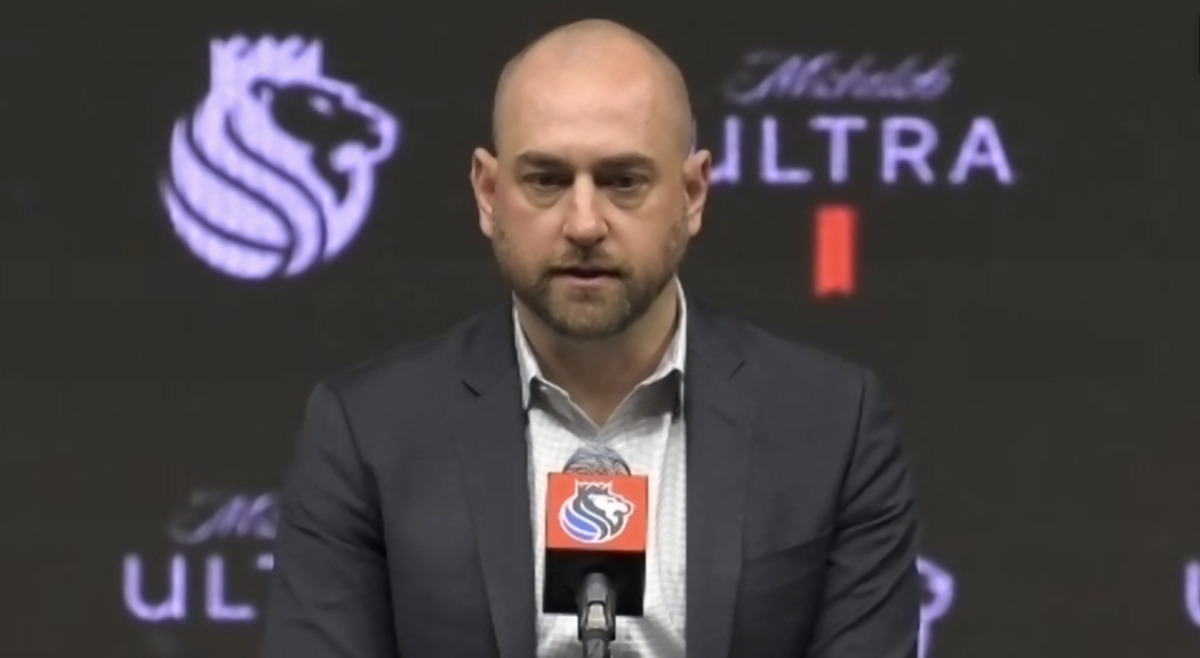 Sacramento Kings General Manager Monte McNair spoke to the media Monday about the recent free agency period and the thought process that went into the decisions of his front office.
Ultimately, McNair made it clear that a big goal, aside from maxing out De'Aaron Fox, was maintaining financial flexibility so he is able to make a big deal down the road should it become available. That began with his decision to not match the Atlanta Hawks offer to Bogdan Bogdanovic.
"We really spent a lot of time analyzing it from all angles. Bogdan is obviously a very good player in this league and was a big part of the success the Kings had, especially toward the end of last season. Ultimately, we came back to the fact that we're trying to maintain as much flexibility as we can and we thought that going forward the ability to maintain that would allow us to add talent and capitalize as big opportunities came up down the road so ultimately we decided not to match,€ he said. €œAnd that also I think cleared potential extra playing time for our loaded guard spot with De'Aaron [Fox], Buddy [Hield] and adding Tyrese [Haliburton] in the draft, as well as others. So ultimately, we decided to continue our plan of keeping flexibility and being able to capitalize down the road."
The flexibility continued with the free agent signings McNair made. That includes the one-year, league minimum deal with Hassan Whiteside, a one-year, non-guaranteed deal for Frank Kaminsky, re-signing DaQuan Jeffries for two years and $3 million, signing Glenn Robinson III to a one-year deal, and Chimezie Metu to a three-year, veteran minimum deal.
€œOne thing we want to continue to do is add talent, but also maintain as much flexibility as we can, and I think we were able to do that with how our free agency ended up. So we were patient, and I think we ended up with guys like Hassan on good deals for us. So he can both impact us as well as give us that flexibility down the road,€ McNair said.
He said Whiteside, who averaged 15.5 points, 13.5 rebounds and 2.9 blocks last season with the Portland Trailblazers, provides rim protection and the ability to rebound on both ends, which €œare really key for how we want to play.€
And what about playing with pace with Whiteside and Kaminsky?
"Playing with more pace is one thing we want to do, but we also want to be aggressive, especially on defense, we want to space the floor. I think in Frank's case, the ability in some situations to play four-out or even a five-out gives us a different look and allows us to be aggressive attacking the basket and trailing for threes in transition. You don't always have to be out in front of the pack to play with pace,€ McNair said. €œAnd then with Hassan, I think the ability for him to protect the rim allows us to be more aggressive on the perimeter defensively especially. And then offensively, I think Hassan has the ability to rim run, but also if he's trailing in any situation to come down and clean up on the offensive glass and be around the rim and be a force there. So I think while speed is one of our goals I think there is a lot of tenets to how we want to play stylistically that those guys help to fulfill."
Along with Whiteside and Kaminsky, the Kings also have Nemanja Bjelica, Marvin Bagley and Richaun Holmes to fill out the front court.
McNair likes the flexibility that gives the roster because as he sees it the team has a lot of bigs who can play together in different scenarios that can be utilized based on the matchup. Sometimes there may need to be a little more shooting and sometimes more size will be required, or rim protection. It will be head coach Luke Walton's job to determine how to best utilize them.
€œI think with Marvin and the rest of the bigs on our roster we kind of have a lot of those boxes checked and can kind of play in many different environments so I think it's more about giving Luke the tools and letting him choose which tools make the most sense in any given game,€ McNair said.
Speaking of things up to Walton, it sounds like McNair expects the Kings system to be more complementary to Hield this season. The Kings general manager said he spoke to Hield and his agent and all of them are on the same page.
"Buddy is such an incredible talent, especially his shooting at an elite level is something that we saw this offseason was at a premium. So I think we're really excited to see him in this system and obviously with coach Walton, as well as Alvin [Gentry], and Rex [Kalamian] and the system they are going to implement, I think Buddy is going to look really good in it,€ McNair said. €œI think we're really excited to see Buddy kind of let free in this system. I think he's going to be fantastic."
Watch the full press conference below.
https://www.youtube.com/watch?v=pTcf1JyLq78&feature=youtu.be&ab_channel=SacramentoKings