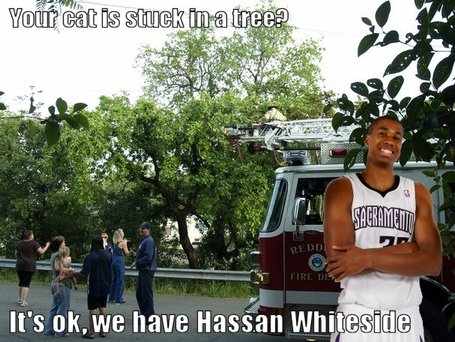 The Sacramento Kings have signed Hassan Whiteside to a one-year deal, according to ESPN's Adrian Wojnarowski.
Free agent center Hassan Whiteside has agreed to a one-year deal with the Sacramento Kings, sources tell ESPN.

— Adrian Wojnarowski (@wojespn) November 25, 2020
James Ham confirmed the news and added that the contract is a league minimum deal.
Confirming that Hassan Whiteside has signed a one-year, league minimum deal with Kings.

— James Ham (@James_HamNBA) November 25, 2020
It's hard to be too mad about a minimum contract for one year. It's very much an indication of where Whiteside's current value is. Although Whiteside averaged 15.5 points, 13.5 rebounds, and 2.9 blocks per game last season, Zach Lowe summed it up well last week when he described Whiteside as a can of Pringles, just empty calories. Whiteside is a big body, he will put up stats, but he hasn't historically helped his teams as much as the numbers might suggest.
This brings Whiteside's journey full circle as he was originally drafted in the second round by the Kings in 2010. He spent two unimpressive years with the Kings before leaving the NBA entirely. He spent two years playing overseas before finding his way back to the league and earning a lucrative contract from the Miami Heat.
Sure, the Kings lost Bogi. But it's ok, we have Hassan Whiteside.