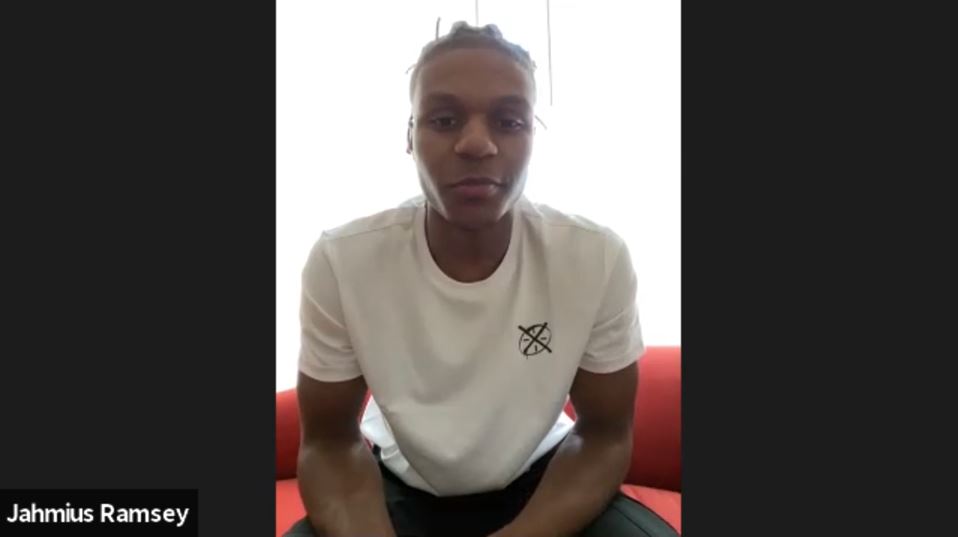 Jahmi'us Rasmey, who was just drafted to the Sacramento Kings with the 43rd pick, has all the talent of a first-rounder who could be an eventual starter in the NBA, but the fanbase and organization will need to be patient in allowing Ramsey to hone his skills.
The highlights will wow you and are comparable to the first pick in the draft, Anthony Edwards.
Then, there are moments of JR Smith-esque confusion and wasted possessions.
These moments are typical for any 19-year-old, specifically a college basketball player. Often, the top selections are littered with some of the youngest names eligible, due to the idea of an prolonged period of coachable growth. This year, eight of the ten youngest prospects to be drafted were selected in the top-20 (including the entire top-4). Theo Maledon, who was selected 34th by Oklahoma City, ranked sixth youngest. Jahmi'us Rasmey was the last of the ten players to remain on the board.
There is a rawness to Rasmey's game that is to be expected from someone his age, but the flashes reveal a potential 15 (or more) point per game scorer in the league with defensive versatility and invaluable gravity off-ball.
In his freshman campaign at Texas Tech, Ramsey averaged 15.0 points, 4.0 rebounds, 2.2 assists, 1.3 steals, and 2.0 turnovers per game. The 6'4€ guard was the team leader in points, steals, and three-point percentage where he shot 42.6 percent from beyond the arc on an impressive 5.2 attempts per game.
Not only that, but the Texas product knocked them down in a variety of ways; off the catch, pull-ups, in the pick-and-roll, and off-movement. From the jump, he should be able to knock down looks created for him by others off the catch.
There is a chance Ramsey ends up as the second two-way contract alongside Kyle Guy. This season, two-way contracts are allowed to play 50 games with the major club as well. Experience in Stockon would allow Jahmi'us an opportunity to prioritize developing his pick and roll game and self-creation.
New Kings' assistant coach Alvin Gentry has previously preached that a high-paced, transition offense limits the decisions that young players are forced to make and simplifies the game, and Ramsey is no different.
Yet, the inexperience shines at times here, with poor decisions and forced attempts from Jahmi'us Ramsey. Sometimes eerily similar to another player that shares his initials - Rasmey's Twitter handle is @newanimprovedJR.
The game still needs to slow down for the teenager, and he should feel less responsible to do it by himself with a better roster around him than what he was working with at the college level.
The ultimate optimism for Ramsey's offense comes from the moments that shined in him running the pick-and-roll. His scoring threat often presented opportunities to feed the open man for a clean look, even if sometimes there was a bit too much heat on them.
The importance is in the recognition and understanding to thread the needle properly, and Ramsey can improve his pass placement, plus big men at the next level will have more reliable hands.
Most commonly, Jahmi'us was hitting the roll man or dropping it off to a big in the dunker spot. This is representative of the talent that surrounded JR at Texas Tech, where he led his team in three-point percentage and had few other threats on the perimeter to open up the floor for driving lanes.
While finishing would not be classified as a strength for Ramsey, he was in a tough position due to the aforementioned spacing as he simply struggled to get to the basket in the first place. The incoming rookie also has a concerning first-step and needs to make considerable improvements to his handle that is currently severely limiting his game off the bounce.
Interestingly, some of the other skepticism that likely led to Ramsey being available in the 40s is his confusing free throw percentage. Getting to the line is a mission in the first place, and knocking them down should be a breeze for someone regarded as a high-level shooter. Ramsey averaged just 64.1 percent from the charity stripe on the year in 78 total attempts. Five more made attempts would have taken him to just over 70 percent and make this much less concerning. It can be and has been chalked up to a rhythm issue, but is a red flag to keep in mind with free-throw percentage often seen as a telltale sign of shooting ability.
The defense of Jahmi'us Ramsey was polarizing among analysts as well, with again supreme peaks and tiresome shallow moments. At his best, Ramsey individually guarded all five positions at the college level with Texas Tech often switching ball-screens. While Ramsey is far from the level of athlete Anthony Edwards is, he displayed some impressive lateral quickness of his own by sticking on smaller guards.
Off-ball, Ramsey could be mistaken for a rim-protector with some of the weakside blocks and rotations that fill his highlight reel. Plenty of times, JR was a full or half step late to his rotation, but he displayed a defensive understanding that is encouraging.
More commonly than the highlight blocks or steals leading to transition slams, Jahmi'us was getting caught ball watching or made the right play then lacked discipline and fouled the opposition. This is what will drive Sacramento fans crazy at the start of Rasmey's career as it is eerily reminiscent of Buddy Hield at times.
Late rotations, inability to create space due to his poor handle and team's spacing leading to poor shot selection, inconsistency, and a shaky free throw percentage are why he was on the board at 43.
Continued development of his handle, extended reps in the pick and roll, and consistent engagement on defense are what would make Jahmi'us the steal of the draft.
Again, Ramsey is nineteen years old and should be treated as a project so don't let the lapses scare you and allow yourself to get excited when the flashes appear.
The Monte McNair - led Sacramento Kings seem to have an emphasis on the future and retooling around De'Aaron Fox, who just inked in his five-year max extension, and Ramsey is a great fit into that timeline.
Down the road, Jahmi'us could find himself featured in a role similar to Buddy Hield or Bogdanovic - a starter or super sixth man. Worst case, Ramsey does not pan out and shows little improvement in his defensive consistency, ball handling, and the shooting is not as real as it is made out to be.
No matter, Jahmi'us Ramsey was a great low-risk, high-reward pick for Sacramento at pick 43.