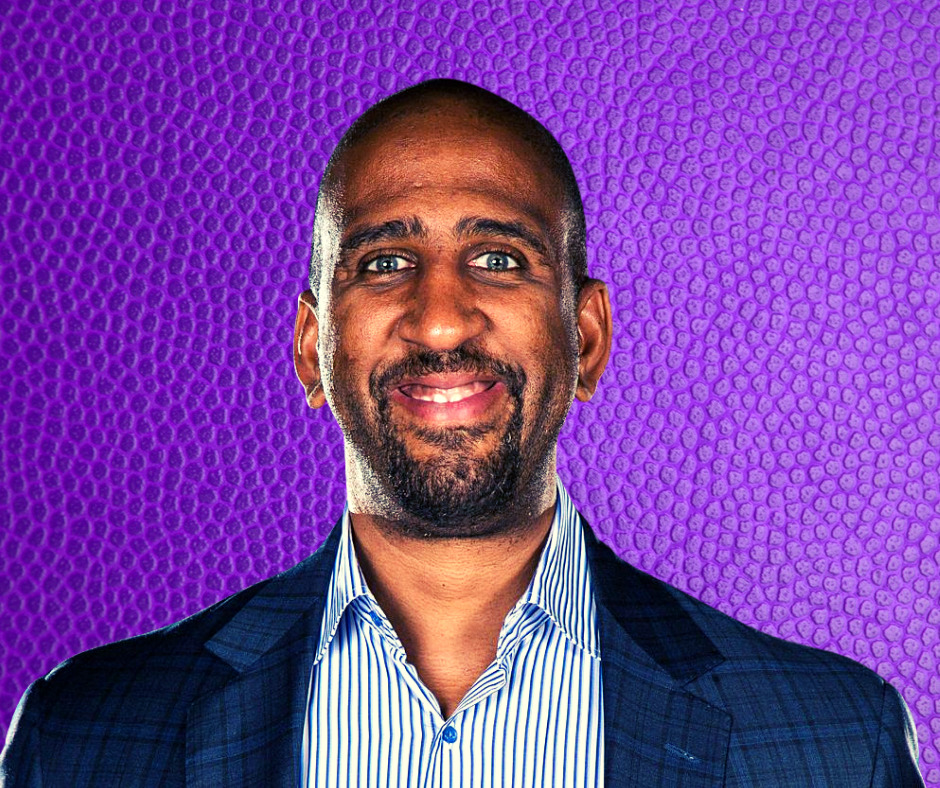 Calvin Booth is one of the reported original six candidates the Kings have requested to interview for its open general manager position.
Booth is a former NBA player who had stints with seven teams from 1999 to 2009. Coincidentally, the last team he played for was the Kings, though it was only for seven games. Over his career, Booth averaged 3.3 points, 2.8 rebounds and 1 block in 12 minutes per game. He was drafted 35th overall out of Penn State in the second round by the Washington Wizards.
His biggest moment as a player came in the 2001 NBA playoffs as a member of the Dallas Mavericks when he made a game-winning layup with under 10 seconds left to win the series over the Utah Jazz. (You can check it out at the 1:32 mark in this video.)
Not a bad poster on Mike Dunleavy here also.
Anyway, you aren't here for his playing career, let's take a look at what he has done since he retired as a player.
Front Office Experience
Late in his playing career, Booth would write out scouting reports on flights. He has said scouting reports were always a passion of his. Shortly after he retired as a player, he took a gig as a video intern with the Washington Wizards €" yes an intern. Now, that is dedication considering he had just finished playing a decade in the league. He then moved on to a scout role with the New Orleans Pelicans in the 2012-13 season. A year later, the Minnesota Timberwolves hired Booth and he climbed the ladder to director of pro personnel and started to become known a good talent evaluator. After four years with the Wolves, the Denver Nuggets hired him as assistant general manager in August 2017.
Over Booth's three seasons with the Nuggets, the team has done well thanks to the rise of Nikola Jokic and Jamal Murray. In that timeframe, the team went from 46-36, to 54-28, to 46-27 in this shortened season (third place in the West). And course, they are still alive against the Los Angeles Clippers in the Orlando bubble playoffs.
In the last couple of seasons, Booth has interviewed with a few other teams for top front-office positions. In 2019, he interviewed with his former team the Timberwolves for its president of basketball operations position. Other reported candidates were Chauncey Billups, Trajan Langdon and Gersson Rosas. The Wolves hired Rosas in May 2019.
In April of this year, he was reported to be a candidate for the open Chicago Bulls general manager job. In May 2020, the Bulls hired Marc Eversley.
Though the Timberwolves and Bulls may have passed on him, the Nuggets decided the give him that promotion by naming him General Manager in July. Nuggets President of Basketball Operations, Tim Connelly referred to Booth as "one of the brightest basketball minds" in the league.
His Philosophies
Booth has shed some light on his views about being involved in an NBA front office in a few interviews.
On over-analyzing players in terms of spending so much time on the draft this year when it has been pushed out so far by the pandemic:
€œOne concern of ours is potential paralysis by analysis. We don't want to take these guys apart too much or make somebody better when it's really not there by watching too much film or doing too much research. So I think ours is probably more of a less is more approach right now.€
On scouting international players:
€œI value [international scouting] a lot,€ Booth said. €œAll we're trying to do is look for where inefficiencies are, where you can get value. Even though as the years go on and as people get more and more interested in Europe and they are putting more resources into it, it's still a landscape where you can find a gem.€

€œYou can find a Nikola [Jokic] at No. 41. It's a lot harder to find [a similar prospect] at No. 41 if he is playing in the NCAA. It is a very important part of our scouting package and we'll continue to value it moving forward.€
"Workouts are tricky. I think you like to have them, but they can go any kind of way. You can have a guy that has a terrible workout for whatever reason and you judge it too harshly and he ends up being a good NBA player. Or, you can have it where a guy that was off the radar performs really well in the draft workout and if you don't evaluate it correctly it ends up being bad. That's kind of what happened with [Kyle] Kuzma. Utah he was pretty good, but not like he has been in the NBA. Plays really well in the draft combine and has some good workouts and you are like OK, which one is the correct thing to do? Is he going to be the Kuzma that we saw in the combine and workouts, or is he going to be like how he was in Utah? Obviously, in his case, the combine and workouts were accurate."
On Jokic and how there's more than being athletic:
€œNikola was like an analytic darling, to say the least. I heard all the guys in Minnesota always talking about him. I thought he was a really good player. I remember seeing him in an early season workout my first time in Denver and I was like, €œman that guy is even better than I thought he was.€ €¦ €œI think him and [Luka] Doncic, and even to a lesser extent guys like Jamal [Murray], it's not always about how high you jump or how athletic you are.€
On the comparisons between Dirk Nowitzki and Jokic:
"When you look at how both of them can dominate a game without being elite athletically in the NBA, and they both have really high shot releases that are hard to get to. But once you start getting away from that you start seeing a lot of divergence. Nikola is more of a creator and facilitator for others and Dirk is an elite scorer, shooter."
On Michael Jordan's form of leadership portrayed in The Last Dance:
"I think there's a million different ways to win. We witnessed it with Golden State. They don't have guys that are necessarily like Michael Jordan, but they were dominant. So, I think Michael is arguably the best player to ever play. It worked for him, but I think other styles of leadership can work for other people too."
On what makes a good front office:
"I think everybody has to check their egos at the door and be willing to work long, hard hours. Be willing to have good conversations and once those conversations are over, dialogue, or debate or whatever you want to call it, once you leave the room you're all on the same page."
On how important stability is:
€œWe run a different shop here in Denver. One of the most vital keys to our success is our continuity in the front office, the coaching staff and players.€
On how often disagreements in NBA front offices happen:
"Several times a year, usually around draft time. Those are always fun dialogues and debates, and you don't know the answers until several years out."
Booth also supports out-of-the-box approaches for building culture. For example, the Nuggets invited Peyton Manning to speak to the players about his career experiences via Zoom before leaving for the Orlando bubble.
Transaction History
Booth's direct involvement in the Timberwolves and Nuggets transaction history isn't clear, but here is a brief look at some of the highlights.
2012 €" Pelicans draft Anthony Davis first overall (sort of a no-brainer).
2013 - Pelicans draft Nerlens Noel with the sixth overall pick and trade him to the Philadelphia 76ers for Jrue Holiday and Pierre Jackson
July 2014 €" Pelicans sign Jimmer!
August 2014 €" Pelicans sign John Salmons! (Would later trade him for Norris Cole, Shawne Williams and Justin Hamilton)
2016 - Pelicans draft Buddy Hield 6th overall
February 2017 €" Pelicans trade Hield, Tyreke Evans and Langston Galloway to the Kings for DeMarcus Cousins and Omri Casspi
Feb 2018 €" As part of a three-team deal, the Nuggets trade Emmanuel Mudiay to the New York Knicks and get Devin Harris.
2018 - Nuggets draft Michael Porter Jr. with 14th overall pick
July 2019 €" Trade a 2020 first-round pick to the Oklahoma City Thunder for Jerami Grant
Feb. 2020 - In a four-team deal, the Nuggets get Keita Bates-Diop, Shabazz Napier, Noah Vonleh, Gerald Green and a 2020 first-round pick. They send Juan Hernangomez, Malik Beasley and Jarred Vanderbilt to the Timberwolves.
Two of the six reported candidates (Trajan Langdon and Adam Simon) have withdrawn themselves from the Kings interview process. That leaves Sachin Gupta, Monte McNair, Wes Wilcox and Booth of this initial batch of potential candidates.
Editor's Note: as we're preparing to publish this, Jason Anderson of the Sacramento Bee reports Booth is unlikely to proceed with the process. This wouldn't be surprising. We'll continue to keep an eye on the situation.
Sources: Denver Nuggets GM Calvin Booth unlikely to move forward in Sacramento Kings' hiring process. Booth would be third candidate to withdraw, joining Miami Heat assistant GM Adam Simon and New Orleans Pelicans GM Trajan Langdon.https://t.co/thrxr1PVCP

— Jason Anderson (@JandersonSacBee) September 12, 2020