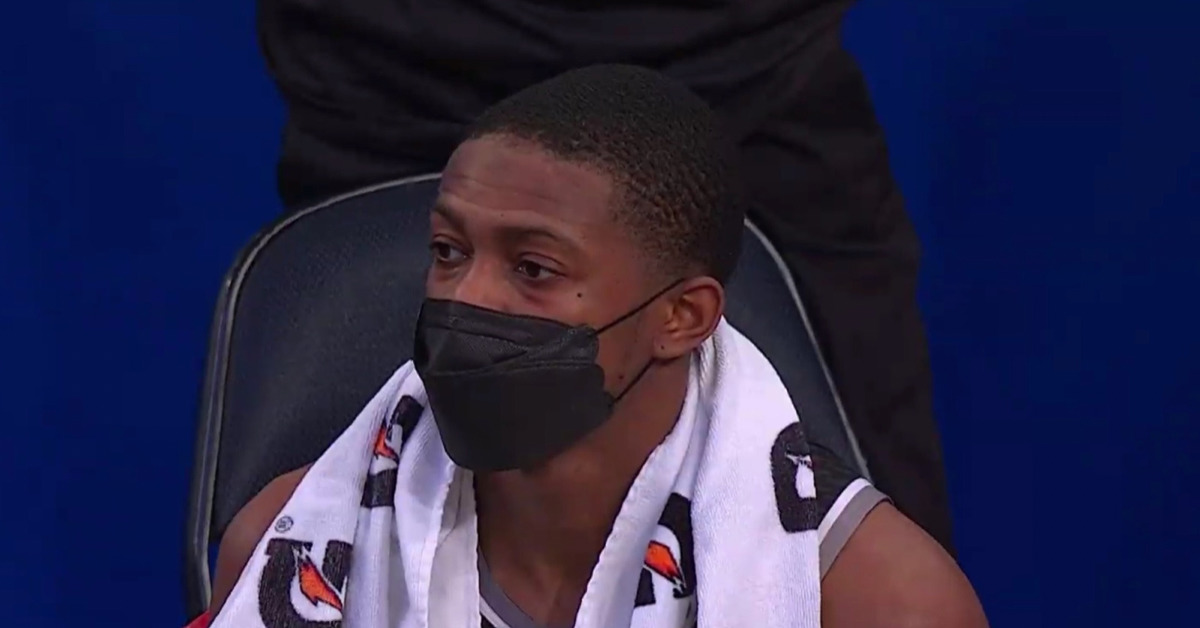 The last 8 games from your Sacramento Kings:
Can Sacramento snap their 8-game losing streak tonight inside Madison Square Garden vs. the 15-17, fighting-for-a-playoff-spot New York Knicks?
Spoiler: No they can't. You can skip the block of text below and head right on over to the comments section to air your grievances. The game wasn't worth watching, and the recap isn't worth reading. But if you must know:
It didn't start well. The Knicks jumped out to a quick 18-6 lead forcing Luke Walton to call an early timeout. Derrick Rose did most of the damage early, and while not entirely De'Aaron Fox's fault, this is a matchup Fox needs to be able to dominate if the Kings are going to succeed in any meaningful way.
Sacramento looked a little better after Walton's timeout, and an early Tyrese Haliburton substitution provided the Kings with an offensive lift, but it was Marvin Bagley's 9-point quarter that kept the game close. Bagley couldn't contain Julius Randle defensively, but he was scoring enough that the Kings could live with that matchup.
Unfortunately this Kings team cannot stop anyone from scoring, so even when their offense picks up, their defense doesn't allow them to gain much of an advantage. The Knicks put up 38 points on 66.7% shooting in the first quarter culminating in an Immanuel Quickley 4-point play with about 1 second left thanks to a Cory Joseph foul. Knicks 38, Kings 29 after one.
Sacramento's defense hit a new, different kind of low in the second quarter after making Immanuel Quickley look like James Harden out there. Quickley finished the half with 18 points in just 9 minutes on 4/6 shooting from the field, and a staggering 8/8 shooting from the free throw line. I know Quickley is having a very good year for the Knicks, and he's somewhere on the outskirts of the Rookie of the Year conversation, but you can't send him to the free throw line 8 times in a single half.
The Knicks scored a season-high 77 points in the first half vs. the Kings, and carried a 15-point, 77-62 lead into the third quarter. Truly, bless anyone for even tuning in for the 2nd half after that nightmare basketball we just witnessed. I hope you all got out early. You don't need to watch this team flounder vs. a mediocre Eastern Conference basketball team on a Thursday night.
The Kings sleepwalked through the first half of the third quarter, but actually closed strong in their lone positive stretch of the night with a Fox, Haliburton, Joseph, Barnes, Holmes lineup that played just enough defense to close the lead to 7 heading into the fourth quarter. Fox was brilliant offensively here, and just highlights the frustration you can have watching him, wondering why we don't see this every night on every possession.
I'm breaking up this running-diary recap to drop in a Marvin Bagley defensive lowlight from the third quarter. I'm not trying to single out Bagley, who has been pretty good offensively as of late, but his defense still has a long way to, and his deficiencies on that end is one of many significant reasons why the Kings are so poor defensively.
My goodness... pic.twitter.com/Athoi4VYo1

— John Schuhmann (@johnschuhmann) February 26, 2021
Anyway, back to the game. Sorry.
The Kings didn't deserve to be in this game at all, but the Knicks aren't a team known for their ability to hold a lead, so let's set the table one last time: Sacramento entered the 4th quarter down 7 points with 12 minutes left to sneak out of NYC with a win, break the 8-game losing streak, and try to build some much-needed momentum moving forward.
A 7 point deficit is manageable, but the Kings never made a legitimate 4th quarter run, and looked way too comfortable just letting this game get away from them. There was no urgency. No fight. No game. Knicks win in blowout fashion, 140-121. The Kings are bad.
Luke Walton has been hesitant to make any sort of meaningful adjustment in the starting lineup or rotation to this point in the season, but it sure feels like something needs to change in Sacramento, and soon. If Walton isn't willing to make changes himself, how long does this losing streak need to extend before Monte McNair and the Kings start to consider a coaching change?
I would argue we've already reached that point, but what I think and what the Kings do are rarely aligned. With tonights loss to the Knicks, Sacramento has lost their 9th-straight game with no positive takeaways or momentum to speak of. In addition to a win of any kind, the Kings also need to provide coach with a new clipboard.
Luke Walton is NOT happy with the outcome of this game 😳 pic.twitter.com/PScnrBVrlE

— Kings on NBCS (@NBCSKings) February 26, 2021
Next up: Detroit Pistons on Friday.