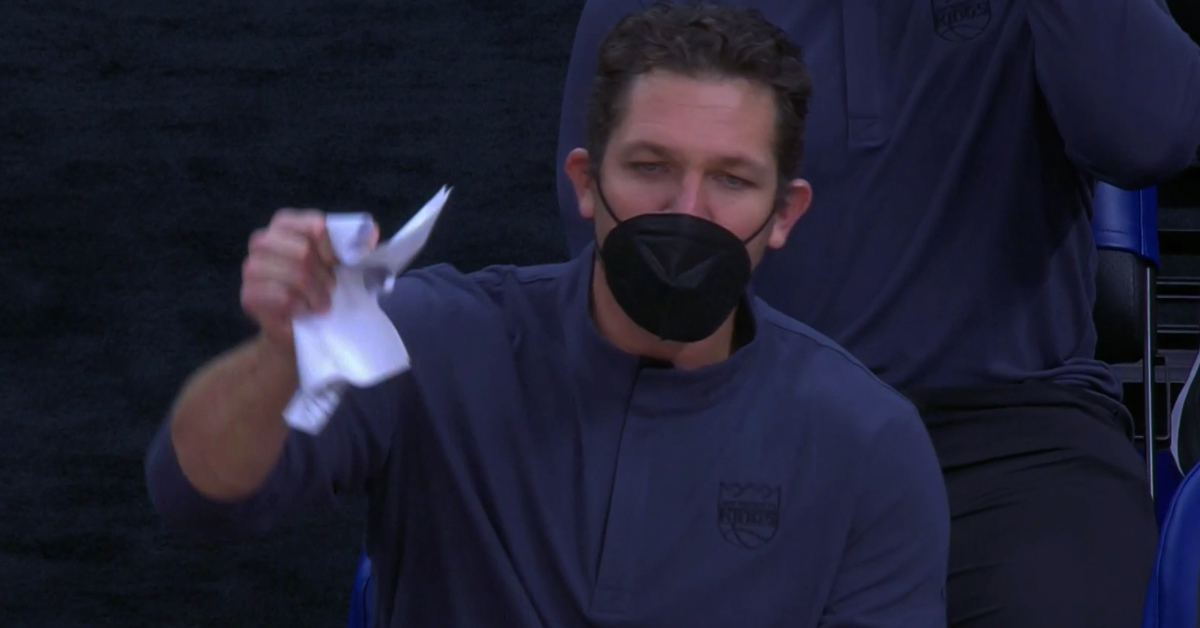 The Kangz rollercoaster never ends.  After winning 7 of 8, the Kings have now dropped 4 in a row after a 136 to 125 loss to the visiting Brooklyn Nets.  To make matters worse, all 4 of those losses have been at home, although that doesn't mean as much this year with no fans in attendance.
The Nets made a whopping 27 three-pointers, including 9 of 11 from Kyrie Irving alone.  Nearly every single Net who played made at least two threes, with Bruce Brown and DeAndre Jordan being the only ones who missed out on all the fun.  The Kings on the other hand only made 12 of their 33 attempts, with Buddy Hield having half of them.  Yes, Brooklyn made nearly as many threes as the Kings attempted.  That's how you lose by double-digits despite making the same total number of shots and making 4 more free throws.
Tonight's loss doesn't look nearly as bad as it really was, as a late run by a lineup featuring Cory Joseph, Tyrese Haliburton, Glenn Robinson III, DaQuan Jeffries, and Hassan Whiteside made it semi-interesting, but as usual, it was too little too late.  Joseph and Whiteside were perhaps Sacramento's two best players tonight.  Joseph scored 22 points on 10 of 13 shooting, and Whiteside had a team-high 26 points to go with 16 rebounds and 5 blocks.  It was a rare poor performance from De'Aaron Fox tonight, as he failed to reach 20 points for just the 7th time this season.  Harrison Barnes was also a relative non-factor, scoring just 4 points in 28 minutes.  Barnes has played well for much of this season, but the tendency to disappear at times is still there.
Sacramento was without Richaun Holmes and at times it showed, as the Kings were missing the energy and hustle provided by their starting center.  Marvin Bagley III made the start at center in Holmes' absence and score 12 points to go with 7 rebounds.
The Brooklyn Nets were without Kevin Durant tonight but it must be nice to have two other superstars in Kyrie Irving and James Harden to fall back on.  Irving scored a game-high 40 points and Harden added 29 points, 14 assists, and 13 rebound triple-double.
The game didn't really get out of hand until the third quarter.  Sacramento entered halftime down just 6, and after a Buddy Hield three-pointer with 7:20 left in the quarter, they managed to get within a possession at 82-80. It was the closest they'd ever get again, as Brooklyn opened up a 20-0 run, spearheaded by Irving and Harden.  The Kings weren't able to recover from that onslaught.
The Kings will get two nights off to try and figure things out before taking on the Miami Heat (11-5) on Thursday evening.