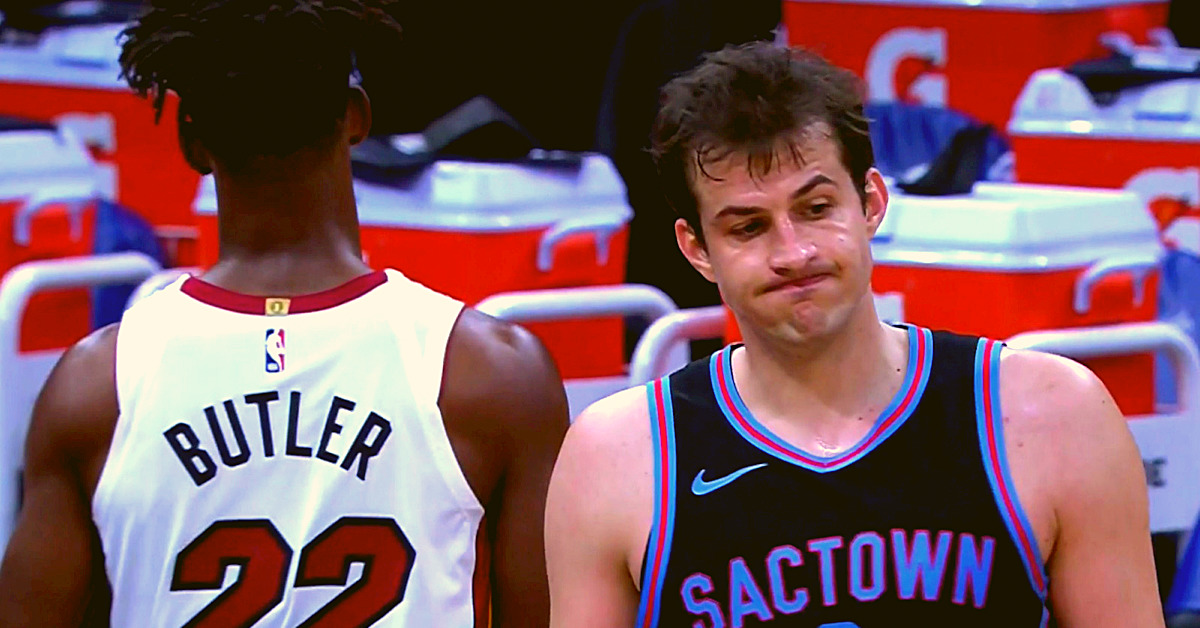 I don't know what I was expecting, but it should have been this. The Kings have now dropped 5 in a row at home after a 118 to 110 loss to the Miami Heat and that 7 of 8 streak looks so damn far away.
The Heat got out to an early 8-0 and from there it was off to the races. The Kings started a somewhat funky lineup due to recent injuries to Harrison Barnes and Richaun Holmes - starting a group of Fox, Hield, Robinson III, Bjelica, and Bagley at center. Belly, who is expected to be moved sooner rather than later, started off the game scoring 7 of the first 9 points for the Kings. The first quarter saw a highlight reel oop from Fox to a cutting GR3 and then in true Kangz fashion the next few easy shots at the rim all rolled out. By three minutes left in the first the Heat had opened up a 25-14 lead on the back of Kelly Olynyk's 10 points and Kendrick Nunn's 6. How ugly was this first quarter? Well, there was a 4 minute 45 second stretch in which the Kings didn't hit a field goal. Heat lead by 10 at the end of one, 31-21.
The second quarter started with some Kyle Guy/Cory Joseph/Tyrese Haliburton action and that worked so well the first bucket of the quarter was a Hassan Whiteside 16-footer over three minutes in. Right around halfway through this quarter I got curious at how bad the Kings were shooting on the night and after a couple clicks I saw they were in the high twenties from the field and low twenties from deep and suddenly I had no wish to speak specifics the rest of the night, so if the rest of this recap is just me rating each player's night by assigning them good or bad movies, it's because this game was so ugly at some points the Kings had to pay Pizza Guys for the night's ads. This isn't to say all was lost at that moment: the Kings did go on a 10-2 run with 4 minutes to play in the half to cut the lead all the way to 7 but the Heat just converted like a team that's been there a hundred times before and at half time the Kings had been pushed all the way back and then some.
Heat: "Speed" (57), Kings: "Speed 2: Cruise Control" (43)
Kings Players of the Half
Marvin " The Mask" Bagley (8 hard earned rebounds)
Nemanja "She's All That" Bjelica: (13 points)
Part of what made tonight's loss to the Heat just that much more grating is just how many shots right at the rim got missed. It seemed like everytime the Kings got in the paint the ball careened everywhere but into the damn cup. Bagley, Joseph, Bjelica - everyone got in on the action. Oh, if you're suspicious as to why I haven't mention De'Aaron Fox tonight yet, well, it's because he didn't do that much. 5 points and 4 assists and a rebound at half. In fact, the four starters outside of Bjelica combined for only 17 points at half time so if I haven't said their name, assume they played "Norm of the North" bad. Tyler Herro came off the bench and had 14 in that same timespan.
The Kings started the third with two consecutive turnovers, which the Heat converted on and the lead quickly ballooned to 23 from there. The Heat had 21 assists on 31 field goal half way through the third and I swear 90% of those were on cuts to the bucket. Mark Jones mentioned a couple of times that the Heat lead the league in points off of cuts and my god, do they. DaQuan Jeffries checked into the game with four and a half minutes left in the quarter and immediately scored a layup and a three pointer on consecutive plays to cut the lead to 15. He hit another three a couple minutes later to cut the lead to 10, it was answered by a Heat three and then Jeffries assisted Marvin Bagley on a walk up three moments later. The Kings showed life to end the third thanks to DQJ and ended the quarter only down 10.
I looked away for a moment to start the fourth to watch my dog scoot his butt across my hardwood flooring and when I looked up Tyler Herro was hitting an And-1 with the lead already back to 16. In the first two minutes of the 4th the Heat went on an 11-2 run. Meanwhile Jeffries hit another three, scoring 14 points on 4-4 shooting from deep in just eight minutes. The rest of the team at this point had hit 7 threes total on 29 attempts, so things were going REAL well. In the time it took for me to write that sentence, Jeffries hit his FIFTH three in five tries. Maybe he's all I'm going to talk about the rest of the night? Jeffries, jeffries jeffries jeffries jeffries - jeffries jeffries! The game was still technically winnable with six minutes to play. Miami is terrible at holding leads and this one was only 16 points. Competent teams could make a good run at it! Instead, the Heat just focused up for two minutes, found two buckets open on cuts to the rim and a 12 foot Bam Adebayo leaner and the lead was back up to 20. Justin James was subbed in with 3 minutes to go and that was my sign to finish this damn thing and wait for the final score.
As previously mentioned, Sacramento was without both Harrison Barnes and Richaun Holmes and it showed. The defensive intensity of Holmes is far different than that of a guy like Bagley and Whiteside and you could just feel that difference without him in the game tonight. Speaking of Mr. Marvin Bagley III his start at center in Holmes' absence went fairly well for him - he crashed the boards hard, hit some timely shots and ended up with a very respectable 19 points and 10 rebounds. Barnes replacement in the starting like, Glen Robinson III, ended up with 4 points, 9 rebounds in 23 minutes. Really, the oft talked about DaQuan Jeffries is the one who should be talked about tonight. The man had 17 points in 17 minutes on perfect shooting and really was the only thing standing between you reading this and me discussing the best and worst films of the 90's. He was electric and I'm looking forward to more of his minutes this season.
De'Aaron Fox ended the night with a sleepwalking 11 points, 10 assists. Tyrese Haliburton had 8 points 4 assists and 3 rebounds. Buddy Hield had 5 points, 3 assists on 2-10 shooting and 1-8 from deep. THAT IS SOME VETERAN PRESENCE BABY!!!!
Only other person worth mentioning was Bjelica. The guy dropped 25 points in 35 minutes and had 8 boards to go along with it. Congrats to Philly, Miami, Dallas or whoever gets him next. He's a good one.
On the other side of things, the Miami Heat had a quiet offensive game from Jimmy Butler scoring wise, but that 13 points he scored also came with 13 assists and 10 rebounds so, good for that man. Not to be outdone, Bam Adebayo had a pretty quiet night and ALSO ended up with a triple double! 16 points, 12 rebounds, 10 assists for the big guy. Kelly Olynyk, Duncan Robinson both scored 20 plus points. High man for the Heat tonight was Tyler Herro, who had 27 points off the bench.
The Kings will get a night off before hitting the road to take on a five game East Coast trip and facing off against the Chicago Bulls first on Saturday night!