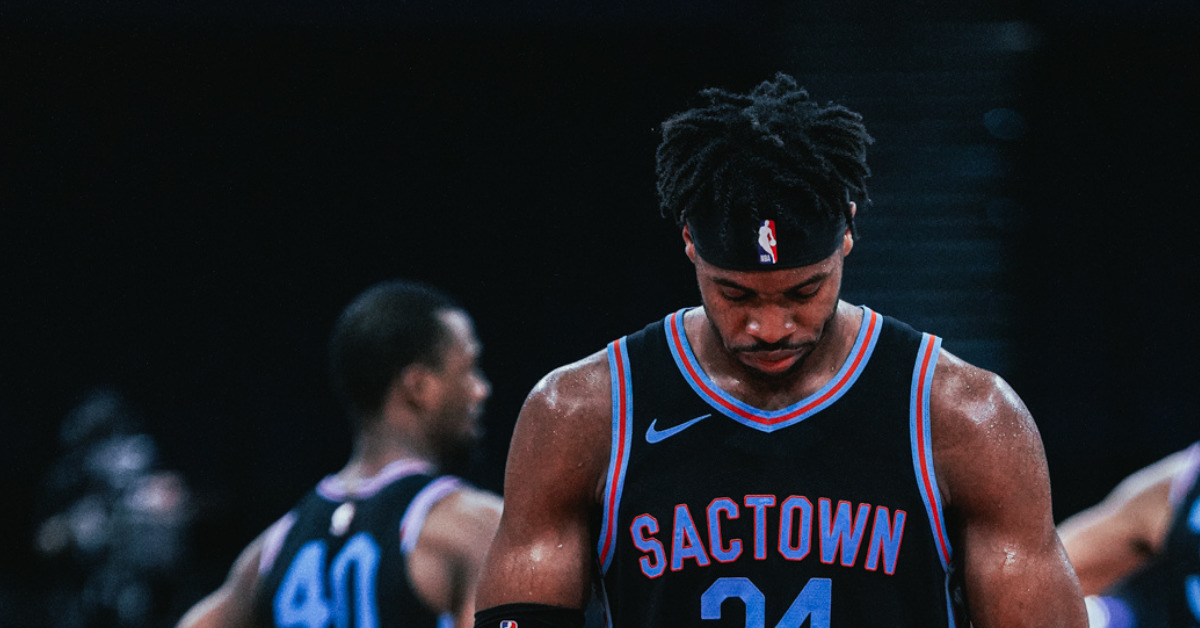 For most good teams, this wasn't a game to worry about. The Kings, despite their recent play, have not yet proven that they are a good team. So it comes as no surprise to any Kings fan who was watched this team over the last 15 years that they were thoroughly outmatched by an Orlando Magic team missing half its roster and playing on the second night of a back to back.
Yes, the Kings were missing star De'Aaron Fox, who was a late scratch thanks to a knee contusion, and Marvin Bagley III, but they were also coming off of two days rest and in the midst of their best play this entire season. This was a chance to make a statement and say "We aren't the Kings of old, we're different, we're better, we can take care of business".
Instead it's same shit, different year.
The Kings started off well but Orlando kept sticking around, and even took a five point lead going into halftime. Sacramento had no answer for Nikola Vucevic, who scored 23 points in the first half on his way to a game high 42 points. Vucevic shot a ridiculous 17 for 22 from the field tonight, and Sacramento continually left him wide open for his favorite shot, the top of the arc three pointer, which he made 6 of 8.
The wheels completely fell off for the Kings in the third quarter, with Michael Carter-Williams getting whatever he wanted against the inept Sacramento defense. Carter-Williams scored 15 of his 21 points in the quarter, and helped push Orlando's lead to 20 points at one point. It got so bad for the Kings that Luke Walton did a wholesale line change, taking out the entire starting lineup. Sacramento would make a few runs, but the deficit was too much in the end and Sacramento lost 123 to 112.
Sacramento's starting lineup was particularly putrid tonight. With Fox and Bagley out, Tyrese Haliburton and Glenn Robinson III got their first starts. Every single starter for the Kings had a double-digit negative +/- while every single bench player was in the positive. The Kings as a team also couldn't take care of the ball at all with 18 turnovers leading to 21 Orlando points. The Magic on the other hand only committed 10 turnovers. It's a big reason why the Kings lost by double digits despite shooting better from the field than Orlando.
Games like these are why it's so hard to believe the Kings are ready to take the next step. Winning 7 of 8 games feels more of a fluke when you see performances like these. De'Aaron Fox is incredibly important to this team, but this was still a pathetic performance that the Kings can't allow to happen again.
The Kings have a chance to bounce back on Sunday when Ja Morant and the Memphis Grizzlies come to town.
Random Observations:
Glenn Robinson III had a really rough game. He scored just 3 points on 5 shots in 22 minutes and had three turnovers as well. There were multiple fast breaks in the first half that were ruined because Robinson mishandled the ball.
In Tyrese's first start, he made more mistakes than usual. 4 turnovers in just 26 minutes, and he also had a couple of defensive possessions where he ended up making bad fouls that led to and-ones or free throw opportunities for the other team.
Nemanja Bjelica made his first appearance since January 9th and didn't really miss a beat, doing Nemanja things. He finished with 15 points, 9 rebounds and 6 assists in 28 minutes. It remains to be seen if he only played because Marvin was out, or if he'll start to re-enter the team's rotation going forward.
Hassan Whiteside was one of the few bright spots for Sacramento tonight, scoring 16 points on a perfect 7 for 7 from the field to go with 7 rebounds in just 16 minutes of action.
DaQuan Jeffries made his first appearance of the season and finished with 6 points on 3 of 7 shooting in about 17 minutes. He looked a bit rusty at times, missing both of his three point attempts, but it was good to see him out there. It wouldn't surprise me if he supplants GRIII in the rotation as the season continues.