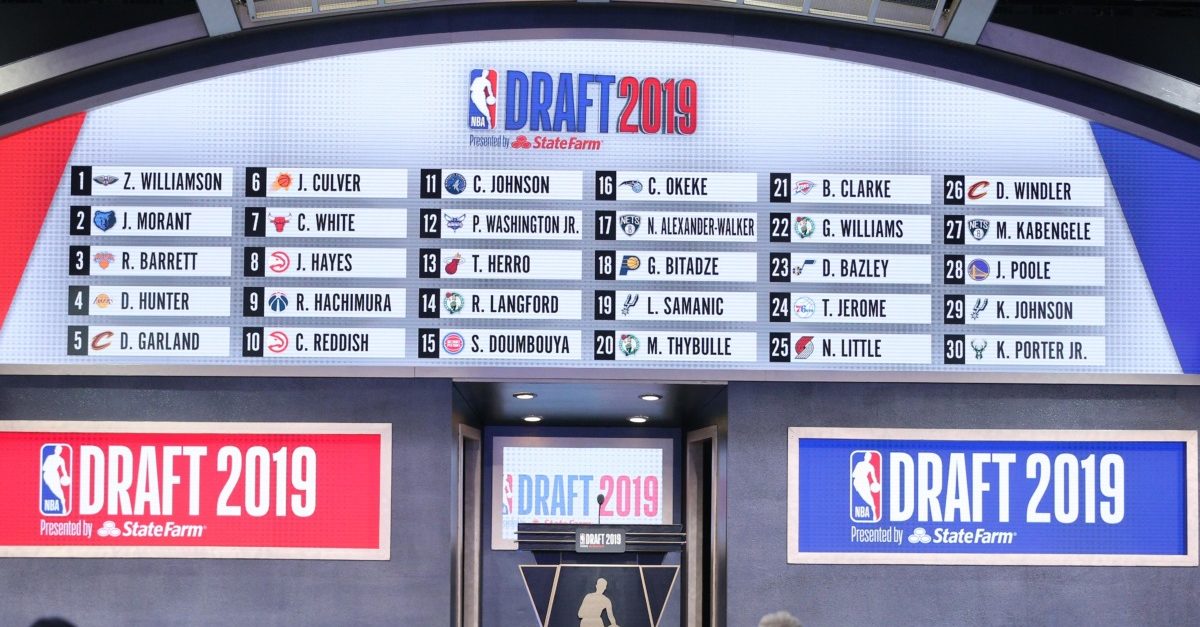 The 2021 NBA Draft is finally here! After months of wondering and speculating, we finally get to see what Monte McNair will do. Will he swap the pick in a trade for a veteran? Will he draft a sure-fire instant contributor, a young project player, or somewhere in the middle? Trade up, or trade down? We have no idea!
Assuming the Kings do end up making a selection, I have some draft preferences this year - Moses Moody, Franz Wagner, and Ziaire Williams are my favorite potential Kings - but in all honesty, I can see the case for a ton of dudes, even those further down my Big Board than 9th. The 3rd and 4th tier of players on my board (from slots 5 through 12, and 13 to 20) were insanely hard for me to rank. So while I'm lower on Alperen Sengun, Davion Mitchell, and Keon Johnson than many experts and armchair scouts alike, if Monte McNair selected any of them, I would legitimately understand the upside and what he was going for with each player. So don't take my top 20 rankings too seriously, as I can see the reasoning behind selecting nearly any of them - the Kings are gonna have to go into guys I have in the 20s in order to disappoint me at pick 9.
Most importantly, we as Kings fans cannot let Tyrese Haliburton's amazing rookie season change our expectations for this pick. There are guys who I believe could give the Kings 20 minutes of production a night pretty quickly, but no one will likely match Haliburton's talent as early as Tyrese did.
Below are my updated rankings, set with two numbers. The first is my Kings-Centric rankings, which are nearly identical with my overall rankings with the single caveat of €œit would be nice if this dude could play with De'Aaron Fox and Haliburton.€ The second score in parenthesis is a player's KANGZ score, which indicates my opinion of a player's volatility if they were to be drafted into basketball hell. Can a player reach anywhere close to the median outcome he'd have achieved if he'd been drafted by the Miami Heat or Denver Nuggets? If so, that player gets a high number. This ranking isn't indicative of my faith in a player's potential - Ziaire Williams, a draft crush of mine, has a KANGZ score of 4, while Corey Kispert has a KANGZ score of 8. I'd draft Williams over Kispert very easily, but I also think Kispert is much more likely to reach a median outcome in Sacramento than Williams.
Note that if a player's name is in purple, you can follow that link to a full player profile done by either myself or Brenden Nunes. Thanks for reading!
Tier 1
1. Cade Cunningham, Forward Initiator, Oklahoma State, 19 years old, 6'8 (10)
Don't overthink this one - Cade is the clear top selection. He's the best playmaker in the class, a high-instinct baller on both ends, and went from a questionable shooter when he joined Oklahoma State to hitting 40% of his threes. Cunningham is a basketball supercomputer, and given his instincts, size, and versatility, he should be at the top of every team's draft board.
Tier 1.5
2. Evan Mobley, Big, USC, 20 years old, 7'0 (8)
I disagree that this is a forward-driven league - I think it's a league driven by super-sized, super-skilled players, and Mobley is a fantastic combination of size and skill. He has the physical tools and basketball awareness to be a new-age big man. He's a skilled scorer whose offensive talents can be scaled up from how he was used at USC. He's also a fantastic defensive prospect, able to protect the rim (2.9 blocks a game) and switch out to defend wings and guards at a high level. I don't blame anyone who has either Jalen Green or Jalen Suggs higher than Mobley, but he's my favorite after Cunningham.
Tier 2
3. Jalen Green, Guard, G-League Ignite, 19 years old, 6'5 (8)
A top-notch scoring talent who spent this year playing at a high-level against NBA/fringe-NBA players. His scoring and shooting abilities were immediately apparent as he averaged 17.9 points on 46% shooting and 36.5% from deep. His defense is much more a question, but by all accounts he seems a truly dedicated, high-motor player who I'm confident will find a defensive baseline. He's a freak athlete, and his ability to step onto the G-League court and quickly thrive made him a picture-perfect test case for the Ignite program.
4. Jalen Suggs, Guard, Gonzaga, 20 years old, 6'4 (8)
The best Gonzaga prospect ever led the best Gonzaga team ever to the NCAA title game and showed all season long why he deserves to be at the top of the draft. He has all the skills you want to see from a lead and combo guard - dominant attacker, crafty playmaker, promising shooter, and a fantastic combination of size, strength, and athleticism. The fact that he is 4th this year is very surely underselling him, as I'd have had him locked at #1 last year.
Tier 3
5. Moses Moody, Wing, Arkansas, 19 years old, 6'6 (8)
I broke down all aspects of Moody's game earlier this week. His skillset and defensive versatility cannot be undersold in the modern game, he's a physical, smart player, and I think he truly is the best shooter among lottery-level players. For a Kings squad that needs young talent but isn't likely to put up with raw talent, Moody is a player who can provide immediate, two-way play - a very good shooter and very good defender - while also having the upside to make a trio alongside Fox and Tyrese Haliburton that launches this Kings' rebuild forward. He's a McGenius pick right here.
6. Scottie Barnes, Forward, Florida State, 19 years old, 6'9 (6)
Barnes is a game changer defensively and has the length, strength, fluidity, and instincts to defend guards, forwards, and bigs. He has the chance to be a defensive tone setter for a young squad. If the Kings weren't so desperately in need of a defensive talent, I'd have Barnes lower than this - I legitimately do not know how he'll become a meaningful scorer in the half-court at the NBA level. But I also trust a kid with his motor and intensity to figure out some meaningful role on offense.
7. Franz Wagner, Forward, Michigan, 19 years old, 6'9 (7)
Another high-instinct, versatile forward who has an excellent combination of dribble-pass-shoot-defend skills for his size. His balance, footwork, and awareness give him excellent range on defense, and I think he's at least an average NBA shooter with the potential for much more than that. I think he's become fairly underrated on here and on Kings twitter - guys with his versatility and his size truly do not come along that often - and I'm confident that if he ends up in a Kings uniform, it will not take him long to make his value known to this squad.
8. Ziaire Williams, Wing, Stanford, 19 years old, 6'9 (4)
One of the most polarizing players in the 2021 Draft and the king of context in a truly complex season (I encourage anyone who doesn't know his background to read my profile on him and his awful year at Stanford). His numbers and skinny frame make him look like a 2nd rounder, but some of his tape, along with his sweet pull-up shot and genuinely strong motor on both ends, make him look like a steal. I'm all in on betting that Williams figures it out at the next level and becomes the classes' late-lotto star. He's as risky as any of the project players in the class, but he's the one I find myself really wanting to bet on figuring it out.
9. James Bouknight, Guard, UConn, 20 years old, 6'5 (6)
A three level scorer with exceptional athletic gifts and the fluidity and craft to utilize them. I think his handle needs serious improvement before he can become a top-end scorer, and his passing ability is a true swing skill that'll decide if he's a top-end initiator or just a secondary scorer. Although I think Bouknight goes before the Kings draft, he would have a very strong case as the best player available should he be there at 9 - but although I wouldn't mind a Fox/Haliburton/Bouknight trio, I don't think Bouknight is a clear better talent and I like the fit of the other wings more with this roster.
10. Jonathan Kuminga, Forward, G-League Ignite, 18 years old, 6'8 (2)
This may end up being hilariously low for Kuminga. On one hand, he's an 18-year-old prospect with fantastic athletic gifts who spent the whole year playing near-NBA level professionals. His potential is arguably higher than anyone left on the board, and higher than some of the dudes I've got above him. But watching Kuminga's tape, I have concerns that go beyond the level of competition - his defensive effort waned, his shooting was very inconsistent, and his shot selection was poor. He is a true dice roll, and we've seen the Kings get snake eyes on this type of prospect before. I'd be both excited and terrified by a Kuminga selection.
11. Jalen Johnson, Forward, Duke, 19 years old, 6'9 (5)
While Kuminga and Ziaire are both more polarizing prospects, Johnson became the most difficult prospect for me to evaluate when I watched his tape. In some games, he looked like a future star, an excellent transition player, a promising shooter, and crazy steal and block numbers (2.2 steals and 2.3 blocks per 40 minutes). In other games, he looked stuck in the mud defensively, and his shooting mechanics, shot selection, and motor were all inconsistent. There wasn't much about Duke's season that was consistent, but Johnson wasn't consistent at the things he could control. Skillset aside, I believe that armchair scouts are unable to properly contextualize or judge his €œoff-the-court€ concerns. So absent that discussion, Johnson has the makings of a strong two-way prospect, but one whose inconsistency makes him hard for me to fully trust. He could be a steal wherever he goes, so I hope NBA teams have done their homework.
12. Josh Giddey, Wing, Adelaide 36ers (NBL), 18 years old, 6'8 (6)
A 6'8 player with great passing vision and pick-and-roll abilities, Giddey will be a fantastic secondary playmaker and can elevate a good offense to a great one. He's lower than the other wings on this list because I'm not sold on his shot mechanics or defensive abilities. Much like the beloved Alperen Sengun, he spent the year battling and winning against grown men in a tough league.
Tier 4
13. Usman Garuba, Forward/Big, Real Madrid, 19 years old, 6'8 (7)
A defensive battletank with upside to guard a ton of different players as needed. He has truly elite defensive footwork, quickness, explosiveness, and fluidity. He played with real toughness for an EuroLeague powerhouse, and his processing speed on defense is crazy. I'm very unsure of his offensive role at the next level besides as a pick-and-roll diver and dunker-spot threat, but I also think the Kings can handle a guy with offensive question marks a lot easier than they could handle another player with similar defensive questions.
14. Alperen Sengun, Big, Besiktas (Turkish Super League), 19 years old, 6'10 (7)
I totally understand anyone who has Sengun higher than this, and far be it from me to question why any fan raised on Vlade Divac and Brad Miller games would want to draft him. He is clearly a promising offensive player, a smart playmaker, and, in my opinion, a lock to be an average-at-worst NBA floor spacer. He's also a tough player, and won the MVP award for the TSL at just 18 years old. But I cannot give over his massive defensive question marks - I think he's going to get hunted by opposing teams, especially if he needs to play center. There's plenty of reason to bet that a player as smart and physical as Sengun will figure out how to become the best defender he can be, but I'm very wary of adding another questionable defender to the Kings core. While no one player will fix the Kings terrible defense, they can't keep adding mediocre-at-best defenders and hope they can address it later.
15. Kai Jones, Big, Texas, 20 years old, 6'11 (5)
A project player who I expect won't be ready for real minutes for a while, but I buy his feel and defensive instincts a lot more than most of the project bigs from recent drafts. He has strong upside as a versatile, switchable rim protector, and shows promise and flashes as a shooter and driver. But for every highlight play, he has an equal number of lowlights that showed he's still figuring this all out. He may be much more of a project than I think Monte McNair would look for.
16. Jaden Springer, Guard, Tennessee, 19 years old, 6'4 (7)
A promising two-way guard who has the strength, size (a 6'8 wingspan), and point-of-attack defensive upside to fit very well with the Kings current guards. He's a strong finisher at the rim and hit 43.5% of his looks from downtown. He's not an elite passer, but would be another good piece to a good offense. He's also one of the younger guards in the 1st round range, and I think he's a lock to be a meaningful, big-guard role player for a long time.
17. Davion Mitchell, Guard, Baylor, 22 years old, 6'2 (9)
Davion is a dude I would bet on to make the most of his NBA career, and there's no question as to why he excites teams; he's as high-motor a defender as you could ask for, and was the soul of the Baylor Bears championship squad this year. He also took big steps forward as a shooter and playmaker this year. So why do I have him so low? At 6'2 with a 6'4 wingspan, he will certainly make an impact on defense, but I don't think he has the defensive range that many of his comps (Marcus Smart and Jrue Holiday) do. And while he nailed 44% of his threes this year, I worry that this year was a shooting mirage - he hit on just 31% of his threes in his first two seasons, and his career free throw mark is just 65%. That all said, I understand why teams want to bet on the person - he's a legitimately awesome competitor.
18. Keon Johnson, Guard, Tennessee, 19 years old, 6'4 (4)
A true upside play, one that's gambling on his motor and toolset. His best attribute is his elite combination of explosiveness, speed, fluidity, and force. But he doesn't have the true scoring punch of Bouknight, the shooting of Moody, the all-around game of Wagner, or the defensive surety of Mitchell.  I'm hesitant about both his decision making at Tennessee and shooting mechanics; I don't know that he's an immediate impact player, or one I love the fit for in Sacramento.
19. Isaiah Jackson, Big, Kentucky, 19 years old, 6'10 (6)
Jackson was an amazing shot blocker and rebounder for the Wildcats, snagging 12.7 boards and 5 blocks per 40 minutes. He showed strong touch around the basket and has the potential to be a fantastic vertical spacer at the NBA level, but was somehow only used as a pick-and-roll big 9 times for Kentucky. He could certainly unlock some versatility at the next level (as all John Calipari-coached players can), but anyone hoping he's a secret unicorn in disguise is betting on shooting potential that Isaiah didn't show at Kentucky - he shot 70% from the free throw line, but shot just 4 of 19 on all jumpshots. At worst, he's a strong rim protector and pick-and-roll big; at best, he could be who we all hoped Willie Cauley-Stein would be.
20. Corey Kispert, Wing, Gonzaga, 22 years old, 6'7 (8)
Kispert is one of if not the best shooter in the class, and shot 44% from deep, 87.8% from the line, and 40.8% on all catch-and-shoot shots. He's a solid offensive player overall, with some ability at the rim, good passing ability, and a willingness to play against bigger and stronger players. But while he's a hard worker on defense, I think he's another €œaverage-at-best€ defender at the NBA level, and Davion Mitchell and Jared Butler hunted and torched him repeatedly in the NCAA Title game. His shooting would be a welcome addition to any team, but I prioritize other skillsets for this Kings squad.
Tier 5
21. JT Thor, Forward, Auburn, 6'8 (3)
Thor is a much bigger risk than the dudes above him or most of the guys below him, but he's got star defender written through all his highlights. A dynamic defender with strong movement skills, he averaged 2.4 blocks and 1.4 steals per 40 minutes, while also showing inconsistent yet tantalizing shooting flashes off the bounce. He's the type of player I'd love to see the Kings take with a second 1st rounder, but it ain't my job on the line if that dice roll doesn't pay off.
22. Kessler Edwards, Forward, Pepperdine, 6'8 (6)
A strong on-ball and team defender who makes the most of some great athletic tools, averaging 1.0 steals and 1.2 blocks per contest. Very fluid defensive movement skills should give him good range at the next level as he fills out. Also a very capable catch-and-shoot wing; he has an odd-looking but consistent push-shot and nailed nearly 40% of his looks off the catch. Probably the best two-way upside in this crop of late 1st/early 2nd forwards - if I had much hope in his on-ball creation (I don't trust his handle, and he shot just 30% on dribble jumpers), he'd be higher than this.
23. Trey Murphy III, Forward, Virginia, 6'9 (6)
Murphy's shooting numbers are bonkers - 48% from the field, 41% from deep, and 91% from three. He was absolutely deadly as a catch-and-shoot prospect, as over 64.8% of his shots were off the catch, and he made 43% of them (86th percentile). Almost all his shots came from deep or were at the basket, and he threw down some highlight dunks - but he never drove with the ball or showed much of a handle, which limits a three-level scoring outcome. I'm not quite as sold on his immediate defensive impact as the forwards I have above him, but he was solid for a good-as-always defensive Virginia team and his athletic tools should hopefully give him a strong two-way baseline.
24. Jared Butler, Guard, Baylor, 6'3 (9)
Butler brings a ton of the same intangibles of his former teammate Davion Mitchell, but with much more proof as a shooter and a bit less insanity on the defensive end. Butler shot 47.1% from deep this last season, and given his track record I expect he'll be a 40%+ shooter at the next level. He's a versatile offensive player, a capable secondary playmakers, and snagged 2.0 steals per game for Baylor. He's undersized for a combo guard position and struggled at the rim (40th percentile around the basket in the half court), but he could bring a ton to the Kings on both ends and was a leader for one of the best teams in recent college basketball memory.
25. Jeremiah Robinson-Earl, Big, Villanova, 6'9 (8)
An all-around smooth, composed, smart basketball player. He's not an athletic freak, but he's strong and physical and does pretty much everything you'd expect from a Villanova draft product. While his shooting numbers (28% from deep, 71% from the line) aren't great, I really like his mechanics and think that might be a skill he unlocks given time. I didn't think much of his defense as a freshmen, but he clearly made massive improvements on that end of the court this year - so much so that I think he can be a positive defender pretty early in his career. Not a rim protector (0.6 blocks a game).
26. Tre Mann, Guard, Florida, 6'4 (7)
An absolutely ridiculous pull-up shooter who has the handle and craft to use it. His space creation game and shot off the dribble are great, and while he wasn't strong around the basket (45th percentile at the rim in the half-court), he showed a floater game that gives him some three-level scoring ability. Not a dynamic passer by any means, and I'd love to see him find more avenues for offensive success off the ball (had just 31 catch-and-shoot shots all year, but was in the 61st percentile for success). I am pretty damn worried about his defense, as he got blown by a ton in the games I watched and was pretty flat footed a lot of the time.
27. Chris Duarte, Guard, Oregon, 6'6 (8)
Another mature, high-instinct combo guard with real positive shooting numbers - led the Ducks to a Sweet 16 birth while averaging 17.1 points on 53% shooting and 42% from deep. An all around versatile player, with good touch around the rim, a sweet catch-and-shoot shot, and great team-defensive abilities. As Duarte is 24 years old, there's a real conversation to be had about his physical and mental maturity against his competition. Having him very high on a big board means making a gamble against the 19/20 year olds in his draft range - how many of them would have been as good or better against college players as he was when they turned 24?
28. Quentin Grimes, Guard, Houston 6'5 (6)
Three years after being considered a massive bust at Kansas, Grimes has now shined in two straight seasons for Houston and legitimately deserves 1st round consideration in my eyes. He was the leading scorer for a Final Four squad and averaged 17.8 points, 5.7 boards, 2 assists, and 1.4 steals on 40% shooting from distance, and nearly 60% of his looks came from deep. He's also a strong, physical defender who makes the most of his tools to stay in front of dudes and contest with aggression. That said, a bunch of the threes I watched were right at the college three point line, so he may take some adjustment time to get used to the NBA line.
29. Sharife Cooper, Guard, Auburn, 6'1 (5)
Cooper has very distinct positives and negatives as a prospect. On offense, he's got insane court vision, passing skills, and handling abilities, and the instincts to use them to break down defenses. He plays with a fire you might recognize in a certain former sub-6'0 Kings guard. But his 6'1 size, coupled with very poor shooting numbers (39% from the field, 22.8% from deep) may limit his effectiveness with the ball in his hands. And even if you trust his shooting to vastly improve (he shot 82.5% from the free throw line), he wasn't great around the basket in the halfcourt (32nd percentile for success). He may have the tenacity to be a strong prospect, but he has to overcome many limitations to his game.
30. Cam Thomas, Guard, LSU, 6'4 (4)
Thomas plays with insane confidence every moment he's on the floor, and was far-and-away the leading scorer for the Tigers; while his efficiencies weren't great, scoring 23 points per game as a freshman playing against SEC defenses is super impressive. He also averaged 9 free throw attempts per 40 minutes, and drew fouls like an NBA veteran. What's keeping him from being higher than this? Well, pretty much everything else in his game. He has the chance to be a fantastic super sixth-man scorer, but needs to show he can legitimately be a positive contributor outside of tough shotmaking.
2nd Round Favorites
Guards: Josh Christopher, Arizona State; Ayo Dosunmu, Illinois; Miles McBride, West Virginia; Nah'shon Hyland, VCU
Wings/Forwards: Aaron Henry, Michigan State; B.J. Boston,  Kentucky; Herbert Jones, Houston; Joe Wieskamp, Iowa; Sam Hauser, Virginia;
Bigs: Day'Ron Sharpe, North Carolina; Neemias Queta, Utah State; Jericho Sims, Texas; Yves Pons, Tennessee; Greg Brown, Texas