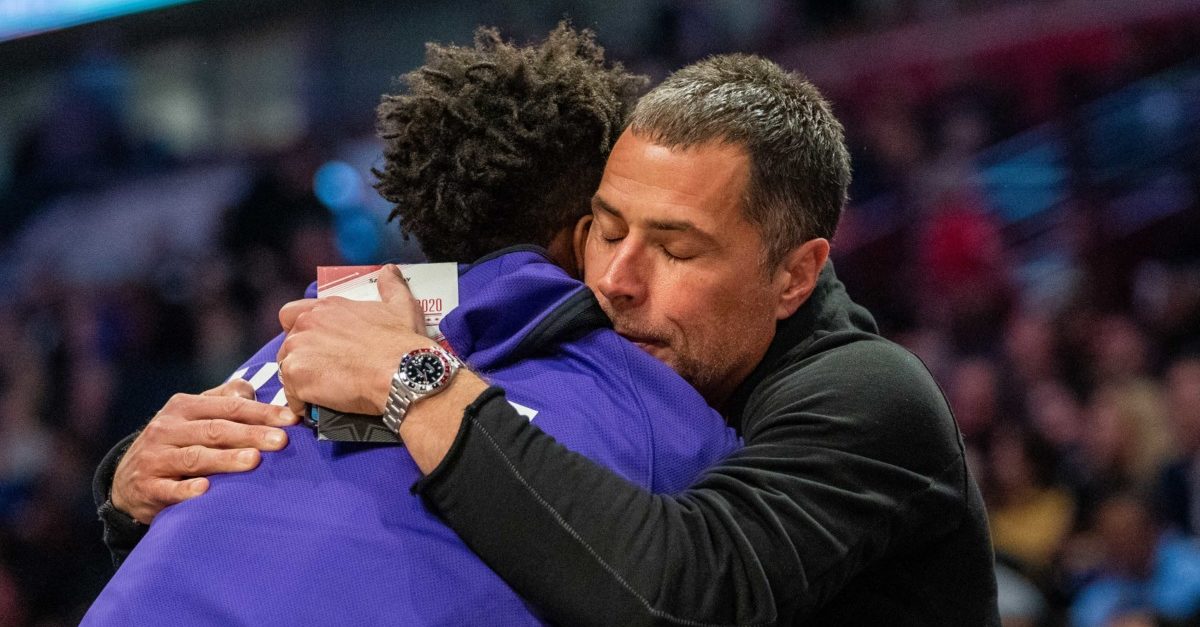 Over the last few days, there have been multiple reports of the Sacramento Kings and the Los Angeles Lakers flirting with a Buddy Hield for Kyle Kuzma swap, and according to Kevin O'Connor of The Ringer, those talks have recently stepped up in intensity.
"Multiple reports have indicated that the Lakers are interested in a deal for Buddy, and with fewer than 24 hours until the 2021 draft, multiple league sources say Los Angeles has stepped up their efforts by adding the no. 22 pick to a deal that'd include Montrezl Harrell, and Kyle Kuzma or Kentavious Caldwell-Pope. Hield to L.A. now has real traction..."
The Lakers willingness to include Kuzma and the 22nd overall pick in Thursday night's draft is indicative of both the Lakers desperation to add shooting and Sacramento's strong position in the negotiations. Sacramento doesn't absolutely need to trade Hield at the moment, nor do they especially need to trade him to a division rival, but the same casual attitude cannot be held by Los Angeles. After a disappointing postseason in which the Lakers shot the second-worst three-point percentage in the playoffs, Rob Pelinka is under pressure from his superstars to add more help, and Buddy is the best volume shooter available. Simply put, the Lakers need Hield more than the Kings need to trade him. And that's when things start to get expensive for L.A.
From Sacramento's perspective, the addition of Montrezl Harrell, who needs to opt into the final year of his contract before the deal can be consummated, would instantly provide the Kings another elite pick-and-roll threat. Harrell could also act as an insurance policy against Richaun Holmes' pending free agency, and even if Holmes were to return, Harrell could come off of the bench as an immediate scoring threat.
Kyle Kuzma is another interesting asset for the Kings. Although he's never seemed to reach his full potential in L.A., Kuzma would still provide an above-average defensive forward who is closer to De'Aaron Fox's and Tyrese Haliburton's timeline, and he would also replace Marvin Bagley in the starting lineup, who is assumed to be headed to another team before the start of next season.
The final piece of the puzzle, a late first round draft pick, would provide Sacramento with a whole lot of flexibility heading into Thursday evening. The Kings could use the 9th and 22nd picks to move up, they could leverage both to trade for a win-now veteran, or they could simply choose to add two cheap rotational players in a deep draft. For a small-market team with limited options in free agency, opening up multiple trade avenues is a key move toward a brighter future.
One final wrinkle mentioned by O'Connor is that the Lakers newest package, as attractive as it may seem, may not even be the best offer out there for Hield's services. The Philadelphia 76ers have also been linked to Hield recently, and any shooter of Buddy's caliber is going to attract attention from multiple teams on the trade market. Suffice it to say that Monte McNair may have read the room very correctly when he held onto Hield at the trade deadline.