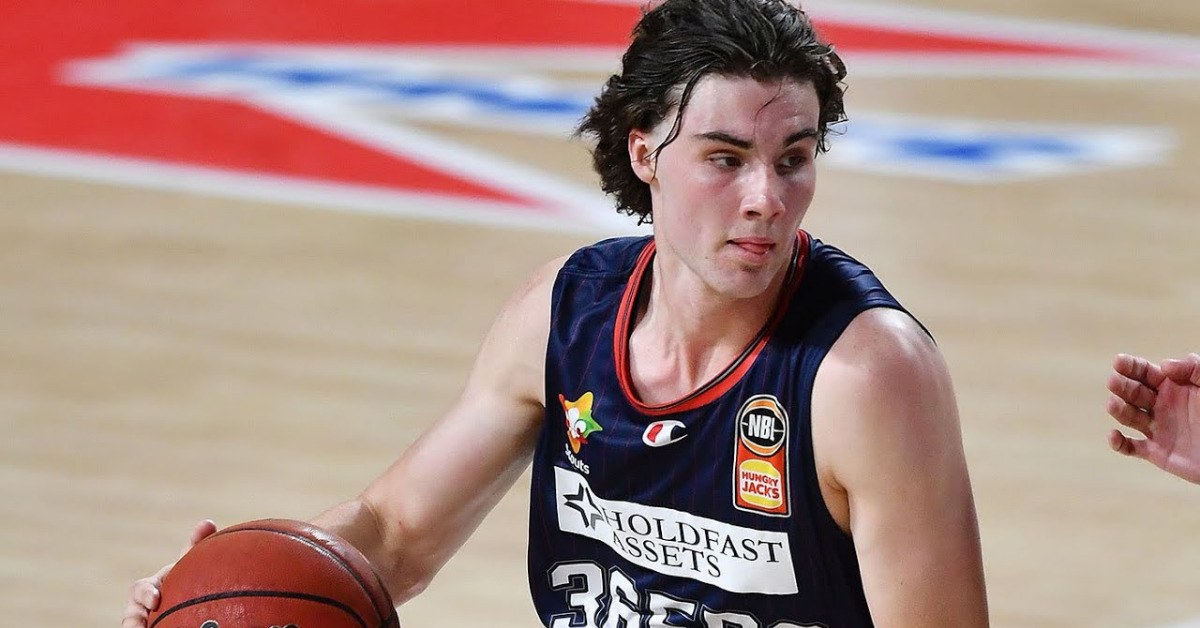 Josh Giddey stands at 6'8€ and is one of the youngest players in the 2021 NBA Draft, as he turns 19 a mere 10 days before the start of the 2021-22 season and was born three days after Jonathan Kuminga. Raised in Australia, Giddey elected to remain home and play for the Adelaide 36ers rather than pursue the college route within the United States where he produced reported interest from Colorado and Arizona, along with others.

Giddey possesses an equivalent 6'8€ wingspan and averaged 10.8 points, 7.6 assists, and 7.3 rebounds while shooting 43 percent from the field, 28 percent from three, and 69 percent from the free-throw line dur. The Australian guard also managed 1.1 steals and 3.3 turnovers per game during his time in the NBL.
Any Josh Giddey conversation has to begin and primarily revolve around his passing. It's rare to find a name in this draft class outside the assumed top six that possesses a truly elite skill, and Giddey has just that with his vision, which is further amplified by his patience, manipulation skills, and size. Due to some occasional functional flashiness on top of this, LaMelo Ball parallels were inevitable and while calling that comp flawed is an understatement, let's entertain it for a moment from the sole aspect of setting up their teammates.
Both LaMelo and Giddey revealed they can make every pass in the book during their times in the NBL as extremely high usage, jumbo point guards. Giddey led the NBL in assists this season, averaging 7.6 per game, compared to the 7.0 per game LaMelo Ball recorded during his time playing for the Illawarra Hawks last season.
Tell me that these live dribble dimes with either hand don't make you think of LaMelo for at least a millisecond.
You would never guess Josh Giddey was a teenager playing among grown men with the way he was able to pick apart opposing defenses on a nightly basis. Below, you can see how Giddey utilizes a fake entry pass to the roll man to bait the weakside defender into committing as the Australian guard fires a bullet right on target to his now wide-open teammate in the corner.
If you subscribe to the idea that patience is a virtue, then Josh Giddey is virtuous as anyone in the league. It was rare, although not unseen, for the 6'8€ point guard to force unnecessary passes despite being facing physical hedges and double teams on a consistent basis.
Giddey was faced with various coverages with the 36ers and understood where his advantage lied with each one. Sustaining pressure and defenders in his airspace while still delivering skip passes on a dime is an undeniable talent.
Traditional pick-and-roll pocket passes are essential for any player that hopes to be allowed offensive responsibilities at the NBA level, and I get the impression that a play finishing big like Richaun Holmes would greatly appreciate a player of Giddey's prototype.
The only other parallel to LaMelo Ball is both he and Giddey were aggressive defensive rebounders. Giddey tallied 6.2 per showing, which was good for 4th in the entire NBL this past season. We have seen players like LaMelo, Russell Westbrook, Ben Simmons, and James Harden capitalize on the defensive boards to allow for increased transition opportunities. Outlet passes, therefore, became commonplace for the teenager and a leaking De'Aaron Fox paired with a trailing Tyrese Haliburton would become a nearly free bucket.
The average of 3.3 turnovers is reflective of Josh Giddey's moments of vulnerability orbiting around his handle. While he is clearly confident with both his right and left hand, it is extremely rare for Giddey to piece together a set of dribble moves to break down defenders. Also, while standing at 6'8€ is undoubtedly beneficial, it harms Giddey at times when dribbling because he stands very upright with the ball.
Lacking an elite handle (which is where the LaMelo comp quickly falls off a cliff) while unmistakably being less gifted in the athleticism department leaves Giddey with shortcomings when attempting to break an opponent down in isolation.
We have seen players like Ricky Rubio and Kyle Anderson work through these issues by constantly adding new moves to their arsenal and making great use of a change of pace. Sure, these players' top speeds are not mindblowing but if Josh Giddey can keep comparably opponents guessing his long strides should suffice.
At his current stage, a quick left to right cross, Smitty, or hang dribbles are the three primary moves seen. His bag will certainly need to be expanded before the scouting report picks up on this limited arsenal but it was enough for a handful of promising flashes in the NBL.
The defensive scouting report could end up being to place smaller, more pesky defenders on Giddey to affect his airspace and cause him to pick up his dribble. There were instants of him effectively managing said pressure and other occasions that would lead to turnovers.
With the aid of a screener or handoff, Giddey can approach already advantageous situations and make a proper read from there. Tyrese Haliburton made his money off this last season with similar concerns revolving around his handle and burst, but for now expect blunders from Giddey (again, he is likely to be the youngest player drafted in the lottery).
While Haliburton was confidently projected to be an elite shooter (at least off the catch) when coming out of Iowa State, this is an aspect of concern for Josh Giddey. He averaged a mere 28 percent from beyond the arc for the Adelaide 36ers. An optimist could mention that he displayed confidence by averaging 3.5 attempts from deep per game, tallied seven games with five or more shots from beyond the arc, and was respected by the opposition.
Throughout his first seven games, Giddey shot 2/20 from beyond the arc before finishing the final 21 games while managing 34 percent. Maybe there were some nerves and confidence issues that needed to be ironed out, or it could be accredited to basic streakiness that plagues many players in the NBA. His jump shot is far from pretty, the footwork seems inconsistent and his elbow flares out a bit, as seen in the clip below. Giddey is an easy candidate for a re-worked jump shot when he inevitably makes his way to the NBA.
Limited self-creation for jump shots on the dribble does cap the ceiling of Josh Giddey barring outlier progression. He had his moments, but again he clearly is looking to pass first and it was rare for him to strive to create shots for himself off the dribble.
When attacking downhill, Giddey would naturally take what was given to him. Again, with his lack of burst or high-level handle to break down the opposition, screens were and are going to be crucial in a halfcourt setting. If opponents are running a drop and primarily ignoring the Australian playmaker then he will gladly finish around the rim where he was good, not great, in the NBL.
When the ball was not in his hands, Giddey showed the desire to be an active cutter further displaying his impressive basketball IQ. To circle back to the Kyle Anderson comparison, his success on the Grizzlies proves that a pass-first wing can function well as a complimentary piece to high usage point guards such as Ja Morant or De'Aaron Fox.
Three borderline elite passers on one roster in Fox, Haliburton, and Giddey would produce constant ball movement faster than you or the defense could keep up with. Richaun Holmes would be the beneficiary of that many more open finishes at the rim and setups for his patented push shots. Not to mention that Fox made notable improvements to his catch-and-shoot three so more open looks from range (and chances to attack closeouts) for himself, Buddy Hield, Harrison Barnes, and the rest of the roster would be nothing but beneficial.
Transitioning to the other side of the floor, Giddey's athletic limitations bear concerns once again. While he does stand at a useful 6'8€ with decent weight and strength, his wingspan is equivalent to his height and his lateral quickness is underwhelming more often than not.
Ideally, teams would have another more capable wing defender (Harrison Barnes) to pair with Giddey allowing the ability to hid him on the worse of the opposing forwards. There were also moments where it seemed that the occasional two-guard could be a good matchup for Giddey, where he could take advantage of his length to swallow up the smaller guard. Although, guards with high-level NBA burst and speed will surely blow past Josh Giddey.
Off-ball rotations were a varying story for Giddey, solid rotations were unsurprising given how often he predicts and manipulates those same rotations with the ball in his hands. When in the proper spot, Giddey would fail to exert full effort into properly tagging, protecting the rim, or digging. There is a chance that this was a result of his large offensive responsibilities in the NBL, or simply an aspect where Giddey will need to be there a half second sooner and be more disciplined.
I believe if a team holds him responsible and to high expectations off-ball (and only off-ball) on the defensive end of the floor, Giddey will be able to make plays.
Steals on their own are not a great indicator of defensive capabilities, but Giddey did average the 9th most steals in the NBL with 1.14 per game that frequently led to promising situations on the other end in a hurry.
There is a journey to an average defender for Josh Giddey, but he projects more likely to be a slight negative on that end of the floor, particularly in his first few seasons.
I believe that as long as he is not being attacked on a regular basis, which is where his size should be beneficial, then his offensive capabilities should easily outweigh those concerns. Plus, there were some decent moments for Giddey on-ball - it wasn't poor 24/7 - and that feels like something that could be said for 50 percent of NBA players.
6'8€ Ricky Rubio is the prototype that I can't get out of my head for Josh Giddey, and that player is a great connecting offensive piece who optimizes play finishers on their rosters.
My view of his realistic ceiling as the third-best player on a championship team is highly contingent on his handle package being expanded, respected from three, and not a major negative on the defensive end of the floor. I have more confidence in the latter two than the former and can't stress enough how much of a unicorn Josh Giddey truly feels like.
It is hard to encapsulate the experience of watching him play, but he regularly shocked me with his elite passing and vision at 6'8€. Many mock drafts view Giddey as a lottery selection, and I am in the same line of thinking due to his otherworldly playmaking and impressive basketball IQ. Highly intelligent players often find a way to make an impact on the floor and the Atlanta Hawks postseason success is a prime example that there is no such thing as too many playmakers on a roster.
Josh Giddey, likely to be the youngest player selected in the lottery, is one of the only prospects outside the likely top six in this draft that possesses an elite skill. While he is undeniably raw in his current stage, his upside and skillset is sure to intrigue many front offices.