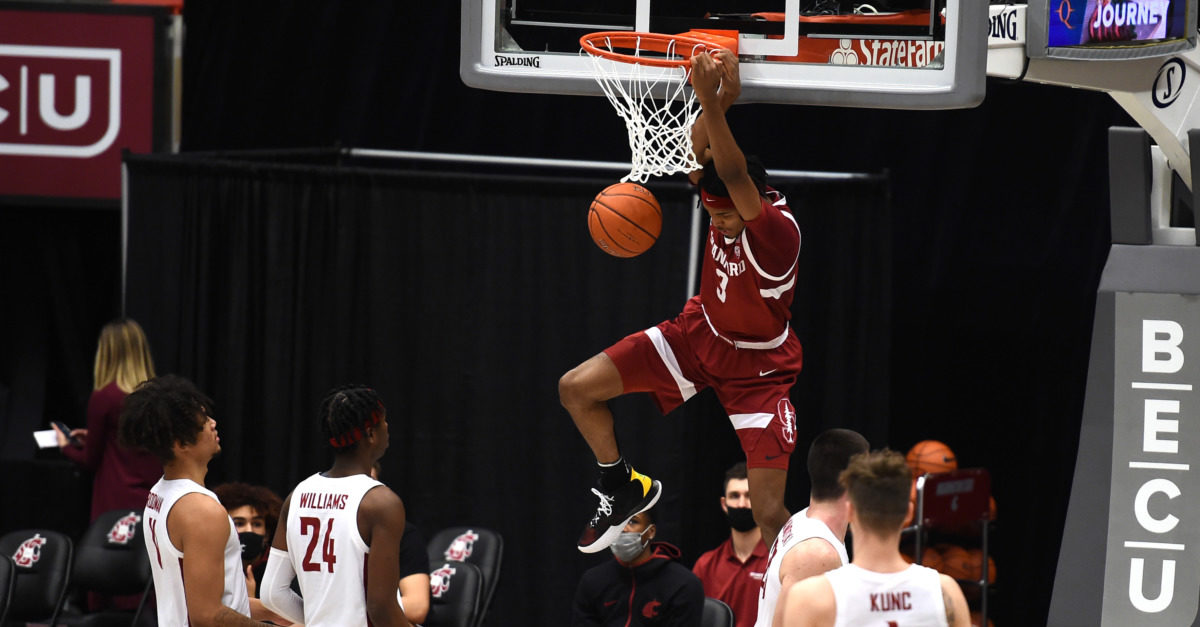 NBA Position: Wing
General Info: 19-year-old Freshman, played for Stanford. From Los Angeles, CA.
Measurables: 6'10, 188 lbs, 6'10€ wingspan.
2016-17 Season Statistics: 10.7 PPG, 4.6 RPG, 2.2 APG, 0.9 SPG, 0.6 BPG, 2.9 TPG (20 games played, 27.9 minutes a contest) €" 37.4% FG, 29.1% 3P, 79.6% FT
Ziaire Williams is arguably the most polarizing prospect in the 2021 NBA Draft. While a quick glance at Williams, standing 6'10 with a 6'10 wingspan and shooting a sweet pull-up jumper over defenders may make him look like a lottery lock, one only needs to glance at his efficiency stats to see why he's much further down NBA draft big boards than he was to start the 2020-21 collegiate season. Yet even in the context of full Stanford games, watching him miss many more times than he makes€"again, he shot 37% from the field, and 29% from three!€"Williams' innate basketball talent is there, and he has a clear offensive weapon and plenty of defensive upside.
Check this play against Alabama, the first game of Stanford's season. Ziaire splashes a long pull-up three when defenders give him too much space off a pick. He then comes back on defense, stunts to dissuade the pass, gets back to cover his man, and then gets a rebound in traffic.
In his second game of the year against UNC, Ziaire sees the obvious pass to an open UNC guard, and even though he's in the paint when the pass is made, he blocks the shot, and then splashes a pull-up three. This was the early-season, two-way promise Ziaire had coming into the year at Stanford when was hailed as top 6 prospect in a deep lottery class. But it ended up being a season from hell for Ziaire that truly needs to be contextualized before discussing his basketball skillset.
Every single prospect in the draft class was affected by the COVID-19 pandemic over the last year, but Ziaire was massively impacted. He lost two family members this year, and rightfully missed almost a month of the season to be with his family. Stanford's basketball squads also could not play home contests this season due to restrictions by Santa Clara County on contact sports during the pandemic. The men's basketball program played most of their home games at the Santa Cruz Warriors GLeague gym, traveled to road games, and lived in hotels for most of the season. Because of this crazy living situation, nothing about their basketball program was normal this year - including their weight training programs, something that the 6'10, 188 lbs Williams really, really needs. He also started the season with a significant knee bruise and had to wear a brace to begin the year (side note - he injured his knee after biking into a tree. Has there ever been a more Stanford injury than that one?). Nothing in that situation was good for a young player, especially one who is as developmentally unique as Ziaire Williams.
Every skill discussion for Ziaire needs to start with an unspoken €œhe's 6'10 and 188 pounds.€ Every aspect of his game at Stanford was impacted by the fact that most collegiate players could move him around, and while plenty of tall, skinny wings have excelled in recent memory - Brandon Ingram, Mikal Bridges, Cam Johnson, Jaden McDaniels - it is fair to say that taking Ziaire is a risk on a dozen different developmental factors, a big one being a team's faith in their weight training program. His potential will not be unlocked without multiple stages of weight and skill development. But his quickness, explosiveness, and long arms will all be weapons at the next level.
His signature skill is his shot off the dribble, which was a whopping 51% of his offense at Stanford last season - and thankfully, one of the few skills he was efficient at (53rd percentile! That's efficient!). His long arms, great balance, and quick elevation means he can get above and away from defenders abruptly, and can realistically get an €œalright€ shot at any time. As shown in the video above, he has a nasty step-back move that can carve him out a Grand Canyon-sized space from his defender, and his footwork is impressive for his age. He'll need to develop more driving ability and handle before he can make defenders really worry about it, but if he pops at the next level, that pull-up is going to be his signature move.
He definitely can fall in love with love with the pull-up, to the point where he can be goaded into a mediocre shot rather than a drive to the basket or a reset of the offense. And unfortunately, his catch-and-shoot numbers are truly horrendous - 23% on such shots, a whopping 16th percentile in the country. There's no context that would make that number ok for a lottery talent, let alone one whose shooting ability is his main selling point. Perhaps with better weight training, improved core strength, and patience with a reminder that €œbad shooters don't just hit 80% of their free throws€, one can hope that he's a strong catch-and-shoot guy relatively soon - but there's no guarantee.
Williams showed some touch around the basket at Stanford, but finished at 53.8% around the rim in the halfcourt, 40th percentile. He shows good balance around the rim, and he can cover a ton of ground on the drive with his big steps, but like the rest of his game he struggles through physical defenders who throw off that balance. He also does have a tendency to put his head down and try to power through defenders like he isn't 180 pounds.
Williams played as a guard before his growth spurt, and it's evident in his playstyle - he's a capable passer who sees the court decently well and wants to keep the ball moving. He may be a real threat as a pick-and-roll handler at the next level. That said, he isn't always the most fluid player when he's trying to chain dribble moves together, and quick opponents are going to feast on his handle early in his career. He averaged 3.3 assists per 40 minutes with a 16.4% assist rate, but also had a 0.75/1 assist-to-turnover ratio; much like the rest of his game, his playmaking skills exist, but were not efficient at Stanford.
On defense, Williams' size is going to be an issue when asked to guard his own position, but I think he can be a solid contributor on defense fairly quickly in the right lineups. He shows real tenacity and drive when guarding smaller opponents, especially when he knows he's just as quick as they are. His steal and block numbers are nothing special, and may be outside of Monte McNair's comfort zone, but he's got active hands and a quick burst that give him range as a on-man ballhawk or as a help-defender. His learning curve might be fairly steep, but it won't be from lack of effort.
The issues for Williams come, of course, when guarding up lineups. Collegiate forwards handled him pretty easily, and the size advantage will be even worse at the next level. He can get taken out of a play pretty easily by a hard screen, and there ain't much he can do about it. He also doesn't play with the same physicality or confidence when playing or sliding over to help on bigger opponents; it's unlikely he'll be able to quickly guard the types of opponents that Sacramento needs the most help guarding. There may be a time where his quickness and length can disrupt bigger forwards, but that's not likely any time soon.
Indeed, most of Williams' game will be a big work in progress. He'll provide two-way energy off the bench, and if his catch-and-shoot shot isn't as garbage as the numbers indicate, he could provide floor spacing while the rest of his game improves - but more than likely, extensive time in the GLeague and weight room are needed before Ziaire is a real contributor. And for a Sacramento team that seems hell-bound on trying to break this playoff streak, taking a project player at No. 9 seems unlikely, even if it's possible that Williams provides top 5 value in a few seasons.
There may be one person in the Kings organization who is advocating for Williams, though; Tyrese Haliburton, who played with Williams on the 2019 U19 squad (a legendary team that included Cade Cunningham, Evan Mobley, Jalen Green, Jalen Suggs, Scottie Barnes, and Kira Lewis). Ziaire was asked about Hali at the NBA Draft Combine, and said that he still chats with and gets advice from Tyrese regularly - and praised Haliburton as proof that skinny players can excel in the league.
Ziaire Williams on Tyrese Haliburton. I'm starting to love the idea of Ziaire to the Kings at 9. pic.twitter.com/3xVjmyLzjb

— Magnus Savage (@MagnusSav) June 27, 2021
Ziaire is the ultimate eye test player of the 2021 draft class. His numbers make it incredibly clear that he was not an efficient basketball player last year, but some of the tape shows a prospect who could be very, very good with an NBA developmental and weight training program. His interviews show a bright young man with all the right answers and a genuine understanding of how he needs to improve. Williams is the biggest gamble in the Kings draft, and I do not blame any fans for having him very high on their draft board or completely out of the draft discussion. His low-floor, high ceiling potential makes him one I doubt the Kings select, but a player with his two-way potential gives him an outcome as a top 5 player in the 2021 draft class who could be available in the late lottery.