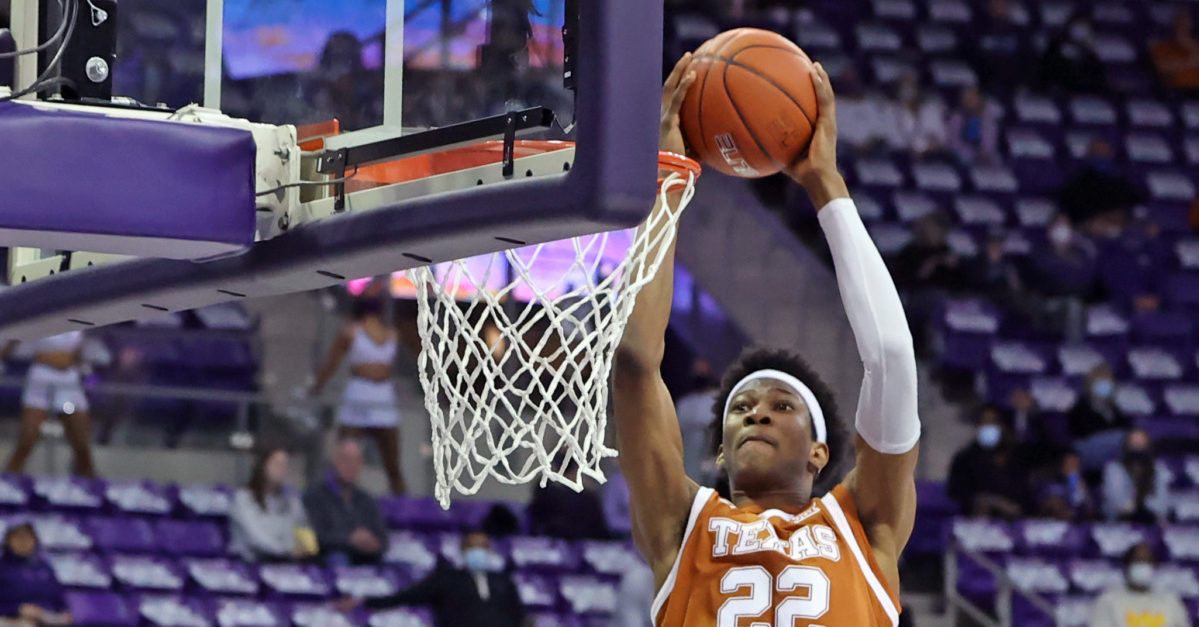 NBA Position: Big
General Info: 20-year-old sophomore, played for Texas. Born in Nassau, Bahamas, moved to Orlando, FL in high school.
Measurables: 6'11, 221 lbs, 7'1.75 wingspan.
2016-17 Season Statistics: 8.8 PPG, 4.8 RPG, 0.6 APG, 0.8 SPG, 0.9 BPG, 1.4 TPG (26 games played, 22.8 minutes a contest) €" 58% FG, 38.2% 3P, 68.9% FT
The idea of €œsafe players€ versus €œhigh-ceiling players€ is a common debate when discussing NBA Draft prospects. But this isn't the debate that I personally expect Monte McNair and his scouting staff are having about the 2021 NBA Draft. I think the conversation is likely more about players who are immediate contributors versus project players, and the Kings have been meeting both types of players in their pre-draft workouts. On one hand, Moses Moody, Davion Mitchell, and Corey Kispert should all be ready for 20+ minutes per night from game 1 - while Keon Johnson, Jalen Johnson and Ziaire Williams may take some time before any coach, especially a veteran-preferring coach like Luke Walton, will trust them beyond garbage time. And given that the Sacramento Kings are desperate to end this 15- (going on 16-) year playoff drought, I expect they'll lean pretty heavily towards the immediate contributors. The number 9 pick represents McNair's best and most realistic weapon to add talent to this roster and make that playoff push - and whether it comes in the form of a trade for a vet, or a ready-to-go rookie, I find myself doubting the Kings will be selecting a project player (at least, at pick 9... if they trade back, as their workout rankings hint they might be considering, all bets are off).
This may seem a wordy and odd way to introduce Texas big man Kai Jones, but Jones is the most unique prospect I've scouted in this class. He's a true dice toss in every sense of the word, the high-outcome, low-floor player mentioned earlier. But more importantly for the Kings, the 20-year-old Bahamian titan doesn't have an €œimmediate-contributor€ statsheet or history; he only picked up the sport five years ago and played just 22.8 minutes a game for the Longhorns last year. He has all the markings of a multi-year project player, and if you turned into any random Texas game this year, you may see a half-dozen straight head-scratching plays by Jones. Kai is very much a raw prospect who will need multiple years to unlock his two-way promise and production. But when watching a normal €˜raw' center prospect, you rarely see a dude who can break out a moment of insane skill like this one shown below. Kai may be a project project, but in my opinion, he's one who has a lot more interesting high-instinct moments than most project players at his size have.
Kai Jones plays like a wing in a centers body, and combined with the fact that Texas played him alongside both Jericho Sims (6'10, 250 lbs) and Greg Brown (6'8.5, 200 lbs), he often appeared a wing since he spent so much time outside the paint on both sides of the court. It was a blessing for Jones, who got to flash so many parts of his game that are outside the norm for the traditional center. But it was also a curse, and one that arguably leaves him without a ton of experience playing his ideal position and role at the NBA level (a norm for Texas big-men prospects under Shaka Smart). Jones will have a steep learning curve before he's ready to defend Nikola Jokic, or try and score against Rudy Gobert, or muscle up against Joel Embiid on either end. But how many 6'11, 20-year-old players could bust this move out in an NCAA tournament game?
On defense, Kai has dynamic flashes as a switchable on-ball defender. He had some strong highlights guarding Baylor's Jared Butler and Davion Mitchell, Oklahoma's Austin Reaves, and even presumptive top-pick Cade Cunningham - all of whom will play in the NBA this season. His footwork and ability to shadow ballhandlers was downright excellent at times. He can flip his hips on a dime, and his combination of quickness, explosiveness, and length give him extreme range at the next level. There's no big man prospect who can immediately lock down NBA perimeter assignments, and Kai timing and technique on the perimeter still need coaching. But Kai Jones has the tools, good footwork, and fluidity to get there someday.
Jones averaged 1.5 steals per 40 minutes, and while his hands aren't adept at controlling the rock just yet, they are damn quick for his size and apt to disrupt passing lanes. Jones' block numbers of 1.6 per 40 minutes don't jump off the page for a €˜rim protecting' big man, but it is important to remember that his role for Texas put him away from the basket so often that most of the blocks I saw came from him crashing from the perimeter or defending in transition. While pushing him into heavy drop coverage or paint patrol role might limit his switching versatility in the long-term, he will definitely need to get more comfortable guarding bigs around the basket. He measured at just over 221 lbs at the combine, so the traditional €œthe rookie needs the weight room€ line has to be thrown in here, but I appreciated that Kai had little hesitation or physicality concerns at Texas. And if he gets the rock off a live-ball turnover, watch out.
On offense, Kai is an absolute terror in transition, and his top-end speed and explosiveness will make that an immediate threat at the NBA level. His top play-type at Texas was transition buckets, where he ranked in the 86th percentile for points per possession.
That said, Jones flashed skills across the offensive end. He finished the season at 38.2% from deep, a small-sample size number (13 of 34 attempts) that is almost certainly not correct (he shot 67% from the free throw line over two years) - but don't try telling him that he's not a shooter. He can put his head down and surprise defenders with his dribble drive, and even had a few nasty pull-up attempts. He also thrived as a cutter, a skill he can put to work pretty quickly at the next level. The only play-type you may expect for Jones to excel at that he didn't was as a pick-and-roll roller - he only had 23 such attempts, and shot just 37.5% in such plays while turning it over 26% of the time. Given his vertical spacing threat, this seems a clear area for improvement. But again, before these highlights lead you to believe he should be a lock for a top spot in the draft, he has frequent reminders of his relative basketball inexperience.
While Jones' shouldn't be expected to become any level of big-time playmaker, as evidenced by his 0.6/1.4 assist-to-turnover rate, he does have some passing highlights, and understanding of Texas' offense grew as the year went on to the point where he started making passes like this one.
Jones' rebounding numbers are, in my opinion, the stat most impacted by him playing on a team with other giants. 8.5 rebounds per 40 minutes and an 11.8% total rebounding rate doesn't capture his upside at the next level. He crashes the offensive glass hard, and was able to high-point rebounds away from strong bigs at the college level - and notice that he snagged both of these rebounds despite being far from the paint when the ball was shot. That's not to say he's a perfect rebounder - indeed, his oft poor positioning and lack of strength let bigger centers take advantage of him around the basket. But at 6'11 and with his tools, I'll be shocked if his rebounding doesn't improve drastically given experience.
Kai is a player who never stops moving, and indeed, his lowlights often come from him trying to do too much on both ends. But I will always prefer prospects that need to be taught to do less with more, as opposed to prospects that lack confidence. These types of plays won't fly with an NBA coach, but that confidence/lack of a basketball conscience may help Kai become his best self in the long-run.
Despite his limited minutes, I found Jones to be one of the more enjoyable players to watch in this class, both to gawk at the highlights and chuckle at the hilariously bad moments. Indeed, Jones is the right kind of upside play for me; he's a dude with a strong motor and excellent upside on both ends of the court. If Monte McNair is looking for a two-way difference maker, Jones' defensive upside and switchability dwarfs Alpren Sengun's. For a Sacramento Kings squad that might lose Richaun Holmes, their own rim protector/switchable big, I'd be lying if I said Jones' upside wasn't extremely tantalizing. But in the modern game, with a Kings core whose best young forward is... Louis King?... I'm going to prefer a large number of wings and forwards over Jones. Moses Moody, Franz Wagner, Ziaire Williams, Jalen Johnson, Josh Giddey, and James Bouknight all top him on my personal big board, and I think all of them stand a better chance of contributing early in their NBA careers than Kai does.
I've been mortally wary of tools/raw instinct bigs for the last few drafts (and for good reason€¦), but Jones has moments where I'm just floored with his feel for the game, especially for a player who has only been in the sport for five years. If Jones manages to become the three point shooting, vertical-spacing threat on offense and a rim protecting, switchable defender, his value in the modern game is off the charts. But his tape never takes long to remind us that he's absolutely a project player, and even if he was drafted to a squad with a near-perfect developmental track record, nothing is guaranteed.
I doubt the Sacramento Kings will select Jones, even if they think he has the highest ceiling of the players on the board at 9. The 9th pick is arguably Sacramento's best off-season asset, and they seem likely to favor immediate rookie contributors if they don't just trade the pick outright. Considering his inexperience, and specific inexperience with traditional NBA center roles, Kai Jones might not be ready for many big-time minutes for a season or more, even under Rico Hines' tutelage. Wherever Kai goes, I hope his future team has plenty of patience - something I very much doubt the Sacramento Kings have.