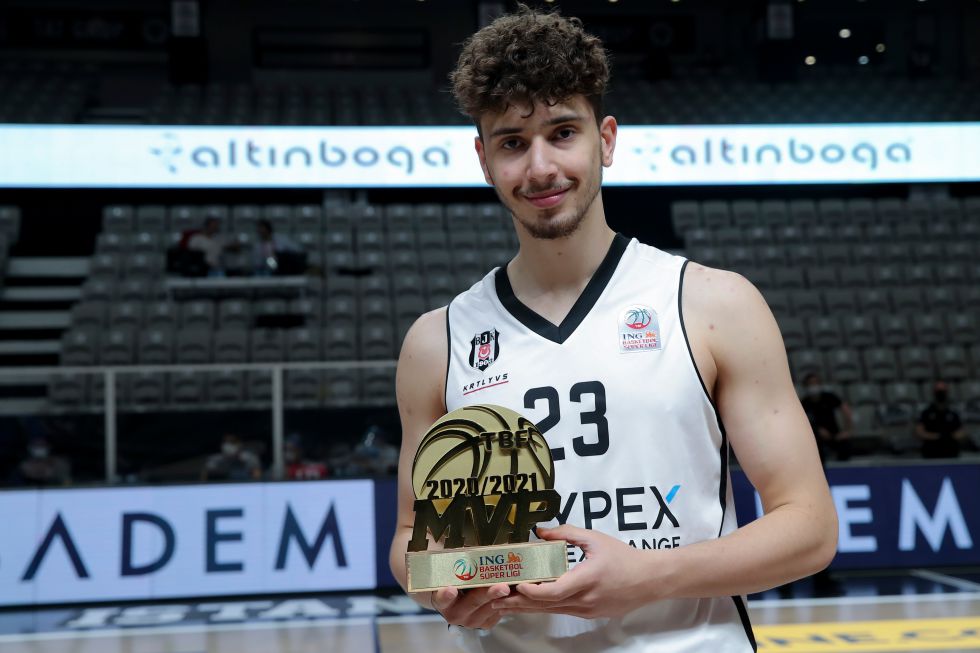 Over the last few weeks, one name has been consistently linked to the Sacramento Kings and the ninth pick in the 2021 NBA Draft: Franz Wagner. As a team desperate to make the playoffs next season, Sacramento's reported interest in Wagner has made sense for those familiar with the team's needs. The Michigan forward will likely be ready to contribute on day one, rather than having to wait years for his skill set to develop, and his combination of size, defense, and passing would fill many holes for a Kings roster severely lacking in defense-first attitudes. Wagner to Sacramento felt relatively locked up as recently as mid-July.
And yet, over the last few days, another name has become more and more attached to Sacramento through a variety of media outlets: Alperen Şengün. Two weeks ago, outside of a workout that was reported and somewhat forgotten by everyone, no one had Şengün heading to the Kings. A week ago, only Kevin O'Connor of the Ringer mocked the Turkish forward to Sacramento, but the phrasing regarding the selection was more around Şengün's potential as a player, rather than specific interest from Sacramento's perspective.
The first sign of a potential change came from Jeremy Woo of Sports Illustrated. On July 22nd, he forecasted Franz Wagner to the Kings without a single mention of Şengün, or any other player, as a potential option. It seemed as if Sacramento was locked in on Franz. On the 27th, Woo completely changed his tune, switching from Wagner to Şengün:
The Kings have drawn a good deal of interest in these picks, but have been constantly linked to Şengün, whose impressive production in Turkey will be particularly appealing to their analytics-driven front office, with his combo of youth and counting stats likely to project well. Sacramento has also been linked to Franz Wagner, but is viewed as willing to think outside the box a bit.
A similar adjustment can be found in Sam Vecenie's work with The Athletic. On the 22nd, Vecenie, perhaps the most well-respected draft guru out there, projected Wagner to the Kings, while mentioning that Sacramento is focused on defense, analytics, and picking up a wing or a combo forward in the upcoming draft. Once again, no mention of Şengün. Fast forward a week, and while Vecenie remains committed to Wagner as the selection, Şengün's name popped up for the first time in any of his Sacramento-based selections:
The other name that has come up most often here as being a possible selection is Sengun.
Finally, there was the recent change by the folks down at ESPN. Just like every other well-reputed mock draft site, ESPN has consistently projected Franz Wagner to the Kings, although there has been a little bit more movement on their board than with some others. However, in their final mock draft, ESPN followed suit and projected Alperen Şengün to the Kings, as Franz Wagner was already selected. And even though Wagner was gone, it's the phrasing in Şengün's selection that makes things interesting:
The Kings were said to be fans of Franz Wagner, who is off the board in this scenario, as well as Sengun, who is still available and reportedly had an outstanding workout in their building.
As always when it comes to draft season, every report must be taken with a truckload of salt. Mock drafters occasionally change things up just to keep things from feeling stale, while a team in Sacramento's position, a team that may prefer to trade the pick, is always obliged to show interest in the most desired players to get the most bang for their buck.
And yet, all of that being said, the Sacramento-Şengün shift is interesting to watch as every outlet switched at almost the exact same time, with similar wording. Either the Kings truly do have interest in the high-ceiling, high-risk Turkish big man, or they're throwing up a smokescreen to hopefully take advantage of a team desperate for Şengün's services. In just a few hours, we'll get to find out what was very real and what was nothing more than a clever feint.