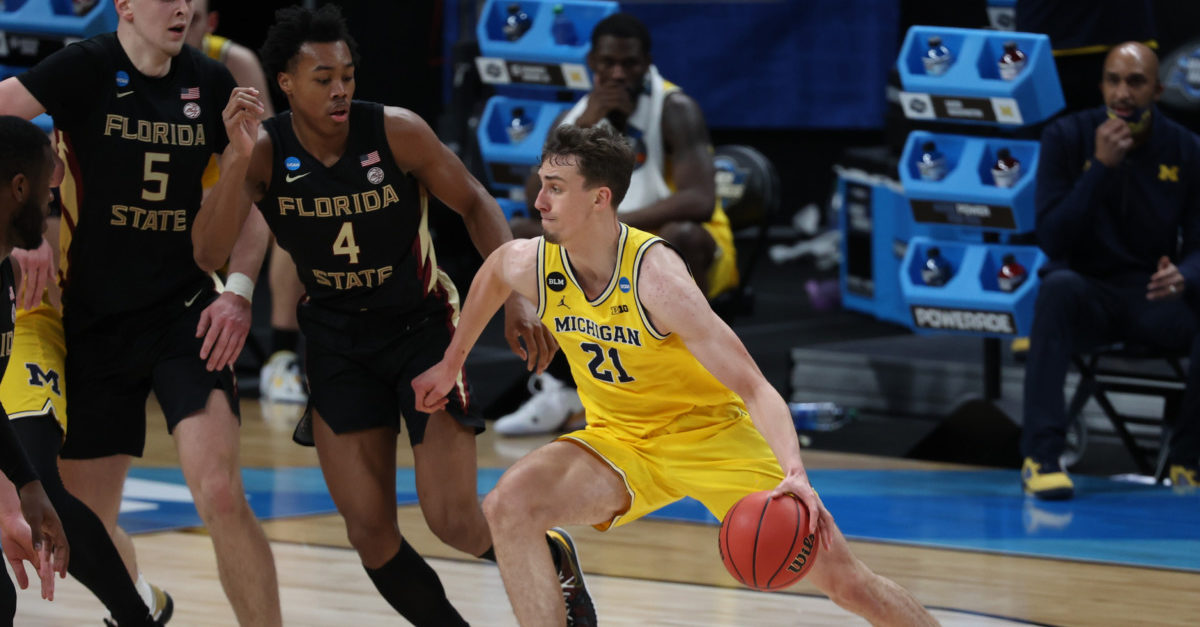 The 2021 NBA Draft is one week away and rumors are flying out left and right. There is bound to be some shockers on draft night, like there is every year. Could the Raptors take Scottie Barnes over Jalen Suggs? Are the Oklahoma City Thunder considering passing on Jonathan Kuminga if he is available at 6, and if so how far does he fall?
Bryant and I did a mock draft of how we think draft night could play out. We alternated selections and I was in charge of the first pick owned by the Detroit Pistons.
With so much variance into the mid-late lottery, who knows the actual order of selections. Let us know who you would consider taking for Sacramento at pick nine if it played out like this.
1 - Detroit Piston -
Cade Cunningham, 6'8, Oklahoma State
Profile: I would be shocked if the talk surrounding the Pistons considering moving down from the number one overall pick wasn't just a smokescreen. The noted concerns around his playmaking are absurd, Cade can make every pass there is in the book, and he answered every question had going into this season regarding his shooting. He can create for himself and others at an elite level and is a defensive difference-maker at 6'8€, don't overthink this.
Fit: The Pistons are going to be so damn fun to watch with Cade as the focal point. He relieves ball-handling pressure from Jerami Grant and Killian Hayes, allowing them to play more freely. Isaiah Stewart and Saddiq Bey are going to love having Cade around as play finishers. Just an awesome fit and team on the rise in Detroit.
2 - Houston Rockets - Jalen Green, 6'6, G-League Ignite
Profile: As promising a three-level scorer as you'll find in recent drafts, Jalen Green is a game-changing athlete whose shot proved true in his 15 game season in the NBA GLeague. He averaged 17.9 points, 4.1 rebounds, 2.8 assists, and 1.5 steals on a 61.3% true shooting rate and 36.5% from deep against as close to NBA competition as a prospect can get. By all accounts, he's an insanely dedicated player and a near lock to be a dynamic scorer in a year or two.
Fit: While I personally would take Evan Mobley if I was in Rafael Stone's place, Green is the €œodds-on favorite to go No. 2€ according to Action Network's Matt Moore and many others. Conceptually, it does make sense for the Rockets to go take a guy they think can be their primary scorer - and a pairing of Green with breakout-star-in-the-waiting Kevin Porter Jr. would give the Rockets a damn electric offense (even if the duo would be slightly undersized).
3 - Cleveland Cavaliers -
Evan Mobley, 7'0, USC
Profile: Evan Mobley, and his 7'4€ wingspan, possesses unreal defensive player of the year type potential in the NBA. He was a shot-blocking/altering menace for USC with stellar timing, superb rotations, impressive lateral speed, and defensive understanding. While Mobley is not an offensive engine on offense like some of the other top selections, he certainly makes an impact on that end of the floor as well. He displayed a soft touch around the rim, projects as a respected shooter from deep, and passed the ball at an underrated level.
Fit: It has been rumored that the Cleveland Cavalier are going to offer Jarrett Allen a five-year, $100-million deal in restricted free agency that I would be shocked to see another team match. While Allen and Mobley are an unideal pairing, they could share the floor and succeed cleaning up after Darius Garland and Collin Sexton (if he is around still). Fit should not really be taken into consideration here for Cleveland, take the best talent on the board at three and that's Evan Mobley.
4 - Toronto Raptors - Jalen Suggs, 6'4, Gonzaga
Profile: Suggs is super versatile and big enough to handle either guard spot, and as the best player on the best Gonzaga team in history, he proved he could take over in big moments while keeping his deep squad involved. He's engaged at both ends, has NBA size combined with excellent athleticism, and plays with exceptional control with the ball in his hands. His three point success dipped to end the season, but there's no reason to think he can't become a very successful NBA shooter. He's a homerun selection whether he goes 2, 3, or 4.
Fit: The Raptors have an odd luxury here - they'd fit exceptionally well with whoever of Green, Mobley, or Suggs falls to them at 4. In this case, Suggs gives the Raptors something they'll lose if/when Kyle Lowry leaves - a dynamic floor general who can pair well with Fred Vanvleet on both ends to lead the Raptors offense for the next half-decade. With their fantastic combination of forwards and Nick Nurse's defensive intensity, I think adding their next true star here at number 4 could vault the Raptors back into playoff contention pretty damn quickly.
5 - Orlando Magic -
Jonathan Kuminga, 6'8, G-League Ignite
Profile: Jonathan Kuminga is one of the youngest players in this draft cycle, but you would have no clue if you saw how he is built. His outlier strength, bounce, and movement at 6'8€ is tantalizing and has been for years now. Playing for the G-League Ignite program exposed the well-documented rawness of Kuminga's game where he averaged 15.8 points, 7.2 rebounds, and 2.7 steals on 38.7/24.6/62.5 shooting splits. The percentages are undeniably gross for Kuminga, but so is the upside of a player able to create his own shot off the dribble at his size. There is a perennial all-star somewhere in Kuminga if he pans out, but he is not without risk.
Fit: Kuminga and Scottie Barnes were the two in consideration for me at pick five. I don't think either is an amazing fit for the Orlando Magic, who really could use a Jalen Green type of scorer and ball handler. Kuminga clearly has the higher offensive upside than Barnes, and with Orlando's somewhat newly acquired young core they are in a position where patience can be understandably preached to the fanbase - perfect for Kuminga.
6 - Oklahoma City Thunder - Scottie Barnes, 6'9, Florida State
Profile: Barnes is a damn 6'9 battle tank with insane defensive versatility, capable of both floating on the perimeter with guards and handling his business down low against bigs. He's a damn ball-hawk, snagging an incredible 2.4 steals per 40 minutes, and despite going maximum effort at all times, he never fouled out of a game this season. He could very likely be a defensive culture setter for a young squad from day one. He's also going to be a capable secondary playmaker at the next level, although I would worry if his future team tries to make him a primary initiator, as the rest of his offensive skillset - including, how the heck does he score? - is very much in question.
Fit: Oklahoma City has their primary initiator in Shai Gilgeous-Alexander, so my main concern about Barnes offensively fades somewhat if he ends up on the Thunder. On defense, Barnes could be the captain that sets the tone for the Thunder moving forward. Combined with Aleksej Pokusevski, he gives the Thunder insane versatility on defense while helping cover up the super-skinny big man's weaknesses. The only downside here is that if the Thunder leave the draft with a combination of Poku and Barnes - plus their massive draft-pick warchest - our buddy Will Griffith might just move to Oklahoma City and leave the Kings behind.
7 - Golden State Warriors -
James Bouknight, 6'5, UConn
Profile: James Bouknight is just a bucket, no other way to put it. His best skill at the moment is his off-ball movement and his creation flashes were unreal, including one 40-point outing this past season. While his shooting percentages were not pretty, his finishing around the rim was promising, his handle seemed to be enough even if it wasn't great, and his quick twitch and bouncy athleticism should bode well at the next level. While concerns circle around his lack of playmaking in college, he was his team's entire offense and I don't project him as an offensive engine anyways. He also showed an ability to move his feet well on defense and was a positive on that end when locked in.
Fit: I love the fit of Bouknight in Golden State. Before the emergence of Jordan Poole, the Golden State Warriors greatly lacked creation and scorers outside of Bouknight. When Steph goes to the bench, Bouknight can become more of a focal point and attempt to create off the bounce, but I am most intrigued by the idea of them sharing the floor. As I mentioned, off-ball movement may be Bouknight's greatest talent at his current stage and I can only imagine opposing teams trying to keep track of Steph, Klay, and Bouknight.
8 - Orlando Magic - Josh Giddey, 6'8, Adelaide 36ers (NBL)
Profile: As Brenden pointed out in his excellent Giddey profile, the 6'8 Australian has one of the elite skills in this draft class - he led the NBL in assists, and possesses incredible passing instincts and vision. He's dynamic in the pick-and-roll and and a very intelligent offensive player. He needs to prove his odd shooting stroke can be consistent, and continue to improve his handle and ability to attack the basket before he can really be a primary initiator prospect - but alongside other scorers and playmakers, he'll at worst be a promising connector on a strong offense.
Fit: I waffled on this pick - the Magic could use both a shooter (thus robbing the Kings of Moses Moody), but they also really need more playmaking, especially having drafting Jonathan Kuminga at No. 5. Working with Cole Anthony and Markelle Fultz, I think Giddey could really help new Magic coach Jamahl Mosley unlock a versatile, threatening offense.
9 - Sacramento Kings -
Moses Moody, 6'6, Arkansas
Profile: Moses Moody is often given the label of a 3&D player, but that feels like underselling him. At 6'6'€ with a 7'0€ wingspan, Moody is a high level defender with his instincts and hands that should be able to comfortable guard threes at the NBA level. He played a smaller role alongside Cade, Scottie Barnes, and DayRon Sharpe at Monteverde then became the leading scorer at a top NCAA program in Arkansas with 16.8 points per game. If Moody can become a sharpshooter from downtown, which is very possible, then his offensive upside off the bounce is nothing to scoff at. Great floor as a 3&D prospect, but the potential to be more.
Fit: The Sacramento Kings need defense and high IQ players. Moody checks both those boxes, could provide some relief on the offensive end of the floor for De'Aaron Fox and Tyrese Haliburton while also spacing the floor. On defense, Moody can comfortably work his way to the starting three-guard with Harrison Barnes at the four and also take on some of the tougher guard assignments from Haliburton/Fox. Adding him to the roster would be a great step towards a competent defense.
10 - New Orleans Pelicans - Franz Wagner, 6'9, Michigan
Profile: A 6'9 forward with Wagner's combination of shoot/dribble/pass/defend upside is incredibly valuable in the modern NBA. Wagner's best skill is his defensive versatility, and he has excellent defensive awareness combined with a fluidity/crazy-cool footwork that lets him stay in front of/help on a whole lot of different offensive players. While he's a capable shooter (who has a track record of positive shooting since before his Michigan days), he lacks the confidence on offense that he has on defense, and will need a smart coach to help him unlock his offensive versatility. Brenden covered him in-depth recently.
Fit: The Pelicans have their scoring stars in check, so adding Franz's defensive upside, good passing instincts, and ability to impact the game without the ball in his hands fits extremely well with Zion Williamson and Brandon Ingram.
11 - Charlotte Hornets -
Kai Jones, 6'11, Texas
Profile: Kai Jones is your classic high upside low floor swing, but the upside with his fluidity at 6'11€ should not be understated. While Kai is not a classic rim protector, switchable bigs are becoming more and more of a wanted commodity in today's NBA and Jones still has his moments of being impactful around the rim. Just go watch him defend Cade Cunningham in space when their teams matched up, or check out a highlight reel of the awesome off the bounce shooting, ball handling, and rim-running flashes. Right now, they are nothing but flashes and each flash is accompanied by even more questionable decisions for Jones, the team that drafts him will have to be patient.
Fit: The Hornets need a center, that's no secret, and this is where I reach a big tier of names on my board. I don't particularly like the Alperen Sengun fit, because his ceiling revolves around a back-to-the-basket game that would take the ball out of LaMelo's hands.
12 - San Antonio Spurs - Alperen Sengun, 6'9, Besiktas (Turkish Super League)
Profile: Sengun won the MVP award of the Turkish Super League, averaging 19.2 points, 9.4 rebounds, and 2.5 assists while shooting 64.6 percent from the field. While many of his baskets in the TSL were with his back-to-the-basket, he shows near-complete promise on the offensive end, especially thanks to his amazing (and underrated by the numbers) passing ability. His defensive upside, though, is pretty damn concerning, and he could be hunted at the next level. I don't really need to profile Sengun anymore than this - Brenden covered him in exceptional detail last week.
Fit: The Spurs need a big man, have the defense in place to insulate Sengun until he catches up to NBA speed, and could really use someone with Sengun's offensive upside. This is as awesome a fit as I could find for the 18-year-old big man.
13 - Indiana Pacers -
Ziaire Williams, 6'9, Stanford
Profile: Bryant recently did an amazing job breaking down Ziaire Williams, so check that out for the full breakdown of his complicated freshman season at Stanford. Williams was a top-10 ranked prospect coming out of high school due to his shot creation and making ability at 6'9€. While patience is going to be necessary with Williams, whose shooting numbers were atrocious in his freshman campaign, he has the upside of a high end scorer and defensive playmaker who could bust if he is never able to adjust to NBA physicality.
Fit: The Pacers are in a good position to take an upside swing, and Ziaire could provide them with the perimeter scoring threat that Indiana so desperately needs. Don't expect much contribution year one, but Williams should benefit from getting to play off of Domantas Sabonis early in his career. If Ziaire hits, which is a big if, I think he would provide exactly what Indiana needs to take this roster to the next level.
14 - Golden State Warriors - Davion Mitchell, 6'3, Baylor
Profile: An incredibly dedicated and capable defender, Mitchell was the soul of a dominant Baylor squad and helped lead them to the NCAA Championship this year. His productivity (14 points, 5.5 assists, 1.9 steals, and 51% shooting per game), along with his tenacity make him a favorite of many smart basketball minds, and he's the type of gritty, high-motor player that is incredibly easy to bet on. I'm worried that his shooting ability has become overrated, as he shot just 31% from three in his first two collegiate playing season and his free throw numbers hovered in the 60%s throughout his career. He's also a tad undersized for the combo-guard defensive force he's being labeled as, but plenty of shorter players have excelled on defense before and not many of them have Mitchell's explosiveness.
Fit: While the Warriors already selected a guard at No. 7 in this mock (James Bouknight), I don't think they'd pass up Mitchell at 14. While Steve Kerr would have to juggle a ton of guards who all deserve big minutes, Bouknight and Mitchell both offer different skillsets and both could fit really damn well between Steph Curry and Klay Thompson. While Mitchell is likely to go higher than this, going in the teens (especially to a squad with shooters) is in my opinion a better outcome for Mitchell - I'm afraid if he goes higher than this, he may be unfairly labeled a bust if his shot doesn't translate to the level that some expect.