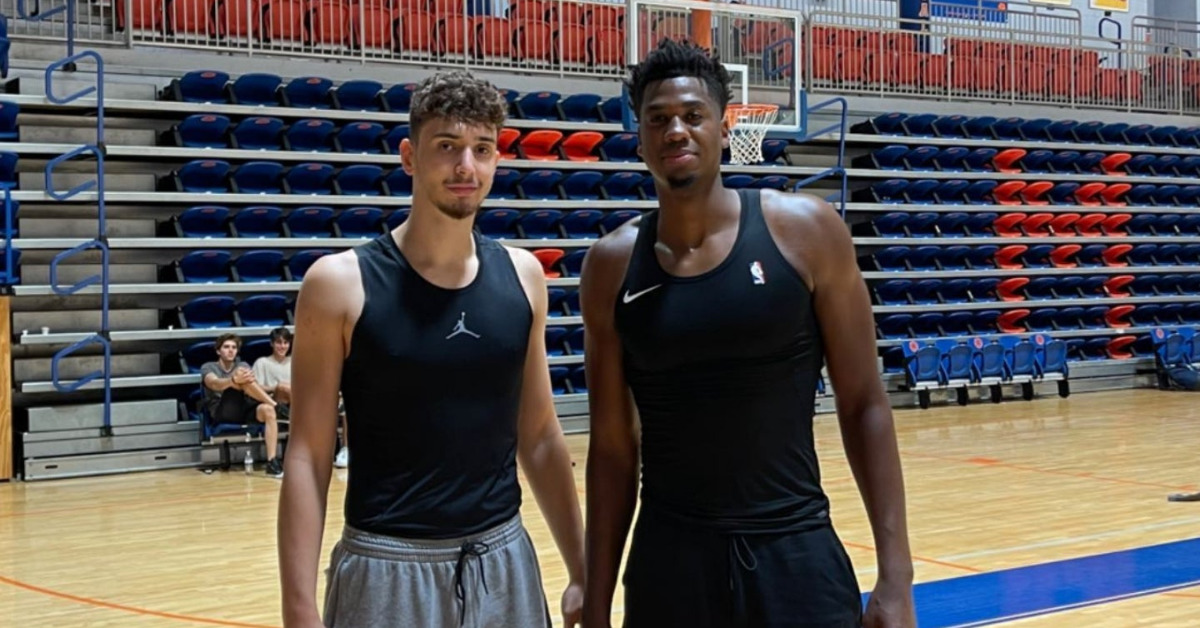 We continue to see more and more players emerge in the NBA that break the mold of the typical €œmodern€ big man. Post-ups are a rarity while guards and wings fill the primary offensive centerpiece role on 90% of rosters. The 2021 NBA MVP, Nikola Jokic, is the most obvious outlier with his elite vision paired with otherworldly creativeness and touch at 6'11€. There are a handful of other European bigs who warrant post-up touches in a league where that play type seems foreign, and Alperen Sengun (pronounced "shen-GOON") hopes to follow in the fundamentally exceptional footsteps of Domantas Sabonis, Jonas Valancuinas, Jusuf Nurkic, and Nikola Vucevic.
Sengun, who Sam Vecenie lists at 6'9€, is allegedly an inch or two shorter than typical all-star caliber bigs in the NBA who are frequently drawing doubles with their back to the basket - which is cause for concern. Outlier footwork, touch, vision, and patience are promising workarounds that could negate his physical shortcomings, skills that are parallel to some of the aforementioned players. Sengun thrived in the post for Besiktas and undoubtedly warranted those possessions with eye-popping averages and efficiencies.
Throughout 29 games in the Turkish Super League, Sengun averaged 19.2 points, 9.4 rebounds, and 2.5 assists while shooting 64.6 percent from the field, 19.0 percent from three, and 81.2 percent from the free-throw line. Contextualizing all of those numbers is crucial, and let's start with the absurd 64.6 percent from the field while being the primary option. Only Robert Williams III, Rudy Gobert, Mitchell Robinson, and Ivica Zubac shot a higher field goal percentage last season than Alperen Sengun - and they are all labeled as offensive role players. Sure, the NBA is a far supreme league to the BSL, but the Turkish league is still often referred to as the third-best league in the world and Alperen Sengun won MVP at just 18-years-old. Did I forget to mention that?
His production was as undeniable as his advanced footwork and touch (with either hand) around the basket. Each foot can function as his pivot, as he utilizes and combines step-throughs, drop steps, and spins to create opportunities. He pushes his body into the defenders while extending his arm to get off some goofy Jokic-esque finishes. As is preached so often, he is often seen fighting for ideal positioning before the catch, and rarely seemed flustered by opposing contact or pressure.
Friendly reminder that 64.6 percent of his shots went in, and these were typical looks. His dominance in this league is apparent from the above clips, physically overwhelming some opposition while tormenting others with quick footwork and unpredictable angles. The real question revolves around the post-up efficiency translating for Sengun against NBA centers, and it starts with his size at 6'9€. While the 18-year-old MVP seemingly possesses enough functional strength to bang down low with most, it's uncertain how he will be affected by superior length and size. Being covered by seven-footers is going to be an adjustment for Sengun.
As stated, the BSL is certainly nothing to scoff at, but rewatch the above clips and judge for yourself the difference between the players he is posting up there as opposed to NBA talents. Sengun doesn't need to be able to post up the Rudy Gobert's and Joel Embiid's of the world, but for him to reach his true offensive ceiling his post-game will need to be highly effective against a large percentage of opposing bigs. Maintaining enough of a threat level to draw double teams would massively unlock Sengun's impressive passing ability. This skill is what draws out the often-referenced Domantas Sabonis comparisons.
Look at this beauty. All five opposing defenders are keyed in on Sengun as he backs his man down. As defenders from the nearby corner and top of the three sink in, Sengun rises off the floor while making eye contact with the shooter at the top. Yet, to the surprise of everyone, especially number five in blue, the Turkish big man whips a no-look skip pass on the money to the weakside corner for an open three that sadly misses short. Besiktas games were filled with these beautiful dimes from Sengun, don't let the 2.5 assists per game number fool you into thinking otherwise. Advanced reads display Sengun's high level of offensive understanding and ability to be thinking two steps ahead at just 18-years-old - and they're pretty fun to watch.
Reaching all-star status would likely require Sengun's post-up game translating, but there are minimal concerns with other elements of his offense being impactful at an NBA caliber regardless. With his willingness to screen, powerful motor, passing ability, and impressive understanding of opposing defensive rotations there should be little concern in the MVP being a positive impact player on offense.
Here is a great example. Sengun is a focal point for the defense in the pick-and-roll (for reasons that will be mentioned) and makes a great read on the short roll to hit the open man in the corner as the defense overhelps due to his threat. As his teammate attacks the closeout, Sengun patiently waits at the nail for his defender to shift his focus to the ball handler before he slips to the basket for an easy dunk.
Timing as a roll man is a skill in itself, maintaining position in a passing lane as the ball handler moves is key. Sengun clearly grasps this concept well and his impact as a roll man to the basket is obvious. The versatility to make quick decisions out of the short roll, roll at appropriate speeds, finish efficiently at the rim, and be a threat on the offensive glass is an ideal combination for upside in the pick-and-roll. Sengun also has exceptional hands and some surprising bounce to him when he elevates off two feet - and he certainly isn't afraid to try and stuff it home on someone's head.
It's fairly simple to see how Alperen Sengun could be a part of a deadly pick-and-roll with someone like Tyrese Haliburton as his partner. In the context of a ball-handler who prefers to roll to the rim (such as De'Aaron Fox) and general spacing, shooting is practically a necessity. While Sengun only converted 19 percent of his 21 total threes during his time in the BSL, his touch and 81.2 free throw percentage on high volume (6.2 FGA) are promising indicators. Personally, I see no issues with his form although I am far from a shot doctor. While it's not a shot he is getting off particularly fast, I think he projects to be at least respected by opposing defenses from downtown off the catch although nothing is guaranteed.
Most importantly, his free throw routine is certain to catch the eye of fans. After receiving the ball from the referee Sengun takes a deep breath in before proceeding to bring the ball up to his face and whisper sweet nothings to it for about four seconds. I can only imagine all the memes that could come from this if he becomes a high-caliber player in the league.
One near guarantee is his offensive rebounding effort, tallying 3.8 per game this last season was good for the highest rate in the league. It's clear Sengun has no issues playing through contact and is willing to do the dirty work before softly draining a putback or find the open shooter. Additionally, effectively running the floor is borderline essential for a big and Sengun has no struggles in that field, he actually amplifies his team's ability to run in transition with supreme outlet passes.
Aside from the post-ups, the one other skill I have questions about it's effectiveness at the next level is his handle. On rare occasions, Sengun flashed some dribble moves and confidence that were intriguing. I think it will be enough for sporadic moments, but who knows how successful he will be attacking closeouts when asked to space the floor. For now, the minimal handle could be utilized in dribble hand-offs or open court situations.
If Alperen Sengun is proven unable to post-up NBA centers at a high level, he still projects to be a highly impactful offensive player. I think of Al Horford on the offensive end, good at everything but not elite at anything which is a useful offensive cog. There is potential for that elite skill becoming the aforementioned post-up, but adjusting to new length and strength at his size may prove to be puzzling. But would Al Horford have held much value in the league if he wasn't also a high-impact defender?
That offensive potential is the reason anyone is high on Alperen Sengun, and it's the grounds for why he was the BSL MVP at 18-years-old. Hesitance arrives from most when they dive into his defensive film, which is particularly concerning when projecting Sengun as a center.
The Center is the most valuable position in the league on the defensive side of the floor. The worst defenses in the league often are rostering and/or starting poor defensive centers - even if they are blamed too often, centers are the position most capable of cleaning up other's mistakes. If other core members of the roster are poor or even below-average defenders, center is the position to then prioritize defense if you want any chance of sniffing top-10 in defensive rating. To survive as a long-term center in the NBA, you must be able to either defend the rim or move your feet well on the perimeter and have at least one effective pick-and-roll defense.
At the moment, Sengun checks one of the two necessary boxes. He showed an ability to protect the rim from the weak side but regularly struggled when directly involved in the action and has no currently positive pick-and-roll coverages he is capable of consistently executing. Centers with notable offensive contributions often become net negatives (this is most common in a playoff setting) when they can be attacked relentlessly on the defensive side of the ball - think Montrezl Harrell, Enes Kanter, or Thomas Bryant.
Sengun's footspeed in space is, uh, not good. He is frequently caught flat-footed by ball handlers and once they blow by him, his limited athletic tools leave little chance for recovery despite his noble effort. Perimeter players, and potentially even the most average wings, are going to have their eyes light up if Alperen Sengun is ever switched onto them. Regular pick-and-roll players will be able to abuse the Turkish big man early in his career with little resistance. In drop coverage, Sengun is notably slow to change directions and often caught in no man's land not affecting the ball handler nor denying the pass to the roll man.
Opposing teams relentlessly attacked Sengun with success. Here you can see Sengun containing the first curl with the help of his teammates, once that action is denied it swings into a traditional pick and roll. Sengun strongly plants his lead (right) foot as he attempts to stay in front of the ball handler, a mistake that he makes far too often and leaves him in the dust. As number zero goes for a wide-open mid-range jumper, Sengun makes minimal opportunity to contest while still conceding an easy passing lane to the roll man for a dunk.
While Sengun's teammate on the weakside should have been in the paint to stop the dunk, the MVP still applied zero pressure to the ball handler and was easily manipulated. Applying very minimal resistance to opposing offenses and often falling for fakes made Sengun an easy target throughout this past season in Turkey.
His footspeed and hips really scare me, in a way similar to Enes Kanter and Thomas Bryant. While there were some promising moments when involved in the action, they were few and far to come by and often followed by missed opportunities earlier in the possession that NBA talent is more likely to capitalize on.
Here, Sengun executes a very hesitant hedge or double, it's hard to tell because he seems to not commit to one decision, and takes a moment after the ball swings before realizing that his big man is now left alone in the paint. If Mr. Pink Shoes would have been more accurate with his pass, that's an easy two points due to the poor recovery time. Sengun does remain with the play and displays good timing with his block on the small guard.
The following defensive possession is a prime example of Sengun residing in no man's land but getting bailed out because the lob was poorly thrown or possibly to the wrong personnel. This sort of hesitancy on the defensive end is going to allow opposing pick-and-roll ball handlers to pick him apart whenever they choose.
It's difficult to execute against NBA rosters, but if Alperen Sengun is allowed on one sole aspect of defense then he has shown the ability to be effective. When not directly involved in the action, he displayed a proper knowledge of when to help and moments of discipline to stay vertical. As evident by his offensive game, he is an extremely intelligent player with a good understanding of the game and defensive rotations.
The issue is finding out how to keep him out of the opposing team's offensive actions. If you attempt to hide him on any other player than the center, they will likely have the ability to blow by him or the opposing team could simply begin screening with whoever Sengun is matched up against. Being effectively attacked in the pick-and-roll over and over is a quick ticket to the bench in the NBA, and Sengun is in real danger of that outcome.
Developing the nuances of drop coverage is within the range of possibilities for Sengun, and borderline a necessity. Hiding big men of this style on the defensive end of the floor requires roster construction with them in mind as we have seen with Sabonis in Indiana or Vucevic in Orlando.
Myles Turner is an elite shot-blocker who handles the bulk of pick-and-roll coverages and cleans up for Sabonis when he is blown by on the perimeter as the Pacers attempt to hide him. The Orlando Magic were only competent on defense with Vucevic as their centerpiece for so long because they surrounded him with top-end perimeter defenders in Jonathan Isaac and Aaron Gordon. If a team's core already consists of merely average to negative defenders and high usage offensive players, then selecting Sengun may be punting their opportunity to have a top-10 defense in the league barring outlier progression.
Sengun is going to be barbeque chicken his first year-plus in the NBA. Guards and wings that possess even average handle or footspeed would be smart to attack him often. It would not surprise me if jumping from unplayable to below average in pick-and-roll coverages is a key plot in Sengun's early years of development.
His offensive game is clearly more fine-tuned and ready to contribute from an early point, as evident in him being awarded the MVP of the BSL while averaging 18.6 points on an absurd 62.4 percent from the field. It seems likely that Sengun will be a high-level roll man in the league as a passer and finisher, be able to abuse mismatches, run the floor in transition, and hit shooter/cutters from the elbows in dribble hand-off situations. His distance shooting is still in question, but the indicators are promising enough that I would bet on him eventually being respected from there. That is the base for a highly impactful offensive center in today's NBA, but not a lottery talent.
An elite role-playing offensive center with just average defense? That's pretty close to a late lottery level return on a pick, but that's not close to where Sengun's defense is currently at. His offense will need to be good enough to counteract his deficiencies on the defensive end.
Meaning Sengun being a successful lottery pick requires his highly efficient post-up game translating at 6'9€ against NBA talent with far superior strength and length than what he has been accustomed to in the BSL. With his display of supreme touch, elite footwork, and patience that is certainly a possible outcome, but far from a guarantee. Otherwise, how valuable is an offensive connector that is actively costing you points on the other end? While I understand the idea of Alperen Sengun having a decent floor, I push back on how valuable the floor of a backup center in today's NBA truly is.
If Alperen Sengun does not significantly progress on the defensive end and his post-up game is proven ineffective at the NBA level, then projects to be nothing more than a regular-season backup center who gets played off the floor in the postseason. Those types of players in today's NBA are very rarely paid more than $10-million annually. Lower end outcomes on wing upside swings tend to be more fruitful due to the positional supply and demand in the modern game.
Yet, if Alperen Sengun's post-up capabilities prove to be translatable, then he is worthy of attempting to build a capable defense around to cover his flaws there and treat him as an offensive hub. This would require your other core pieces to be positives on the defensive side of the ball as well.
Everyone's evaluation variance will likely revolve around how much you buy that lone post-up skill translating to the next level. If it does, we could be talking about the next €œhow did x amount of teams pass on him€ All-Star European big man. But if not, we could very well be looking at a backup offensive center with no elite skill who is regularly attacked on defense. He's a swing for the fences playing a position with a fine line between being highly valuable or being replaceable.