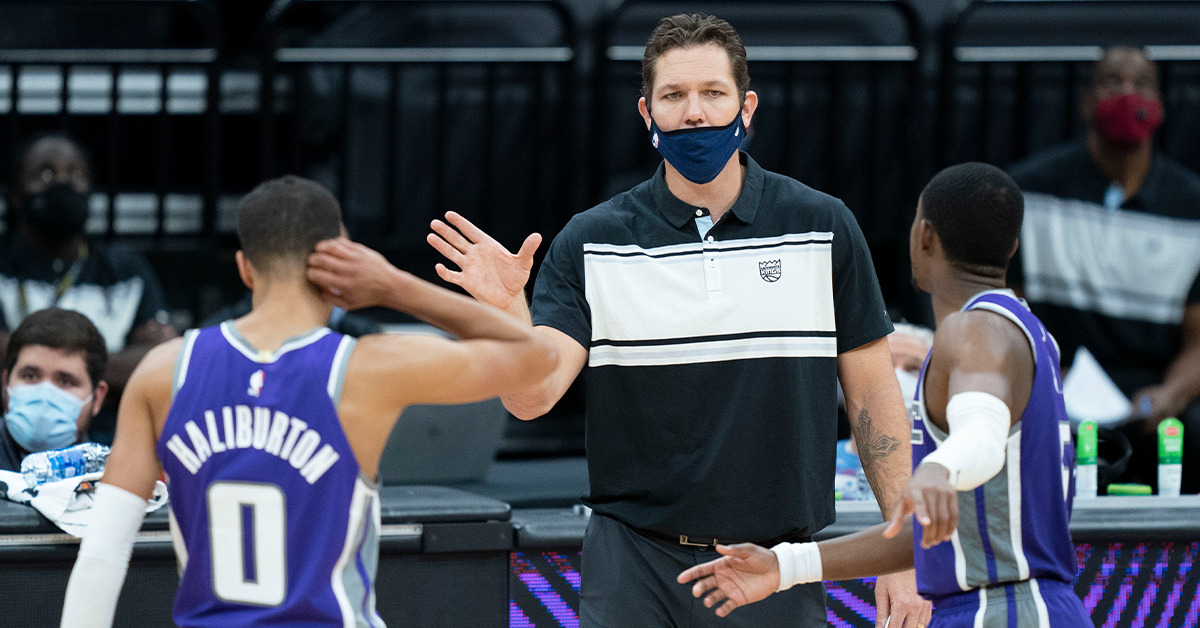 On April 8, Sacramento Kings head coach Luke Walton benched Tyrese Haliburton in favor of inserting Moe Harkless into the starting lineup. The Kings have gone 1-7 since.
Following the King loss to the Minnesota Timberwolves on Tuesday night, James Ham of NBC Sports Bay Area/California asked Walton this question: "With the games dwindling here, is it almost time to start seeing what you have for next season as far as guys like Tyrese Haliburton, which you know long-term are going to be in that starting lineup?"
Walton responded with:
"I know what you're asking James, but for us right now, we're playing these games to win these games and an important part of developing, especially developing winning habits, which is what we're trying to get done here, is playing a certain way, rewarding a certain type of action, rewarding a certain type of play and trying to win some games going into the offseason so there's a little bit of momentum built up and some good energy. So, for now, our mindset going into tomorrow is we're going to do whatever we can to try to win that game."
Haliburton went from playing around 30 minutes a night for the majority of the season to averaging 21 minutes over the last three games. Against the Timberwolves he tallied 9 assists. Harkless has been decent during his time as a starter €" he had a strong outing against the Timberwolves Tuesday with 20 points and 7 rebounds, and has had a few other productive games. Props to Harkless for taking advantage of the opportunity. This isn't about him though - the veteran is on an expiring contract and trying to prove his value to the NBA. The problem is the switch to moving Haliburton to the bench is doing nothing in the win column or for the future.
Walton (sort of) answered this question by saying having Harkless in the starting lineup is going to develop winning habits. He also insinuated that Harkless is being rewarded for certain types of "actions" and a certain "type of play." A head coach has a job to win games, and he clearly thinks that Harkless starting puts them in a better position to do that. To his credit Harkless has done a serviceable job. Maybe this is intended to be a lesson for Haliburton? The bottom line though is that the change has not positively impacted the win column. (Granted the team had lost four in a row before the lineup switch.)
The Kings are 23-35, which is 6 games behind the 10th place San Antonio Spurs. Any talk about making the play-in tournament is long gone. With just 14 games left this season, the team should be focusing on establishing chemistry between the two centerpieces of this roster: De'Aaron Fox and Tyrese Haliburton. (And if there is someone to bench it might be the guy who thrived in that role last season: Buddy Hield.)
We are almost two full seasons into Walton's time in Sacramento and he is still trying to build "winning habits" that aren't showing up on the floor, and if they do show up, they vanish right before our eyes. On day 1 of his tenure with the Kings in April of 2019, Walton said "defense wins championships" and that he planned to put a "huge emphasis" on it. The Kings are currently dead last in the league in defensive rating and let a team that averages 110 points per game put up 134 Tuesday night.
Those are not winning habits, and Haliburton's whole game is centered on high-basketball IQ - something that this franchise has lacked for 15 years. It's time to get the rookie back in the starting lineup, or at least up to starter minutes, and let him and Fox begin to establish the backcourt of the future.
I'll leave you with my favorite play from last night's game.