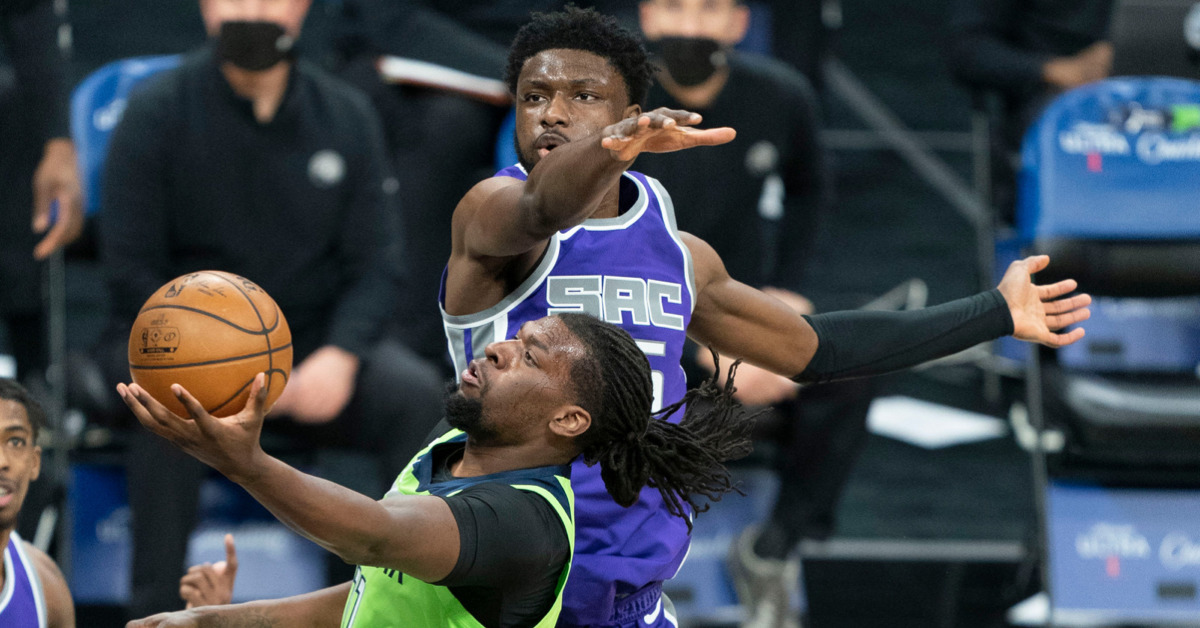 No matter how you feel about the Kings' win on Sunday, I respect your opinion, but I will firmly be the type who is clinging onto the good feelings of a win like it's a roll of toilet paper in the beginning of the pandemic. I had almost forgotten what it felt like to win a basketball game, so I will be soaking in the good vibes for as long as I can. For another great argument on why you should allow yourself to enjoy this one win, go check out Greg's article from earlier today. 11-year-old me was very grateful while reading it. Anyways, onward we go! The Kings faced the Minnesota Timberwolves tonight for the first of a back-to-back matchup. Let's see how they did:
Quick Stats
Outcome: Kings lose, 134-120
Sacramento Kings: 120 PTS, 45.4% FG, 42.9% 3 PT, 87.5% FT, 28 AST, 10 TO
Minnesota Timberwolves: 134 PTS, 56.7% FG, 41.9% 3 PT, 73.7% FT, 34 AST, 18 TO
And just as quickly as they came, those good vibes are gone again. There was a lot of scoring, not a lot of defense, and some weird vibes in the fourth quarter. Harrison Barnes and Moe Harkless led the Kings, each scoring 20 points, while Karl Anthony-Towns ate big tonight with 26 points and 18 rebounds and D'Angelo Russell once again torched the Kings with 28 points off the bench.
The Good, The Bad, & The Ugly
The Good:
It's a Shootout: The first quarter alone ended with the Kings on top 43-39, as they hit seven 3-pointers next to Minnesota's nine. At one point, it felt like watching a pickup game, except everyone could actually shoot. Considering that this was the first night with fans in the Golden 1 Center, it seems that both teams were ready to put on a show for their physical audience. After some rough shooting nights from the Kings, it was nice to see their shots connect so many times. Even the basketball snob in me couldn't help but be entertained by the shootout.
The Bad:
Defense? Not on the Menu: While the constant scoring was fun, the lack of defense from both teams was... well, expected. But it still makes for some ugly basketball moments. The most painful was seeing Buddy Hield brick a 3-pointer and then watch as his man got an open layup on the other end. Then there was a Josh Okogie drive and spin move to evade the softest help side defense I've ever seen in my life for an easy deuce. And finally, Minnesota got plenty of highlight footage tonight as they completed 10 dunks, most of which were uncontested and worthy of SportsCenter. It was clear early on that defense was not a priority for either team tonight, and although the Kings caused a lot of careless Minnesota turnovers, 48 basketball minutes of defense as an afterthought kind of just leaves a bad taste in your mouth, especially when you lose.
Not Cashing In: In the middle stretch of the game, the Kings got a bit more handsy on defense and overall caused the Timberwolves to commit 18 turnovers. The Kings typically thrive on these kinds of mistakes, as much of their scoring comes in quick transition points, but tonight, they weren't able to consistently convert. A handful of these opportunities turned into ill-advised 3-point attempts, contested shots, or even immediate turnovers to give the ball right back to Minnesota. Down the stretch, these fumbled opportunities really hurt the Kings.
The Ugly:
Fourth Quarter Crumble: After going shot for shot with Minnesota through three quarters, the Kings were only able to score 17 points in the fourth quarter. A lot of unusual things happened in those last 12 minutes. For one, we weren't able to rely on De'Aaron Fox's heroics, as the Timberwolves suffocated any driving lanes and forced the ball out of his hands. Secondly, we had to watch Luke Walton foolishly keep playing small ball against Karl Anthony-Towns until the Kings eventually went down by eight points with four minutes remaining when he decided to use his final timeout. Up until then, Tyrese Haliburton and Chimezie Metu, who had developed some very noticeable flow together earlier in the game, remained on the bench. Luke finally put Tyrese and Hassan Whiteside in for more size, but it was too late.
The King of Kings
Despite the loss, tonight was fun because for the first time in 405 days, fans were allowed inside Golden 1 Center to cheer on the home team. 1,600 of the best fans in the world devoted their evening to cheering on the Sacramento Kings - this alone makes them heroes. But beyond their loyal fandom, these 1,600 fans are all also frontline workers and so automatically deserve the King of Kings title for tonight. For your courage, hard work, sacrifice, and compassion, thank you, Kings fans. You really are the best.
Up Next
Wednesday, April 21st vs. Minnesota Timberwolves - 7:00 P.M. (PT)