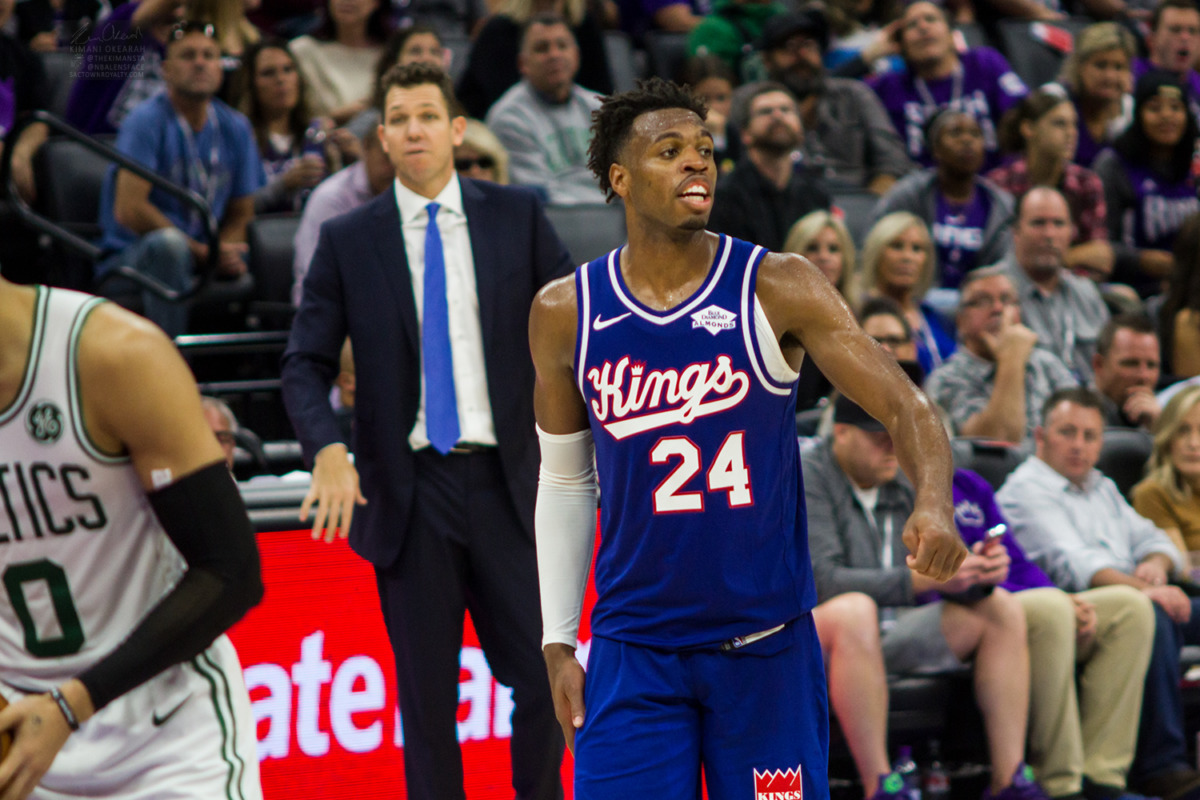 Buddy Hield and the Sacramento Kings. It's a relationship that has been on the minds of many over the last few seasons.
Following the Kings exit in the Orlando Bubble last season, Hield made this comment.
Buddy Hield on how he views this off-season and if he's content staying with the same roles he's played recently:

"Y'all know me. Ya'll know how I talk. Ya'll know how I feel. Ya'll can read me well, so I'll let ya'll answer that yourselves."

— The Kings Herald (@thekingsherald) August 13, 2020
Then came reports of Hield not picking up head coach Luke Walton's calls. Then there was the reports of him liking tweets that reflected negatively on the franchise. This week, a report indicated that the Kings have spoken to several teams about trading him.
Which leads us to Saturday and Hield's first media call of this new season. The 27-year-old Hield was asked if there is work that needs to be done to mend relationships and if he has any regrets about anything that has happened in the past year.
"I have no regrets. There's nothing to be worked on. I never had a problem with nobody here. Everything that's being heard wasn't put out by me. I love everybody here in this franchise, this organization so I don't regret nothing I said,€ he said. €œI'm going to keep it 100.€
Asked if there is still frustration after his comments after the Orlando Bubble he said, €œI'm here to play basketball, win games and that's my main focus. Trying to turn things around, that's all I've been focus on. Trying to win games. Everything that comes with it, comes with it, but I'm just locked in on that."
With Bogdan Bogdanovic now in Atlanta, one would assume that Hield would shift back into the starting lineup this season next to De'Aaron Fox. Walton was non-committal earlier this week when asked about this, saying it will come down to what he feels is best for the team.
Hield said everything in life has to be earned.
€œThat's not my job. I don't control that, the head coach controls that. €¦ You've got to earn your job so there's nothing free in this world. I came from the Bahamas to come to the NBA that was my dream. I beat those odds out so I'm a fighter man. I'll compete for whatever is supposed to be mine and if it's not mine then it won't be, so this is fun for me. I just love competing,€ said Hield, who also said whatever the teams needs him for he will do.
With the theme out of training camp being that the Kings will be playing with more pace this season, Hield was asked about that and what the addition of Alvin Gentry to the coaching staff could mean for the team.
"Just knowing Alvin's [Gentry] track record and the way he played in New Orleans and just watching their team play last year it reminds me of us when we had Dave [Joerger],€ he said.
The Kings, of course, played with a lot of pace under Joerger and that was slowed down by Walton last season. Hield's efficiency dropped in that transition, from 45 percent from the field and 42 percent from three in 2018-19, to 42 percent from the field and 39 percent from three last season.
Hield closed out his media session by answering a question about if some of the drama has taken away from his love for the game. He said it hasn't and called his job a blessing and that he loves working out, going to the gym and just hearing the ball bounce in the gym like he did when he was a little kid at the park.
You can watch Buddy's media session here: