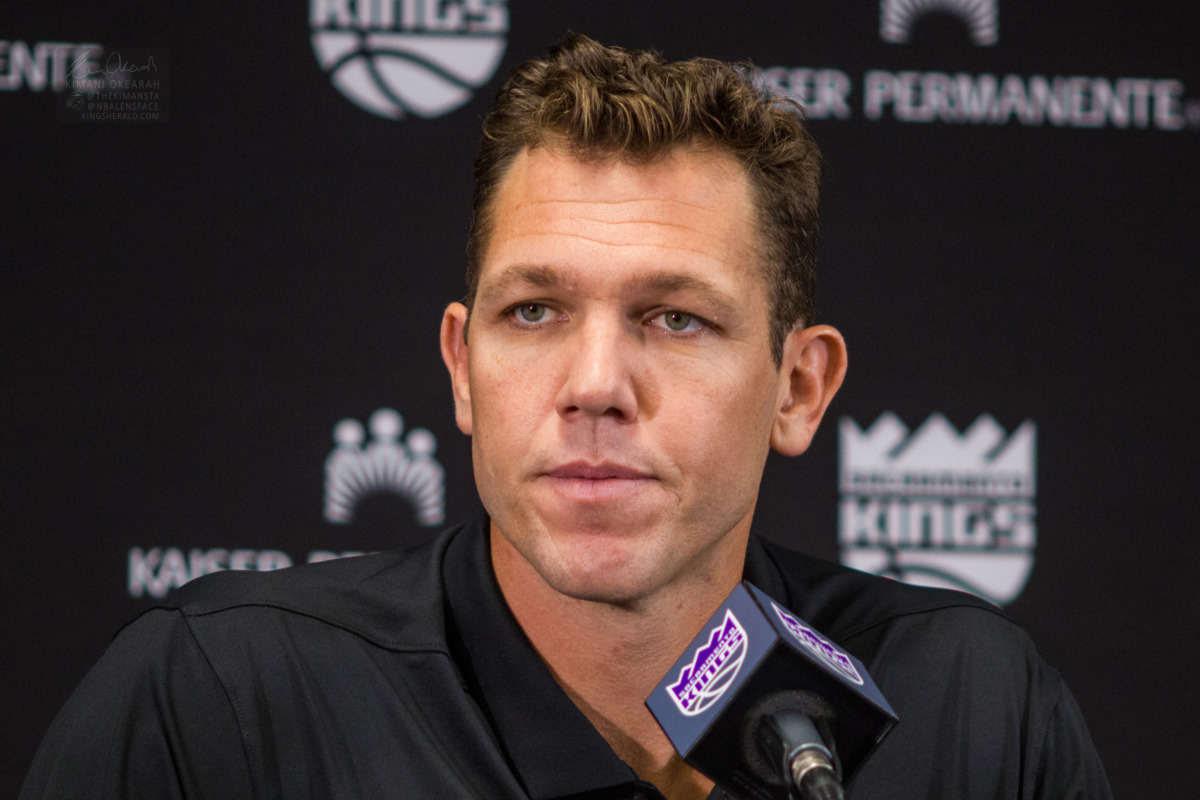 The abbreviated training camp and odd timing of the start of the NBA schedule this season due to COVID-19 gives the Sacramento Kings a short amount of time to adjust to all the changes that occurred this offseason. Chief among those changes was replacing Vlade Divac with Monte McNair as the Kings general manager. Walton said on Tuesday's media call that the transition from Divac to McNair has been good and that McNair has been €œvery easy to work with, he's very easy to talk to. He's clear on what he sees and what his plan is and he's very open to hearing my thoughts and my views on where we're at." He also said it's hard because he had €œsuch a great relationship with Vlade and Peja [Stojakovic].€
Other changes this offseason included not matching the Atlanta Hawks offer for Bogdan Bogdanovic, drafting Tyrese Haliburton, signing Hassan Whiteside and Frank Kaminsky and not re-signing Alex Len and Kent Bazemore. There may be a change coming in the Kings style of the play as well €" and we'll get to that in a minute. What may have not changed is Walton's communication with Buddy Hield. In October, it was reported that Hield had not been picking up Walton's calls.
Walton was asked if he has spoken to Hield recently and what his relationship is with him at the moment. He didn't clear the air about their communication, but he did address their relationship.
"Not going to get into the in-house stuff of who I've talked to and this and that with some of that, but Buddy is a very talented player. I've always had a good relationship with him and we're excited that he's part of the group,€ Walton said.
Alrighty.
Walton was also asked about Hield returning to the starting lineup this season.
"We've got a lot of new faces here. We have to continue to look at what's going to be best for our team. And even last season, Buddy started more than half the season and when he didn't start he played a huge role for us coming in off the bench and being a dynamic 20-point a night scorer. Every decision I make is always based on what I feel is best for the group and best for the team,€ Walton said. €œWith this training camp, this is part of what we have to see. What do we have? What groups are playing well together? Who complements who? And at the end of the day, every decision that gets made will come down to what do I feel as the head coach is best for this team giving us the best chance of winning."
Ok, then.
Obviously, Bogdanovic moving on to the Hawks opened the door for Hield to move back into the starting lineup. I can't imagine Haliburton, a rookie who is unable to participate in Summer League and only getting a few weeks of training camp, landing the starting nod over a veteran like Hield who can shoot the way he can. Walton apparently doesn't want to guarantee that Hield is a starter as of now though.
Of course, things could be fine and all we can do is read between the lines in Walton's comments here, but given the history between Walton and Hield it is probably safe to say some form of mending still needs to take place. It is something we will have to keep an eye on.
Now, about the changes to style of play. Since McNair took over, we have been hearing a lot about how the Kings were going to pick up the pace again, something Walton largely abandoned last season as a way, as he described it, to focus on executing in the half court and get defensive stops. During his media call on Monday, McNair again brought up the pace the team plans to play with this season. On Tuesday, Walton was asked about the changes we may see with the style of play, especially given the additions of Alvin Gentry and Rex Kalamian to the coaching staff.
"You won't see huge changes, but there's definitely some philosophy moves that are going to be a little different this year than last season," Walton said. "One of the keys this year is we're going to play a little more five-out style in the flow of our offense. We're going to have a little more commitment from day 1, now that we have somewhat of a foundation set from last season, on how quickly we want to get the ball up the court. Defensively, some of the rotations will be different. You're going to have to really lock in and look at the little details to see any major changes."
Hmm. So there will be changes, but not huge changes. Will those small changes be enough to capitalize on Fox's speed with pace? We'll have to wait and see.
On Monday, McNair also brought up how the plethora of bigs, including Whiteside, the Kings now have on the roster will give Walton flexibility to pick and choose his lineups based on matchups.
Walton elaborated on that.
"That's one of the things Monte and I were talking about is how much different our team looked like last year once we added an Alex Len to the group. Somebody that can really just sit in that paint and protect it for us. ... It does allow you to take different lineups and smaller lineups, and maybe players you normally wouldn't play together when you have a big fella down there to clean a lot of that up,€ Walton said.
As for the Kings money man De'Aaron Fox, he addressed the potential change in the offense this season with the addition of Gentry to the coaching staff.
€œKnowing the way the Pelicans have played the last couple of years, they're getting up and down the floor. They're going to play fast, not necessarily shoot the ball fast, but they're going to get the ball down the floor quickly,€ Fox said. €œIt's a fun style to play and it's a harder style to guard €¦ so with the type of players that we have on this team we know that we can get the ball up and down the floor.€
Walton was asked what areas he would like to see an incremental improvement in with Fox.
€œI think the biggest jump for him will come when he consistently is making that three-point shot and getting to the foul line,€ said Walton, who also mentioned the improvement Fox made toward the end of last season in both areas.
Fox finished last season 12th in the league in free throw attempts per game (6.7). He finished at 29 percent from three.
There are many questions surrounding this team as the season fast approaches. The first preseason game set for next Friday after all. We'll keep you updated throughout this shortened training camp period.