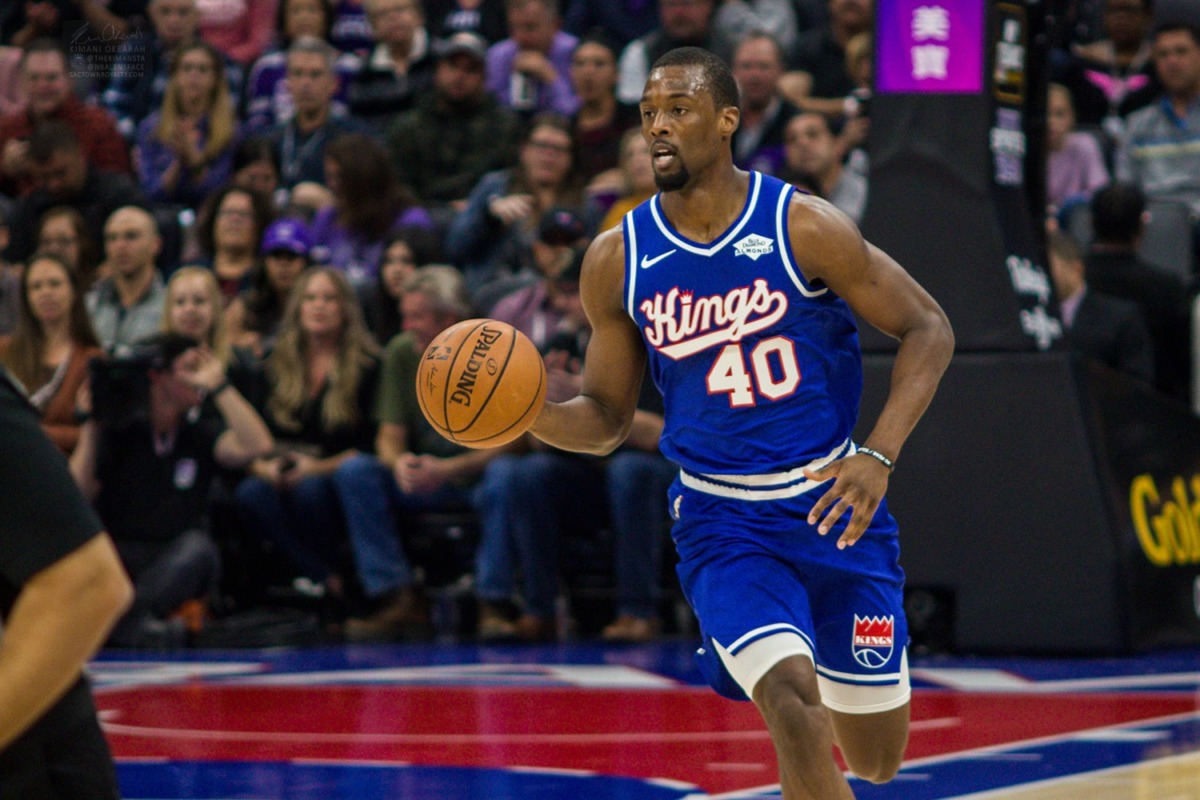 Welcome to 20Q, a variation on our usual 30Q series. With the abbreviated time until the season begins, we'll just do 20 questions this season, finishing up right before the season begins on December 22nd.
A team can never have enough quality wings at its disposal. Sacramento's new general manager Monte McNair appears to assimilate that, as he's both signed and drafted players to aid in the area the Kings have substantially suffered from in preceding seasons: wing depth.
Players who have surfaced onto McNair's roster this offseason include Glenn Robinson III and Robert Woodard II, with DaQuan Jeffries returning on a fresh contract, presumably in a bigger role based on his Bubble performances and with Kent Bazemore's departure. The new batch of wings are set to join Harrison Barnes and Justin James, who remains in Sacramento after the Bogdan Bogdanovic trade fell through.
Among the several lineup and rotation questions confronting head coach Luke Walton this season, one is particularly salient: How will wing minutes be distributed?
Let's begin with Harrison Barnes, the most experienced of the bunch. He's typically the starting three in Walton's lineups, but by the game's conclusion, Barnes registers more minutes as a four; Fifty-four percent of his minutes this past season was as a power forward. Walton's rotation and lineup plans are unclear to this point, but if last year's trend extends, Barnes could be featured as an interchangeable three and four more often (like the Rudy Gay and TJ Warren's of the world). Marvin Bagley's perceived position may modify Barnes' minutes at the four, so that might be a factor to consider.
Justin James, last season's 40th overall pick, is entering the second year of his three-year contract. Minutes were scarce for the 6'7€ wing, but of the 232 minutes played, 49% came as a two, and 46% came as a three, per Basketball-Reference. James' defensive versatility and athleticism on both ends make him an intriguing prospect, but nothing conspicuous transpired from those minutes. However, Bogdan Bogdanovic and Bazemore's withdrawals have unlocked a path for these younger wings to snatch more minutes for themselves; it's up to James to impress and earn them.
One wing who impressed to earn additional minutes is DaQuan Jeffries. The 23-year-old wing featured in Stockton as a two-way player, but unprecedented situations involving the pandemic resulted in a weightier role; Jeffries seized that role and secured his short-term future with Sacramento. The 6'5€ Jeffries displayed positional versatility on both ends €" while 61% of his minutes came at the three, 20% came as a two, and 18% as a four. Jeffries re-signed on a two-year deal (team option on year two), and if he enhances his game further, Sacramento has a solid rotational player secured on an inexpensive deal.
Robert Woodard II, this season's 40th overall pick, signed a four-year deal worth $6.7 million earlier this week, including $3.3 million in guaranteed money. With that contract, Sacramento seems confident that Woodard can develop into a quality player, and rightfully so. The 6'7€, 235-pound Woodard may potentially develop into a combo forward who can stretch the floor; Woodard shot 42.9% from deep on 2.3 attempts in his final season at Mississippi State. If that shot, and his individual defense, translates to the NBA, that will be tremendous value for Sacramento.
Glenn Robinson III represented another veteran signing in Sacramento on the minimum. Robinson is coming off his best season where in 48 games with Golden State, he averaged 12.9 points with a 40% three-point clip (3.5 attempts). Robinson entered the league logging more minutes as a two, but that's flipped recently as he now plays more at the three (75% of 1516 minutes with GSW). The 6'6€ wing can feature as either a two or a three with this current roster and will try to impress to propel himself towards a heftier contract next season.
Easing the youngsters into games will be pivotal. With no Summer League and a condensed training camp, the four preseason games provide the only opportunity for them to obtain reps; the learning curve will be steep. Out of this group, Barnes and Robinson likely receive a sizeable chunk of the minutes as seasoned veterans, while the younger players compete for the remaining minutes. Nemanja Bjelica is another name that likely sees minutes at the four over Woodard early on, and if De'Aaron Fox and Tyrese Haliburton share time on the court, Buddy Hield may feature as a three.
Nonetheless, Sacramento is brewing a youth movement to assemble a younger core around Fox, and some of these wings, if they pan out, could play crucial roles.