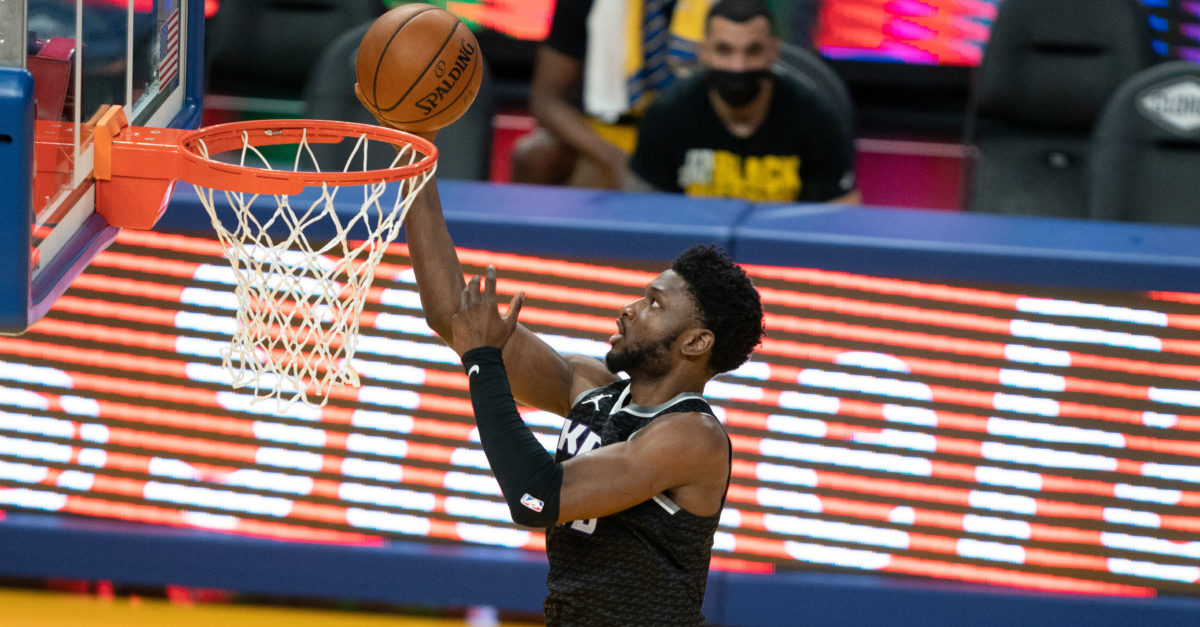 Chimezie Metu has been a busy man over the last year. Since signing a two-way contract with the Kings last December, he came off the bench in 36 contests, averaging 6.3 point and 2.3 rebounds in 13.6 minutes per game, while shooting 50% from the field and 35% from the three point line. He was injured in February on a cheap shot by Memphis' Jonas Valanciunas, which broke his wrist and kept Metu - a young player trying to prove himself in the NBA - out for six months. But the Kings apparently saw enough in him to sign him to a multi-year contract in April.
Metu has played a lot of basketball this summer. He played for the Nigeria men's national team in the 2020 Olympic qualifiers, and had a 22 point, 10 rebound outing in their qualifying loss to Italy in late July. He then flew back to the states and played for the Kings Vegas Summer League squad just a week later, and averaged 10 points, 6.8 rebounds, and 2.5 assists in 25 minutes a game (albeit while shooting poorly, just 31% from the field and 25% from deep). He's also been working out in Los Angeles with Kings Player Development Coach Rico Hines, and has spent that time competing with Tyrese Haliburton, Davion Mitchell, and a bunch of other Kings players and team personnel. As the team tries to develop a culture, Metu seems to be making all the right steps with his squad.
But considering the team's logjam of big men, there's both a lack of guaranteed playing time for Metu or a clear avenue for his success. While Richaun Holmes is locked in as the starting center, and Marvin Bagley would get big minutes if he's around, the rest of the rotation - between Damian Jones, Alex Len, Tristan Thompson, Robert Woodard, rookie Neemias Queta, and training camp try-out Emanuel Terry - is very much up in the air. If Metu is going to stand out amongst the tall Sacramento paint, it could be because of his deep shot. He shot 35% from deep last year on 37 total attempts, which isn't anything to bank a career on… but he's one of the more promising big man floor spacers on the roster, aside from Bagley (34% from three on 108 attempts last year). And the Kings could always use more spacing on the floor to give De'Aaron Fox, Tyrese Haliburton, and Davion Mitchell more room to operate.
Metu showed enough across the board last season to earn both a deeper look with the team and some fan mania, and he's a quiet fan favorite for a reason. Due to the incoming roster crunch and depth of bigs, Metu may not end up on the squad entering the season - but if his flashes from deep last year prove to be real skill from beyond the arc, he could earn a meaningful role with the team moving forward.