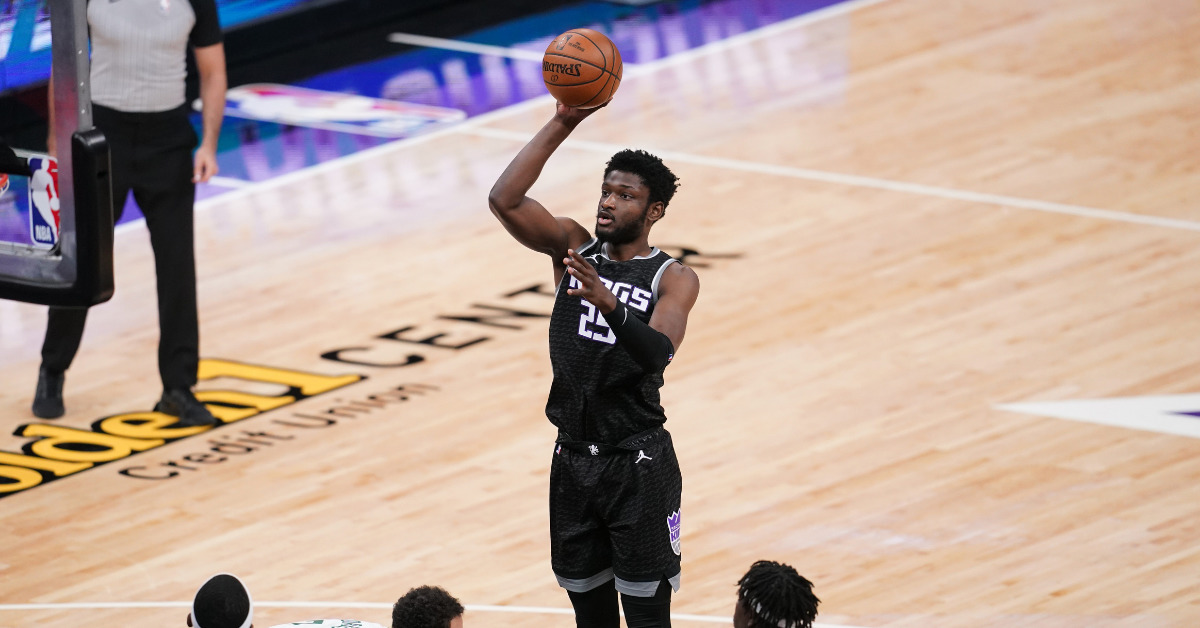 With just 11 games remaining for the Kings in the 2020-21 NBA season, Monte McNair is doing some end-of-roster housekeeping. Yesterday, the Kings announced the signing of Damian Jones for the rest of the season coinciding with the release of Chris Silva.
Releasing Silva and opening up another full-time roster spot has allowed McNair to do what he has reportedly done today: converting Chimezie Metu's two-way contract into a standard NBA contract, according to The Athletic's Jason Jones:
The Kings are converting Chimezie Metu's two-way contract to a standard deal for the rest of the season, league sources tell The Athletic.

— Jason Jones (@mr_jasonjones) April 28, 2021
Worth noting, James Ham says Metu's new deal is not a conversion.
Hearing Metu's contract is a new contract, not a conversion of his two-way. Give the Kings a lot more options moving forward with the young big man. Also gives them an opportunity to sign a new two-way player.

— James Ham (@James_HamNBCS) April 28, 2021
The details of Metu's new contract with the Kings have not been disclosed, but according the press release, "the Sacramento Kings have signed forward-center Chimezie Metu to a multi-year contract, according to Kings General Manager Monte McNair."
In this instance, we can somewhat safely speculate that this multi-year contract is similar to what we saw the Kings do with Damian Jones yesterday, allowing the Kings to keep Metu beyond this season via a team option or partial guarantee if McNair wants.
Regardless of those contract details, Metu should receive a nice little pay bump for his work this season after the conversion, and he's earned it. Metu's raw numbers won't blow you away – his playing time has been sporadic this season, but if you've seen him on the court, you've seen the effort, the athleticism, and nice touch on his jumper that, at 24 years old, makes him an intriguing, cheap bench big option with some room to develop.
On that note, congratulations to Chimezie Metu! It's always nice when players on the NBA bubble put the work in, play well, and land a new contract. Here's to hoping Metu continues his development and makes McNair's choice this summer very easy.
Update: Bobby Marks has the details on the new contract and it's an absolute win-win.
Win-win for Sacramento and Chimezie Metu on the recent contract.

Metu received $700K for the rest of the season (a +$500K increase from a rest of season and +$630K increase from a 2Way).

Sacramento in return gets Metu on a non-guaranteed deal in 2021/22 and 2022/23.

— Bobby Marks (@BobbyMarks42) April 28, 2021
The $1.76M salary in 2021/22 has various trigger dates for salary protection and the $1.9M salary in 2022/23 has an end of June 2022 guaranteed date.

Good contract for both sides. https://t.co/gh0y1Zwlzo

— Bobby Marks (@BobbyMarks42) April 28, 2021
The Kings can keep Metu beyond this year if they want, they still maintain flexibility for the future, and they're rewarding Metu for his play this season. Fantastic.