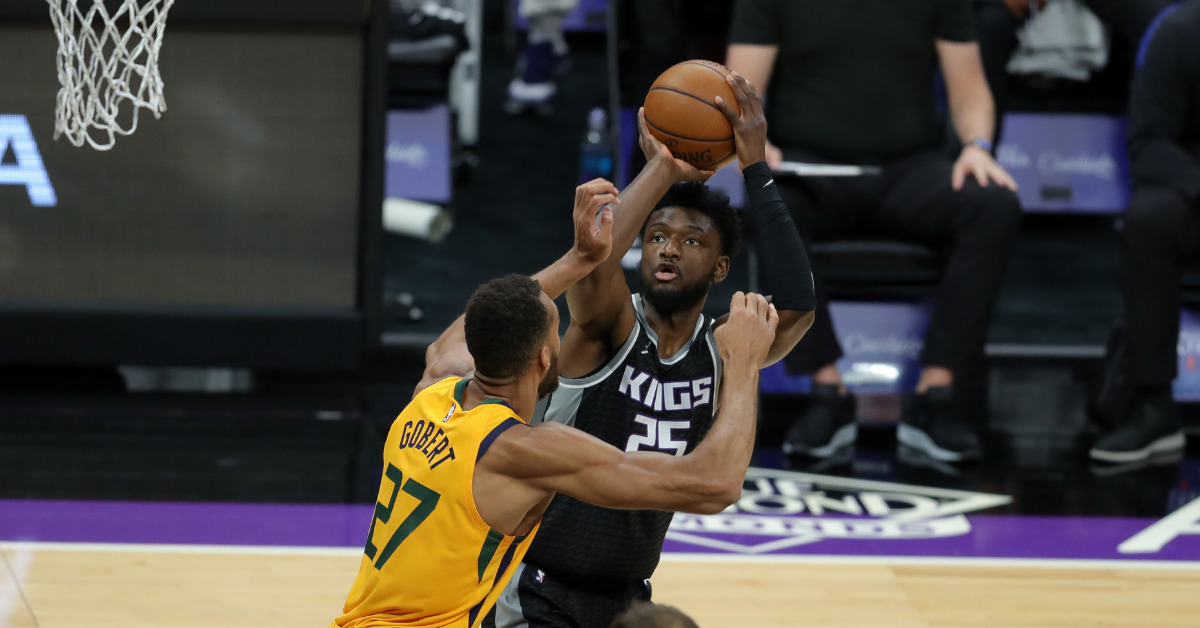 Sometimes the only thing that young NBA talents need is a consistent role, opportunity to fine-tune various aspects of their games, or a change of scenery. Just because a player has seen multiple rosters throughout the infancy of their careers does not mean they are undeserving of roster spots -- Richaun Holmes is a prime example.
Holmes was unable to find a long-term home in the association before the Kings awarded his performances with increased minutes and opportunity. It wasn't until Richaun's fifth year, his age 26 season, that he came into his own and he is now months from a hefty payday as one of the best starting centers on the open market. The Kings recently inked two low-risk deals with under-25 centers, Chimezie Metu and Damian Jones, where they are likely hoping for a similar growth path.
Metu, the 49th pick in 2018 out of USC, was acquired this offseason by Monte McNair on a two-way contract after spending his first two seasons in San Antonio. April has been the best month of Metu's short career that resulted in him being rewarded with a non-guaranteed three-year contract that extends into 2022-23. The Kings are Jones third stop of this season alone, having performed multiple 10-day deals throughout the Atlantic Division with the Phoenix Suns and Los Angeles Lakers. A former first-round pick by the then-defending champion Golden State Warriors, Damian Jones could certainly benefit from consistency and opportunity, and Sacramento may be the team to offer that, having signed him through at least the 2021-22 season (full details of his contract have not been disclosed).
Metu and Jones offer variance in their styles of play, while sharing a refreshing energy and effort level, on a team that too often lacks in that aspect, and impressive athleticism. If offense is your preference from big men, then 6'10€ Chimezie Metu is likely your cup of tea. In the aforementioned career-best month of April, he has seen the floor in 13 of 14 games (including one start) and averaged 6.5 points, 3.0 rebounds, and 0.5 blocks on 51.5 percent from the field in 13.8 minutes a night.
In his junior and final season at USC, Metu led the team in scoring (15.7) and rebounding (7.4) while advertising his offensive versatility primarily playing power forward by knocking down 30 percent of his 40 total attempts from beyond the arc. It is unusual for a player of Metu's size to be as quick and mobile as he is, which has been on full display this season both in the open court and pick-and-roll situations. Converting 69 percent of his attempts at the rim (albeit on a limited sample size) is nothing to scoff at - Holmes finishes 71 percent of those same looks for reference. Tyrese Haliburton certainly must be a joy for big men to engage in a two-man game with, but Metu has proven to be a threat in his own right with an impressive catch radius around the rim, exceptional hands, and ideal timing on his rolls to the basket.
Notice how Chimezie does not mindlessly spring towards the rim after setting a screen but lurks and stutters to remain in the passing lane as to allow proper spacing for ball handlers. Additionally, he expects a pass at nearly all times, with his hands in position to catch then subsequently attempt a shot or dunk at any given moment. Effort and size often convert into offensive rebounds, and Metu is no outlier in that regard either.
Where the big man could eventually separate himself is shooting from beyond the arc or the mid-range, and making plays after putting the ball on the floor. Flashes of both have been displayed on multiple occasions throughout his debut season in Sacramento, and are truly eye-catching.
Aside from the moments of Marvin Bagley at center, the Kings have not rostered a center that could properly space the floor for elite driver and engine De'Aaron Fox. It is unlikely that Metu develops into an offensive hub that requires a high level of decision-making, but continuous progress in those two areas could lead to a role as a reliable backup in the modern NBA if he is not abused on the defensive side of the ball.
Metu's relatively slender frame has led to occasions of him getting bullied in the post and while his footspeed is impressive, he has struggled at times to contain wings on the perimeter. Luke Walon did experiment with Metu at the four against Dallas, which was somewhat successful due to Dorian Finney Smith being the opposing matchup. Effort, athleticism, speed, and a willingness to be physical can certainly be enough for competency at that end and competence should be enough with his adaptable offensive skill set.
If the opposition is running the offense through their big man, as Minnesota does with Karl Anthony-Towns, then the defensive-oriented Damian Jones is likely the more appealing option. Standing at 6'11€ with a 7'4€ wingspan, Jones is no slouch in the athleticism department himself and McNair is notably intrigued by his defensive upside. €œDamian provides a defensive presence and has fit in nicely with our group,€ the rookie GM stated after Jones inked his new deal in Sactown.
In a recent back-to-back against the aforementioned Timberwolves, Jones quite literally made game-winning defensive plays against Towns, the all-star big man. His strength is apparent and this Sacramento roster is desperate for rim protection, currently allowing 67.7 percent at the rim, per Cleaning the Glass, ranking 29th in the league.
The size that Jones possesses may be beneficial in denying opponents at the rim, as he has seemingly surpassed Hassan Whiteside in the rotation throughout the time of his multiple 10-day contracts. He will need to clean up the fouls as he currently averages exactly six personals per 36 minutes, which may be cleaned up with increased repetitions. Also, we may see Jones look more comfortable when the Kings are no longer running a switch everything defensive scheme leading to him guarding the likes of Bradley Beal, Luka Doncic, and Stephen Curry in isolation.
Jones's athleticism is not apparent in his lateral quickness, although plenty of above-average defensive big men struggle in this aspect, it's crystal clear in his movement up and down the floor, and his verticality. He is currently leading Sacramento's roster in field goal percentage with an impressive 70.8 percent from the field. While the sample is notably low this season since he has floated around with various 10-day deals, Jones attempted 178 field goals last season in Atlanta and converted 68.0 percent of those looks.
Entertaining seems to be a fitting descriptor for Jones, as he has already had numerous highlights or near-highlights throughout his mere six games wearing royal purple. You can see his ability and willingness to sprint in the open court and space the floor vertically - which is poetic considering two attempts were against former rim-running King Willie Cauley-Stein.
Similar to Metu, offensive rebounds are not uncommon for Jones due to his refreshing effort levels paired with size and athleticism. Damian Jones has only recorded upwards of 500 minutes in one of his five NBA seasons, and if he can continue to progress in the nuances of the pick-and-roll, rim protection, and defensive discipline then he could work his way into a prototypical rim-running and protecting backup big man. The 318 minutes Metu has logged this season in Sacramento tops his previous two years combined.
While neither Metu nor Jones are going to drastically change the trajectory of the Sacramento franchise, they both carry the potential of backup centers in this league (maybe power forward, in Metu's case?) if given an opportunity to develop their games.
Richaun Holmes came into his own in Sacramento partially due to him earning his first consistent role on an NBA roster, and there is hope that the 25-year-old Damian Jones and 24-year-old Chimezie Metu can follow in his footsteps, likely on a lesser scale. Even if they do not pan out, both of their deals are minimal financial commitments being non-guaranteed in future seasons leaving little risk for Monte McNair.
If either develops into being capable of handling regular (15-20) NBA rotation minutes, then the Kings have value contracts on their hands. If not, little impact on the future or present of the roster will be felt.