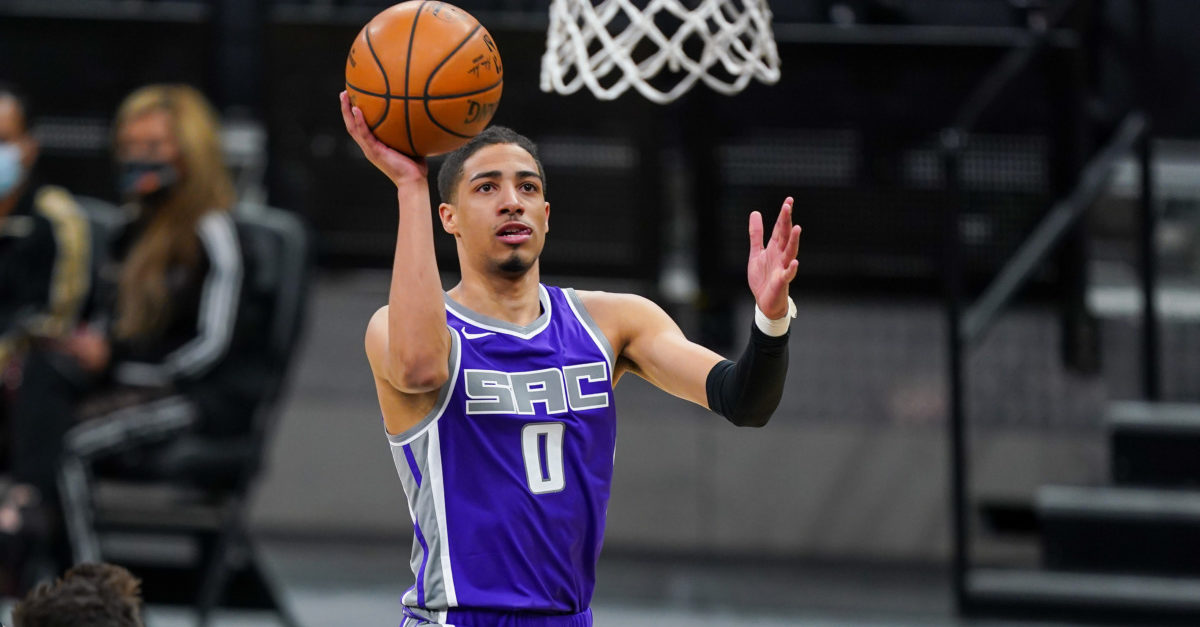 Sacramento Kings rookie Tyrese Haliburton has continued to impress analysts all across the league. Counter to the concerns shared on draft night regarding his lack of long-term upside, Haliburton was recently named the rookie with the second-highest potential by ESPN's Kevin Pelton, behind only LaMelo Ball, the current favorite for Rookie of the Year, while Mike Schmitz also placed him behind Ball, as well as Anthony Edwards - not a bad spot for a guy who slipped to the twelfth pick.
In addition to those honors, Haliburton placed second on the league's Rookie Ladder on Wednesday afternoon. Steve Aschburner had high praise for Sacramento's future star:
Slipping without drama or setbacks into the Kings' starting PG role (De'Aaron Fox went out under health and safety protocols) was another example of Haliburton's smooth ability to help, regardless of role. "For Tyrese, it will help speed up where he goes as a player," Kings coach Luke Walton said. Said teammate Mo Harkless: "He's shown a level of poise that a lot of rookies don't have right away. He has a really good feel for the game. He doesn't really force anything. He just lets the game come to him. I really enjoy watching him play and playing with him."
Despite his strong play, Tyrese still trails the number one overall pick Anthony Edwards, who has turned into a monster in the latter half of the season. Since his monster dunk over Yuta Watanabe, which truly seemed to be some sort of turning point in his young career, Edwards has put up a staggering 21.8 points, 5.4 rebounds, and 2.9 assists per game in the month-and-a-half since that potential dunk of the year. Conversely, Haliburton has been more consistent throughout the season, but he has yet to post a stretch of that caliber, although his impact on the defensive end of the ball can't be discounted either.
As these last dozen or so games bring the strange 2020 NBA season to a close, it's clear that three Rookie of the Year candidates have emerged, with no one else even close to the upper echelon. LaMelo Ball is likely favored due to his strong play throughout the year, and he'll only be helped by a potential return from injury. Meanwhile, Tyrese Haliburton has been the steady go-to who shoots the lights out and doesn't make mistakes, while Anthony Edwards is making a late charge to snag the coveted award. No matter who ends up with the hardware, the Charlotte Hornets, Sacramento Kings, and Minnesota Timberwolves have to be feeling quite pleased with their future stars.