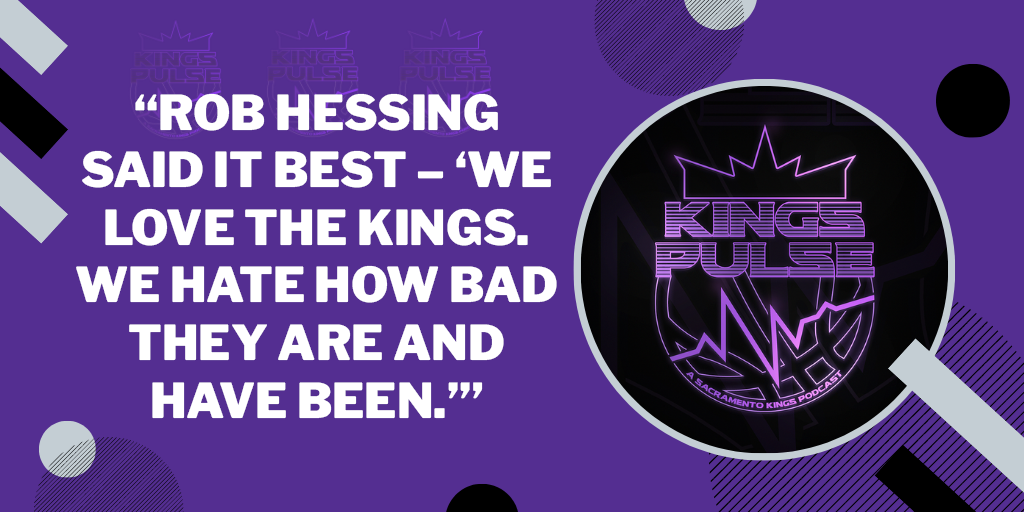 The Sacramento Kings' 49-point loss to the Utah Jazz on Wednesday night led an off-the-rails (and tipsy) Kings Pulse podcast as our friend Greg Wissinger joined the show. We touched on the massive loss, but once it became clear that we had nothing but doom and gloom to talk about, we started discussing anything but the Kings.
We discussed the recently signed new contracts for Chimezie Metu and Damian Jones, their fit with the rebuild moving forward, and how their likely non-guaranteed contracts make these no-risk deals. We touched on what we'd be willing to pay Mo Harkless in Free Agency this summer, lamented that Jahmi'us Ramsey only got five minutes of playing time in a massive blow-out, and discussed Tyrese Haliburton's play without De'Aaron Fox and his ceiling going forward.
Once we ran out of constructive Kings talk, we bounced around a bunch of topics, including:
Our favorite alcohols
The upcoming NFL Draft and why we're praying that the San Francisco 49ers don't draft Mac Jones
Some 2021 NBA Draft discussion, as Brenden realized he's the only Franz Wagner superfan of The Kings Herald staff
Why is California weather so weird? - and why would we think California weather is weird when we have a guest from Colorado on the pod?
An extended discussion of our favorite "Classic" movies, which Brenden apparently considers to mean 80's and 90's movies.
Brenden is on a quest to catch up on all the famous movies he's missed - what are your favorite classic and/or modern movies? Let us know in the comments!
The Kings Pulse podcast is available on all major listening platforms.