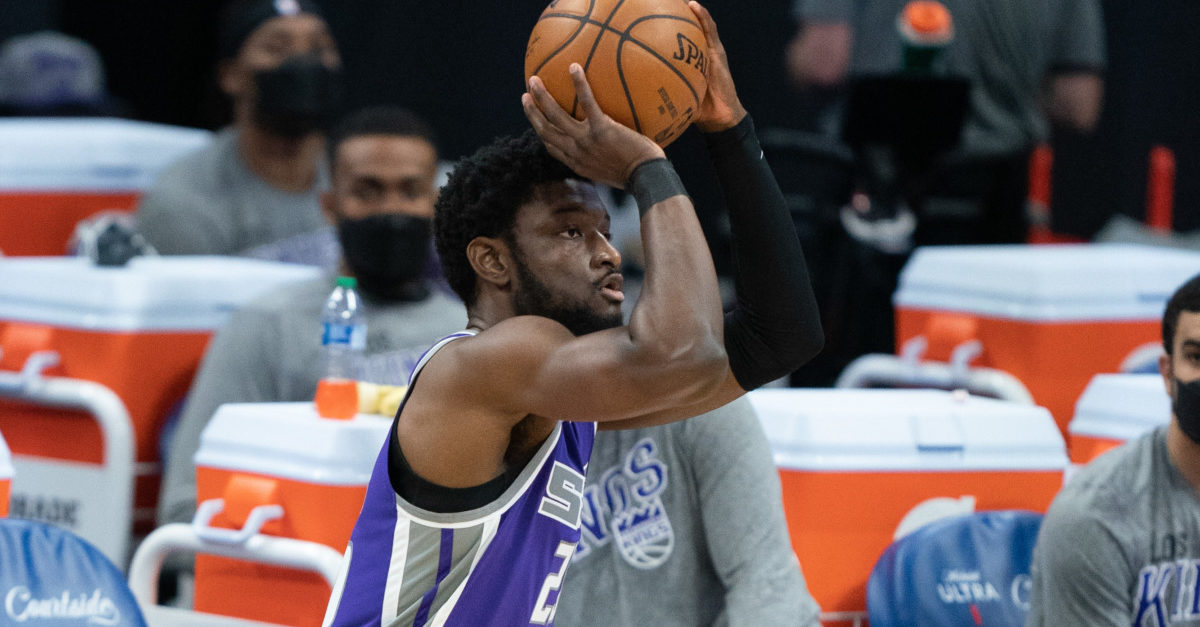 Editor's Note: The following is a reader submission. Please enjoy this post from bgord!
Who is Chimezie Metu? To the majority of the public, he's a backup big man on a 12 seed. But to his believers, he's so much more.
At the beginning of the season, I found myself watching the Kings play preseason games. I did this with the express purpose of watching Tyrese Haliburton, future Rookie of the Year candidate and beloved by everyone with a working brain. I also watched in total fear as Harry Giles III manhandled the Kings on his way to 19 and 13. Harry was a fan favorite, a member of the Vlade era who showed flashes of brilliance, but ultimately we didn't re-sign him. We were happy he was doing well, but heartbroken it wasn't for us. As the game went into the 4th quarter and the bench warmers checked in, I began to tune out, totally bummed and questioning the ability of our front office. All in all, a pretty standard night for a Kangz fan.
But then, out of the corner of my eye, I saw it. Two dribbles into a smooooth turnaround jumper. "Damn, that new guard we got looks pretty good" I thought to myself. Then I looked and thought "Damn, that new guard we got looks pretty tall." Then I heard the broadcast and realized that wasn't a new guard at all, it was the 6' 10" 255 lb Center we'd picked up from the Spurs. That was my first time getting Metu'd, and it wouldn't be my last. A few minutes later, he hustled through two Blazers players(one of which being Harry), snagged an offensive rebound, and put it up through the contact for an and-1. Without even thinking, I let out the primordial yell anyone who's ever played basketball knows; "AND ONEEEEEE!!!!" Dominic, my good friend and Lakers fan (ew) was sitting next to me during this, and couldn't understand the magnitude of what just happened. He uttered pure blasphemy; "Who is this dude and why are you excited?" I swiftly beat him without mercy (for legal purposes I did not beat him without mercy). After this Metu made a three and my soul ascended the physical realm like the dudes in that Seth Rogan movie where the world ended.
That was the inception of my love for Chimezie. 11 points on 3-5 shooting to go along with 4 boards and 1 dime. Through a combination of an awesome name, Kangzitis, and legitimate potential, I became the number 1 Chimezie Metu agenda pusher outside of his family. Allow me, if you will, to break down why he's so exciting to watch.
Offensive Game
The most exciting part of Mezie's game is how fluid he is on the offensive end. It's not always pretty, but he consistently makes a positive impact through screens, rolls, postups, and jumpshots. Now, you may be hesitant to call him a stretch big, due to the fact he's taken 13 threes on the year and made 4 of them (30.8%), but there's reason to assume that will improve. For starters, his form is clean and smooth and he shoots with confidence, two things that aren't common for players of his size. That combination means that he has the tools to become a real stretch 4 or 5 threat. He can make a stepback or one-dribble pull up, but for the most part he'll just need to make catch and shoot looks from Fox or Hali, which should be no problem. So long as he shoots 35-38% from three, opponents will have to play up and respect it, opening up lanes for De'Aaron and the rest of the team to take advantage of. If the defense can't sag off Chimezie, he can punish them harder with his athleticism, and that's a terrifying proposition.
While he doesn't have a great handle, he can make a move and go hard to the basket for a bucket. Pick and rolls are where he really shines, getting him the ball with a head of steam leads to lobs, pocket passes, and and-1s. This was on full display the other night, as Metu and Hali destroyed the Warriors on pick and rolls in the 4th quarter. His free throw shooting is also a solid 69% (nice), which also may improve. The only better roll man on the team is Richaun Holmes, and if Mezie has the threat of stepping back on a pick and pop and burying a three, well, you get the idea. Similar to Richaun, Metu moves with the quickness and agility of a player 4 or 5 inches shorter and finishes with the strength you expect from a player his size. His post ups aren't too shabby either, he has good feet and solid touch around the basket. Mezie also hustles to grab boards and dive on the ball when it's knocked loose. The biggest flaw with his offensive game is turnovers, sometimes he gets pick pocketed when he puts the ball on the floor, sometimes he makes a careless pass that he shouldn't, or maybe he moves his feet on a screen and they call it moving. Also, he'll occasionally get tunnel vision and take a bad shot. However, most of these mistakes just come from inexperience, and can be ironed out with enough playing time. Overall, his unique combination of size, speed, strength, and shooting make his offensive potential very tantalizing.
Defensive Game
It's hard to judge an individual's defense on a team with the worst defense in the league, so while the stats may not look great, the eye test shows promise. For starters, I just wanna say the effort is there, he hustles for loose balls and stays active. Early in the season he made the brave/foolish decision to try and jump with Zion and got put on a poster. Sure you hate to see the outcome, but you love to see that he has no quit. Thankfully, this hasn't deterred him from giving it everything he has to block shots, and with his jumping ability and wingspan it's something he's shown flashes of being good at.
Another aspect of his game that he's shown is his switchability. Outside of getting yammed on, he did a better job then most sticking with Zion, and when he's been targeted for the switch on screens he's always able to hold his own, even against really dynamic players. That's the ideal end point for Mezie, he can switch anything and guard from the perimeter down to the paint. However, he's definitely not there yet, at least not on a game to game basis. His defensive inconsistencies can be chalked up to inexperience at the NBA level and poor coaching. None of this is uncommon for a young big man, in fact it's more so the rule then the exception. Once he fixes the mental lapses or missed rotations(and the Kings as a whole decide to start playing defense), there's no doubt in my mind he can be an above-average defender.
Film Study
Now, I understand that I just vomited about 720 words at you, so if you wanna skip all of that and just watch the tape, I've got it here for you.
Now obviously that's not every jumpshot he's made, but it gives you a good sense of why the Kings and the fans are excited about his potential in this aspect. However, this is just an appetizer to the main course of Chimezie Metu's offense. The main course is how good he is at scoring and drawing fouls down low.
Once again, not every bucket, but some of the best. The thing that excited me the most when I put together the footage was the connection he and Tyrese Haliburton have. It's beautiful. Look at how many of these are assisted by Hali.
Since I began this article, a lot has happened in the Metu Fan Club. We gave him a multi-year, full NBA contract, a great signing for both parties. Later that day, the absence of Harrison Barnes gave our guy the chance to have the first start of his NBA career. Against the best team in the West being the Utah Jazz. What did he do? Oh, just casually went out and hit two perfect fadeaway jumpers to give the Kings the lead early. Everyone lost their collective minds. For a brief moment, everything was beautiful. Then the Jazz remembered they were the best team in the league and smacked us in the mouth. But that doesn't detract from the best part of the night; seeing a dude who'd worked his ass off his whole life finally receive some recognition, and watching him capitalize on it too was just such a great thing to see. Yes, he took some bad shots and made some poor decisions, but everyone on the team was guilty of that. Overall, I was proud of the way he played, especially showing no fear at the start of the game against one of if not the best defense in the league. Of course, we can't pretend like tonight was a great night, because we lost by 49, the worst home loss in franchise history. Chimezie's face in the postgame press conference summed it up perfectly;
This broke the already shattered hearts of Kings fans everywhere. It sucks to see a young stud so absolutely devastated. But to honor Pat Solitano I'm gonna find a silver lining; this shows he gives a shit. How many fans are tired of the same old bullshit buzzword post game speeches about "having to watch the tape" or "we've got to execute the game plan better". This is raw emotion, this is how much Chimezie Metu cares about succeeding for his team.
Now, it's important I clarify that I (along with hopefully everyone else) realizes that every coach, player, and manager is human, and is trying their absolute hardest to bring wins to this franchise. But in a season that has left many fans hopelessly apathetic, this should bring you back. Metu is gonna go out and give you everything he's got every night, just like Richaun Holmes or Tyrese Haliburton or De'Aaron Fox or any other player on the roster. To me, this shows just how much he cares about the game, gets me really hopeful for the future. If that's how hard a loss in a season that's already a lost cause hits him, you know he's going to work his ass off and make himself and everyone on the team better. That's how you change the losing culture surrounding the Kings. We have to believe that, every fan, every coach, every player. Chimezie is sort of the figurehead of this, he represents the Kings, and our fans in Sacramento and around the world. Sure, sometimes we'll fuck up, but we'll come back harder, we'll come back stronger, and we'll keep coming back until we finally break through. Maybe Metu won't pan out and the Kings will flounder aimlessly for another 16 years. Or maybe, just maybe, we'll prove everyone wrong. I believe we will. More and more people believe everyday. So to you, the reader, I ask you to do one final favor; won't you please join us on this wild ride? Won't you please join the Metu Mania?