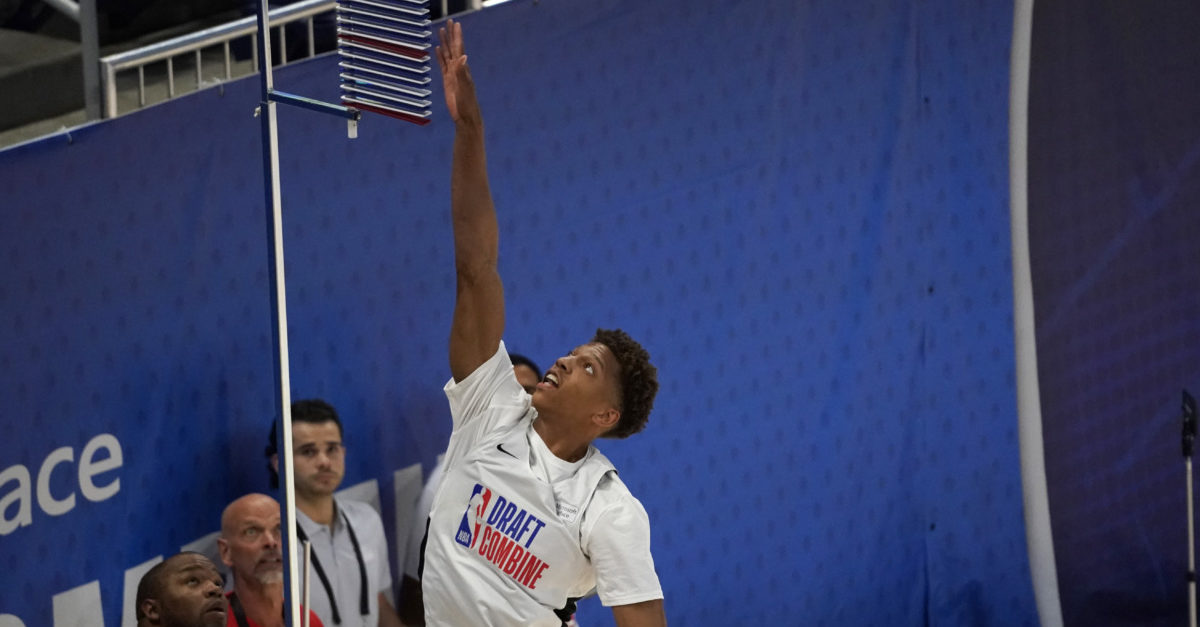 The 2021 NBA Draft Combine kicked off today as more than 60 players, including many of the 2021 draft classes' top prospects, attended the event. The combine released the official height, weight, wingspan, and other physical measurements for the draft class, which are available on NBA.com. While these measurements shouldn't really impact a players' standing or draft range, they absolutely will change the narrative about some players - and thus impact their standing and draft range.
Here are some interesting measurements that second-jumped out at me:
Arkansas' Moses Moody, #5 on my early Big Board, measured at 6'6 in shoes with a 7'0.75 inch wingspan. I'm very confident he will be able to swap between the wing spots at the next level on both ends of the floor.
Some of the forwards in the Kings presumed draft range include former Duke player Jalen Johnson (6'9.25 in shoes with a 7'0.25 wingspan and a combine-high 10.5 inch hand width) and Florida State forward-PG Scottie Barnes (6'8 in shoes with a 7'2.75 wingspan and 10.25 inch hand width). Both would fill the Kings need for a power wing with defensive upside.
Stanford's Ziaire Williams may just be 188 pounds, but his 6'9.75 size and 6'10.25 wingspan give him plenty of size for the forward position. He was not the most physical player at Stanford, and his lack of strength was easily his biggest weakness in college, but an NBA weight training program could help fix that.
Tennessee guard Keon Johnson is often mocked to the Kings in recent mock drafts, but he's certainly undersized to play the 3 spot - just 6'4.75 in shoes with a 6'7.25 wingspan and just 184 lbs. Meanwhile, his former teammate Jaden Springer stands at 6'4.25 with a 6'7.75 wingspan and 200 lbs. Brenden Nunes and I did draft profiles on the Tennessee dou on the Kings Pulse podcast a few weeks back.
Texas big man Kai Jones, one of my sleepers for the Kings draft spot, measured at 6'11.5 in shoes with a 7'1.75 wingspan. I broke down why I'm so high on Kai Jones' potential on the last Kings Pulse podcast.
Pepperdine's Kessler Edwards - a sleeper for a late 1st round pick if Monte McNair could snag one - finished with excellent size for a forward, standing 6'8 in shoes with a 6'11.25 wingspan.
Baylor's Davion Mitchell was a quick riser after the Bears' tournament run, but the combo guard stands at just 6'1.25 in shoes with a 6'4.25 wingspan. He will not end up in the lottery on my big board.
Pay attention to Auburn's JT Thor, who will almost certainly be shooting up draft boards in the next few weeks (mine likely included when I dive into his tape) - Thor is a 6'9.25 forward with a 7'3.25 wingspan and incredible athletic gifts.
The winner of the measurements section of the combine would absolutely be Auburn's Sharife Cooper, a favorite of draft twitter. He measured at 6'0 at Auburn, but the combine measurements have him at 6'4.75 in shoes. It's almost certainly an error, but an amusing one.
None of Cade Cunningham (Oklahoma State), Evan Mobley (USC), Jalen Green, or Jonathan Kuminga (GLeague Ignite) were measured at the event. Jalen Suggs and Franz Wagner did not attend the combine.