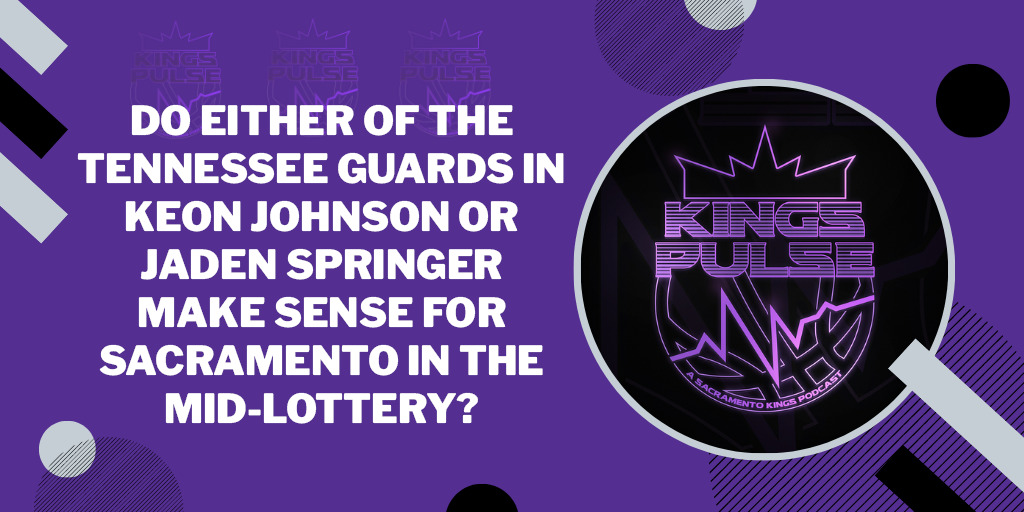 We kicked off the Kings Pulse draft profiles by looking at the two freshmen guards from Tennessee - Keon Johnson and Jaden Springer. The two were the leading scorers for the Volunteers this season, and helped lead Tennessee to 18-9 record and a 5th seed in the NCAA Tournament, but lost to Oregon State in the 1st round.
Per 40 minutes, Keon Johnson averaged 17.8 points 5.5 rebounds, 3.9 assists, 1.7 steals, and 4.1 turnovers a game while shooting 44.9% from the field, 27.1% from three, and 70.3% from the line. Johnson is one of the most athletic players in a very athletic draft class, although his size - 6'5 and a recorded 186 lbs with a 6'8 wingspan - keeps him squarely in the guard/fringe wing category. Scouts love his athleticism and intensity on defense, but he's a project player on both ends of the court and needs to significantly improve his shooting numbers at the NBA level.
Springer, meanwhile, is a tank of a guard - standing 6'4 with a 6'7 wingspan and 204 pounds, and a physical style that takes advantage of his strength on both ends. Per 40 minutes, Springer averaged 19.3 points, 4.5 assists, 5.4 rebounds, 1.9 steals, and 3.7 turnovers per game, while shooting 46.7% from the field, 43.5% from three, and 81% from the line. Springer is one of the best point of attack defenders in the draft class, and while neither Springer's basketball instincts or Head Coach Rich Barnes truly took advantage of Springer's shooting abilities, he has some immediate avenues for success at the next level.
In our profiles of the two Volunteers, we discussed
Why Tennessee was such a messy fit for both guards, especially on offense
Do Johnson's tools and motor make him a smart gamble in the lottery?
Does Springer have enough upside to pair him with De'Aaron Fox and Tyrese Haliburton?
Given the Kings massive needs at the forward spots, is there an argument for either as the Best Player Available come pick 9?
Which of the two we'd prefer in Sacramento
What are your armchair scout opinions on the Tennessee freshmen? Do either make sense for Sacramento? Let us know in the comments!
The Kings Pulse podcast is available on all major listening platforms.