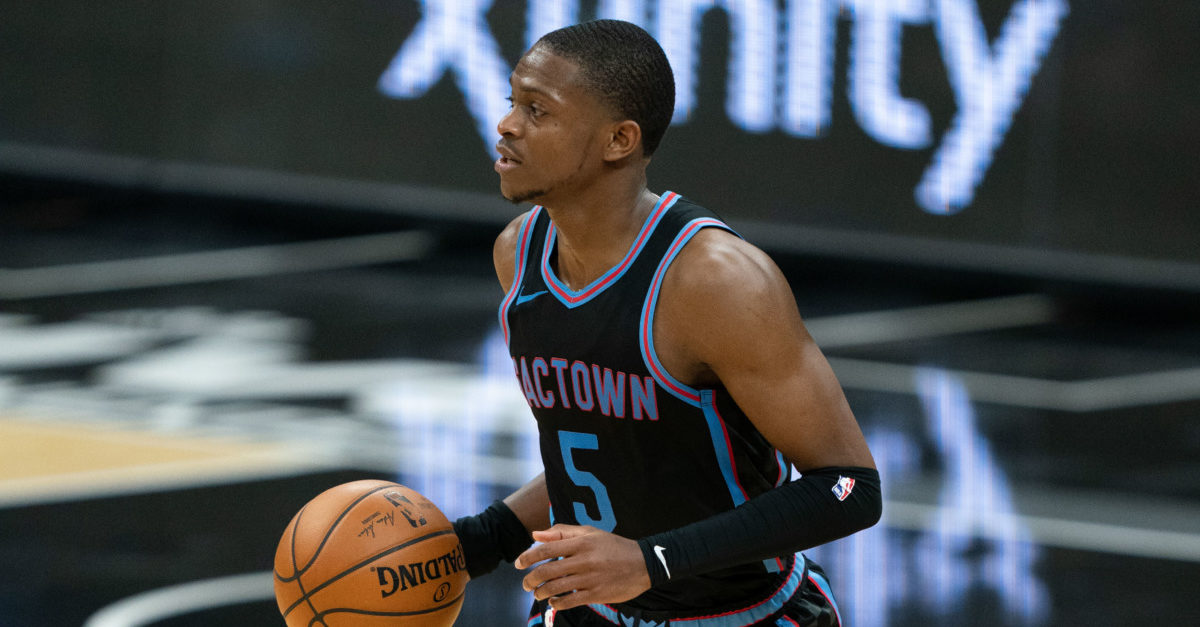 As the Sacramento Kings opened the 2020-2021 NBA season, a flurry of storylines surrounded the team. Monte McNair was the newest candidate to try and fix the organization under embattled owner Vivek Ranadive, Luke Walton's tenure was very much in question, Marvin Bagley's potential was unknown and unrealized, and Tyrese Haliburton's upcoming rookie year was cause for celebration and excitement. Yet, beyond those narratives, there was one question that lingered throughout the fan base after De'Aaron Fox's standout bubble performance and subsequent maximum rookie-scale extension. Could De'Aaron step and be the guy for the Sacramento Kings?
From an offensive perspective, Fox mostly hit the mark. De'Aaron put up 25.2 points and 7.2 assists per game on the year, joining LeBron James, Damian Lillard, Luka Doncic, Nikola Jokic, and Trae Young as the only players to record those numbers this season. From a historical perspective, De'Aaron became the first player in the Sacramento era to finish with those averages, as well as only the fourth player in NBA history to put up 25 and 7 without making the All-Star Game. He was dominant as both a primary scoring option and as a distributor.
Perhaps nothing better demonstrates Fox's evolution as a bucket-getting machine than the comparison of his early-career scoring binges to this most recent season. Over his first 218 appearances in the league, De'Aaron scored 30 or more points just 10 times, or approximately once every 22 games. Over his final 43 games in 2020, he put up at least 30 points 18 times, or once every 2.4 games. From the beginning of March through the end of the regular season, Fox averaged 28.4 points, the fifth-highest mark in the NBA, behind Steph Curry, Bradley Beal, Donovan Mitchell, and Zion Williamson.
A large part of De'Aaron's increased scoring output found its genesis in late game opportunities, further demonstrating his realization as a number one option for this franchise. In 2018, Fox ranked 52nd in the league in fourth quarter scoring. Last year, he jumped all the way to 15th, while this season, De'Aaron finished fourth overall, trailing only Jayson Tatum, Giannis Antetokuonmpo, and James Harden - once again ranking right alongside the league's elite contributors.
Of course, a surge in scoring doesn't always equal measurable growth. Often, when a player experiences a significant jump in production, it's either due to a greater role within the offense or a bump in shooting efficiency. That wasn't the case for Fox. Rather, his increased scoring can be directly attributed to an increase in field goal attempts, a trend that could be concerning for many players, but not necessarily for Fox.
The reason for such a lack of concern is that Fox is already hyper-efficient in his primary scoring option: driving the ball. The Kings never needed him to shoot more effectively when he got into the paint, they just needed him to drive more often, and that he did. De'Aaron averaged the second-most attacks in the paint during the 2020 NBA season, 8.7 per game, while also recording the best field goal percentage at the rim among any guards at 68.9%. He was even more efficient in the paint than most big men, including Clint Capela, Karl-Anthony Towns, Julius Randle, Nikola Vucevic, and just about any other player in the league. And when Fox wasn't hitting layups, throwing down dunks, and finding teammates, he was forcing the other teams bigs into foul trouble, as he posted the second-highest foul drawing percentage among NBA guards, trailing only Ben Simmons. A legitimate argument can be made that 23-year old De'Aaron Fox was the best rim attacker in the league this past season.
While Fox's offensive attributes were on full display in 2020, the same cannot be said for his attention paid to the defensive end of the floor, and this is an area in which the Kings desperately need their budding star to step up. De'Aaron certainly wasn't the primary cause of Sacramento's dysfunctional and disappointing defensive performance, but he also rarely helped for more than a play or two per game, often disappearing for minutes on end on that side of the court. On the season, he posted below-average defensive field goal percentage differential for all field goal attempts and in three-point defense, and on an even more depressing note, the team was simply better with him on the bench when it came to slowing down opponents.
Sacramento's historically laughable defensive efforts have been well-documented throughout the season, with Marvin Bagley and Buddy Hield understandably taking the brunt of the blame, but De'Aaron perhaps coasted a bit on the laurels of his offensive brilliance. On the season, the team posted their worst defensive rating with him on the floor, 118, while they posted their best defensive rating with Fox out of the game at 111.6. Overall, the Kings allowed 6.4 more points per 100 possessions when De'Aaron was in the game, far worse than second-place Buddy Hield, who posted a differential of 2.9 points per 100 possessions. While it's true that De'Aaron's offensive load may never allow him to be the defender everyone wished for when he came into the league, he still must transform from a bad to at least an average defender if the Kings want to have any hope of holding each other accountable on that side of the floor.
When Vlade Divac drafted De'Aaron Fox four years ago, he was immediately named the organization's newest savior. Over his first three seasons, De'Aaron managed to show flashes and glimpses of that wished-for franchise centerpiece, but he rarely put it all together for more than a few games at a time. The questions surrounding his place as a number one option for this team were absolutely legitimate heading into the year, but he answered those questions emphatically over the last few months. De'Aaron was by no means perfect, and there is plenty of work left to be done for the 23-year old, but his development as a primary scorer and initiator for a team desperately in need of a go-to option more than proved his reputation as the cornerstone of the Sacramento Kings.