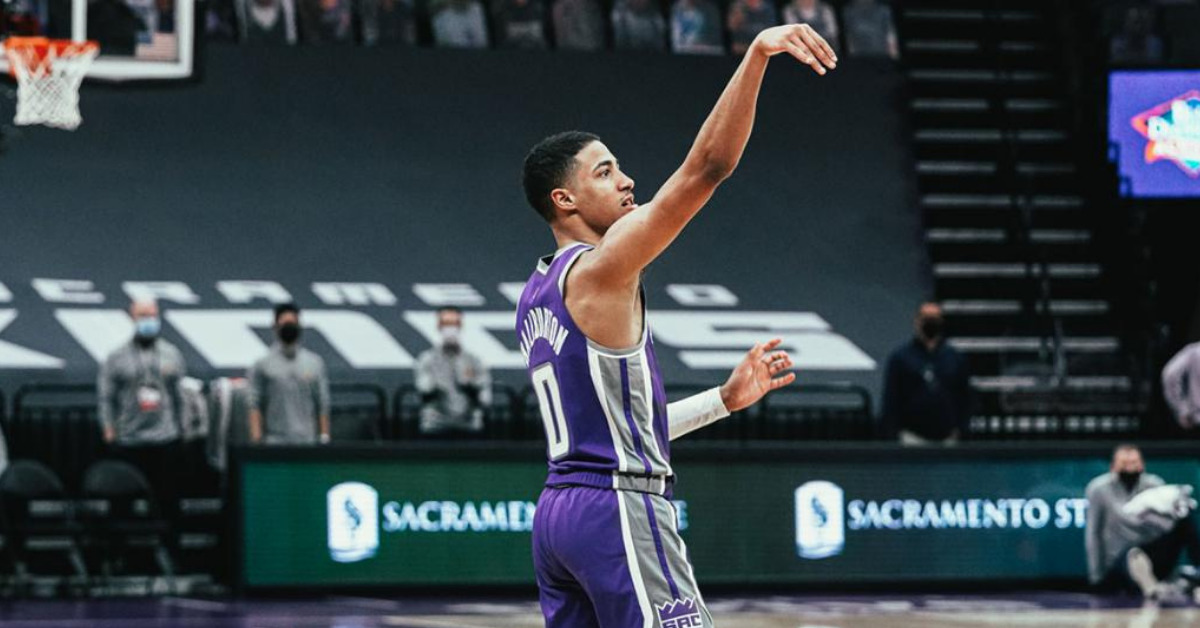 When Tyrese Haliburton entered the 2021 NBA Draft, most fans knew that the youngster from Iowa State could shoot the basketball. But it's no hyperbole to call his shooting growth in his rookie season an insane development - and the shooting variance and ability he's showcasing blows the roof off any pre-draft notions of what he could be in the NBA.
Pre-draft, Haliburton's greatest skills were well chronicled; he'd been the college game's greatest playmaker, an instinctual, disruptive defender, and a versatile basketball enigma who led a Big 12 team in per-game numbers for points, rebounds, assists, steals, and true shooting percentage. His shooting ability was more of a contentious discussion, as a quick glance at his highlight reels might have made casual observers question his push-shot mechanics. But watching Haliburton for any extended time would show he really could shoot - when his feet were set, at least. As a sophomore at Iowa State, Haliburton shot 49.3% on catch-and-shoot shots (98th percentile, per Synergy Sports), and was in the 90s percentiles for both guarded AND unguarded shots. He was a true weapon off the catch, and a clear excellent fit to play next to De'Aaron Fox.
Any concerns with Haliburton's shot came when he had to create his own looks, as he shot just 28.1% on dribble jumpers in that sophomore season. His funky-yet-consistent mechanics worked well off the catch, but were more limiting with the ball in his hands. To become a truly versatile shooter at the next level, Tyrese needed real growth in his shot off the bounce and on the move - improvement that, even for a basketball genius, would surely take multiple years… right?
These are some dynamic shots from Haliburton, and are ones he's been making all season - he's shooting 44% on pull-ups this year, including 38% from deep. While some regression is due as defenders learn they can't give him any daylight, he's clearly making anyone foolish enough to say he'd "likely struggle at the next level to create his own shot" choke on their own predictions. While I still fully believe that Haliburton needs a primary initiator next to him to optimize his skillset and remove full-time creation burden, the Kings have that guy in De'Aaron Fox - and the perfect pairing of the two unlocks so much in both their games. With Haliburton's truly exceptional basketball instincts, maturity, and drive, it's clear that nothing is out of play.
As the Kings once promising record careens towards the NBA basement yet again, it's the drastic, insane improvement from the rookie that is mostly responsible for keeping me glued to the screen. I've long championed this as a developmental season of Zen - why worry about wins and losses? - and no King has developed like Tyrese has.