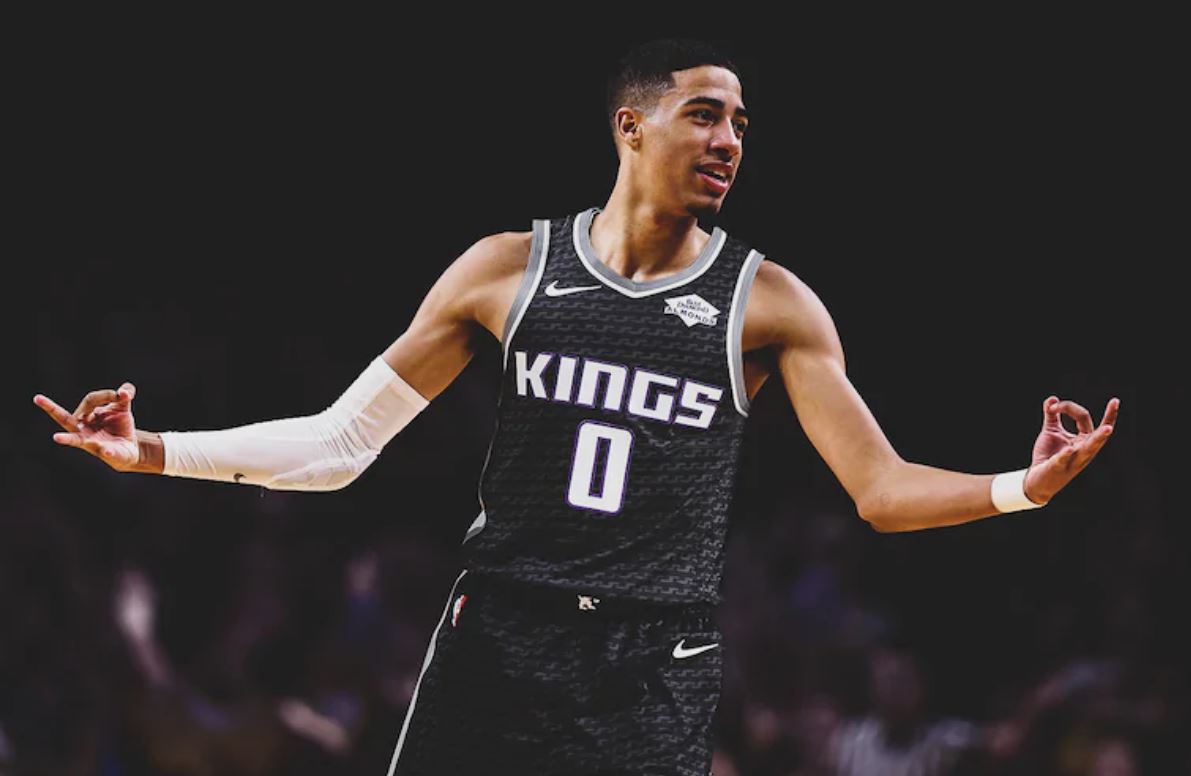 Tyrese Haliburton
General Info: 20-year-old Sophomore, played for Iowa State University. From Oshkosh, Wisconsin.
Measurables: 6'5.5", 175 lbs, 6'7.5€ wingspan.
2019-20 Season Statistics: 15.2 PPG, 5.9 RPG, 6.5 APG, 2.5 SPG, 0.7 BPG, 2.8 TOPG (22 games played, 36.7 minutes a contest) €" 50.4% FG, 82.2% FT, 41.9% 3P
Tyrese Haliburton is a basketball enigma. He's a maestro with the basketball who excelled as the college season's greatest playmaker, even while rarely demanding the ball and with clear weaknesses when it's in his hands. At first glance, it may be confusing how this skinny combo guard with an average NBA toolset led a Big 12 team in per-game numbers for points, rebounds, assists, steals, and true shooting percentage. But spend ten minutes watching Haliburton play and it's clear why Kings fans should be excited; Haliburton turned an exceedingly average Iowa State squad into must-watch basketball thanks to his insane passing instincts, excellent court vision, and undeniable offensive value. When the Kings selected Haliburton with the 12th pick in the 2020 NBA Draft, they added a catalyst player who can truly optimize the rest of the Sacramento roster and become a near picture-perfect offensive partner for De'Aaron Fox.
The headline for Haliburton are his elite passing instincts - his playmaking ability is a thing of basketball art, and he has excellent offensive awareness and pinpoint accuracy.
Haliburton is a misdirection ninja, directing defenders with his eyes and opening passing lanes most college players never see. The gravity he generated by being such a willing playmaker is fun to watch. He averaged 7 assists per 40 minutes, and did so with an impressive 2.3/1 assist-to-turnover ratio. That number was even more impressive as a freshman, when Haliburton averaged 4.2 assists and just 1(!) turnover per 40 minutes. That said, it's key to point out that Haliburton was never the highest-usage guard in the Cyclones offense. His freshman season, he deferred to both Marial Shayok and now-LA Laker Talen Horton-Tucker. His sophomore season, despite leading the team in points and assists and rebounds and true shooting percentage, Haliburton's usage rate (20.9%) ended up 4th among Cyclone starters. Haliburton isn't a player who will need to command the ball at an excessive rate in order to be a key piece of the offense.
He is the crowned prince of the jump pass, a terrible play for 99% of basketball players but masterpiece theater for Tyrese. This instinct sometimes leaves him lost in the air with nothing to do, but far less often than it would for most players.
As a scorer, Haliburton is an efficient player, one with clear strengths and weaknesses. On the most basic level, 15.2 points per game with a 50/40/80 line in a big time conference shows he's a dang promising shooter, albeit one with funky push-shot mechanics. As a guard who didn't need the ball in his hands at an insane level, it's no surprise that his most efficient shot is off the catch; he shot 49.3% on catch-and-shoot shots (98th percentile, per Synergy Sports), and was in the 90s percentiles for both guarded AND unguarded shots. While his release speed isn't always ideal, he's sped it up tremendously from his freshman season, and his mechanics are consistent.
Haliburton's creativity shined brightest in transition, where he was insanely efficient; per Synergy, he scored 1.39 points per transition possession, 93rd percentile for the NCAA. When you add in his own shots and his assists in transition, that jumps to 1.76 points per possession, 99th percentile. And this was all on a Cyclones team with only one other major scorer (Rasir Bolton) and a serious lack of shooting talent. Haliburton will likely thrive in an NBA open court if surrounded by another initiator, some shooters, and a rim-runner.
While all of Haliburton's strengths add up to a versatile offensive weapon, to this point in his basketball career his offense has suffered from a large limitation; he is not a strong individual creator, and will likely struggle at the next level to create his own shot. He was not a strong on-ball scorer at Iowa State, and in a stronger, faster NBA game, that's not likely to change immediately.
While his funky shooting mechanics work off the catch, his shot was limiting when he tried to shoot off the dribble. He shot just 28.1% on dribble jumpers in his sophomore season. This is a real swing skill at the next level - here's hoping he's been working on quickening his release and better utilizing screens to get him the space he needs.
Haliburton was also not a big threat to attack the basket in college. Of his 204 shot attempts in the half-court last season, only 38 were at the rim (per Synergy). While his success on those shots went up towards the end of his season and ended up respectable (1.21 PPP, 67th percentile), his attempts at the rim were limited by his less than ideal strength. In the clip below, Alabama's James Bolden (generously listed at 6'0 and 160 lbs) easily contains Haliburton on the drive.
There's a reason why Haliburton, the nation's best passer, generated only 0.74 points per possession in the pick-and-roll (31st percentile, which includes passing plays); without craft at the rim or a really tight handle, defenses hedged against his rollers and dared him to keep the ball. And while he flashed a floater now and then (.89 PPP, 29 attempts), it wasn't enough to consistently make Tyrese into a real scoring option himself.
Finally, Haliburton did not get to the line much, finishing with a free throw attempt rate of just 18.4%. The fact that Haliburton only shot 71 free throw attempts in his 1,970 minutes at Iowa State - basically, one free throw every 27.7 minutes - highlights that he wasn't the most physical or determined individual scorer.
If Haliburton was expected to come into the NBA and be a primary ball handler and offensive engine, the last 4 paragraphs would be extremely worrying - but being the primary handler is not what anyone should expect for Tyrese in Sacramento. De'Aaron Fox is the on-ball creator, the one who breaks down the defense€¦ and next to Fox, as a secondary playmaker whose shooting value peaks in an off-ball role, Tyrese will shine. Lonzo Ball is one of the more used/applicable comps for Haliburton, and Ball's time in both Los Angeles and New Orleans proves that even elite passers can only have so much value at the next level if they can't create their own shots or aren't paired with another initiators. But the difference between Ball and Haliburton is that Tyrese is much more proven catch-and-shoot player than Lonzo was coming into the league - defenses won't be able to play off him. But to evolve past the connector role, and become the real offensive force his passing game begs him to become, Haliburton MUST find avenues to score beyond shots off the catch.
While Haliburton makes most of his highlights on offense, he's also a havoc creator on defense. Considering he isn't the fastest or strongest dude on the court, nothing highlights his defensive instincts more than his 2.5 steals per contest (a 3.8% steal rate) and 2% block rate. His court awareness isn't just an offensive gift - he reads opposing offenses well, stays engaged, and gets results.
Tyrese will undoubtedly have rookie struggles as he adapts to NBA speed and strength, especially considering his own slight frame). Given time and an NBA weight program, I expect Haliburton will become a damn promising on ball defender, as long as he isn't asked to handle taller forwards on a regular basis. That said, his true defensive potential - that as an off-ball havoc maker - will only be unlocked when the Kings add stronger defenders around him. The team still desperately needs high-end wing and forward defenders to optimize the De'Aaron Fox/Haliburton backcourt. But if that happens, and he finds more opportunities to float on defense€¦ watch out.
Given his unusual set of skills and odd combination of weaknesses, it would greatly surprise me if Haliburton ever challenged for an All Star spot, became a top scorer on a good NBA team, or turned into what casual basketball fans consider a €˜star' player. Sure, given Haliburton's truly exceptional basketball instincts and maturity, nothing is out of play. Maybe the long layoff gave Tyrese the practice time needed to come into the league with an insane growth in his handles and shot mechanics, and he becomes a truly dangerous on-ball scoring threat - anything is possible for a guy with his drive. But if Haliburton continues to play and develop the way he has at Iowa State, he will never be a go-to guy on a top-tier team.
That said, none of this diminishes the massive impact I expect Tyrese Haliburton to have on this Kings team. He has the chance to be a basketball catalyst, the guy who makes everyone better on the court - the new-age version of Vlade Divac and Doug Christie from the Kings' golden era. Speaking of Christie, DC is one of my favorite comps for Haliburton (and one that I share with the GOAT Jerry Reynolds!). While Tyrese will likely never reach Christie's top tier on-ball defense (or the same level of athleticism or bulk), he shares Doug's skills as an excellent facilitator, off-ball shooter, team defender, and elite make-it-all-work dude. The Kings have needed a new Doug Christie-type player since Doug Christie left.
De'Aaron Fox will thrive playing next to a truly willing, elite playmaker who can also create gravity without the ball. The Kings offense, both in transition and in the halfcourt, will improve by having another dynamic passer who can thrive in a hyper-speed offense. If Buddy Hield sticks around, he can go back to a max-of-four-dribbles role and stop having to pretend to be a point guard, and boy will his movement shooting skills be better utilized with two high-end initiators running with him. And if Marvin Bagley can stay healthy, he'll benefit from Haliburton's passes, spacing, and unselfish play - because for Haliburton to truly become a top-tier off-ball creator, we should all hope that Marvin Bagley becomes that self-creation force we know he wants to be.
The Sacramento Kings were not walking out of the 2020 Draft with a player who'd give them a chance at a 2021 playoff birth. A seamless, perfect fit did not exist at pick #1 or #12. The team still needs stronger individual creators, stronger defenders, and a dang high-end rim protector. But of the players in the Kings range, Monte McNair selected the one who fits best with De'Aaron Fox, his only guaranteed franchise tentpole. While Vlade Divac passed on a future Hall of Famer because he didn't want to take the ball out of Fox's hands, McNair clearly knows this isn't a league where one playmaker can work alone. Fox will surely benefit from Haliburton's skillset, and the fact that Tyrese doesn't need to command the ball constantly to provide offensive value will make the rookie transition smoother and faster.
In addition to being one of the more enjoyable players to watch and scout last season, there's also every indication from coaches, insiders, and teammates that Haliburton is an elite character person and truly dedicated to his sport. While he's a player with clear, defined weaknesses, Haliburton is a basketball-fit catalyst, and one who can truly help optimize the rest of the Kings talents around him - and one I guarantee will become a fan favorite in the process. The Sacramento Kings made the right selection in the 2020 NBA draft, and the long-term potential of this team is all the better for it.